Steam Crave Hadron Mini DNA100C $112.00 | Combo Kit $123.99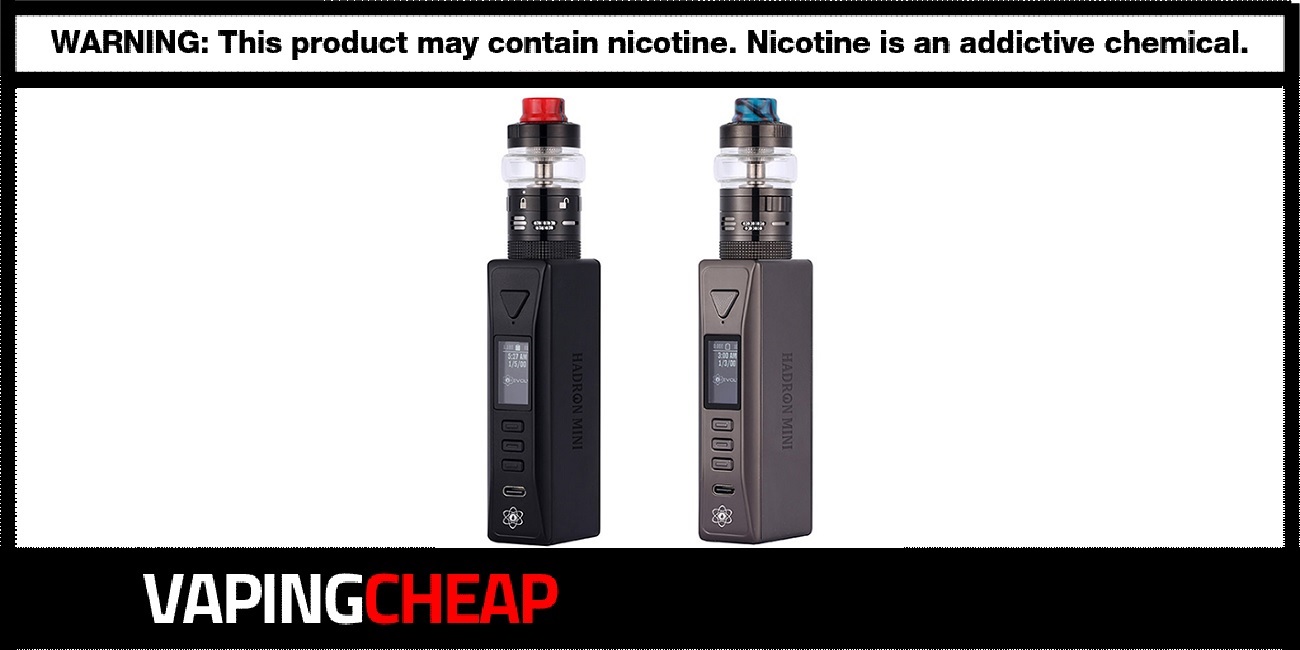 The Steam Crave Hadron Mini DNA100C Mod and Combo Kit is now on sale. Grab the mod from a USA based store for as low as $112.00 plus free shipping after the discount code "XMAS20".
The full combo kit 100w is also available for just $123.99 after using coupon "HaMn". You can pick from two colors which are Black and Gunmetal.
Steam Crave's Hadron Mini DNA100C Mod requires a single high drain 21700, 20700 or 18650 battery. Unlike the Hadron Plus DNA250C, this one is much more compact and travel-friendly. Additionally, this device is powered by the Evolv DNA100C Chipset, which offers a 100w max output alongside a ton of great features. Some of them include user modes, safety features, and allowing the mod to be firmware upgradeable and customized using the Escribe software.
If you decide to get the full combo kit, it comes with the Steam Crave Aromamizer Supreme V3 RDTA. This atomizer has a 5ml e-juice capacity and can be filled from the top.
You can also increase the capacity to 7ml by using the bubble tank. Furthermore, you get a postless, mesh, and single coil build deck with this kit, so you've got a ton of different vaping styles with this atty. Lastly, this tank atomizer sports an adjustable bottom airflow system.
No matter if you get the mod alone or the full combo kit, you won't be disappointed with the Hadron Mini DNA100C by Steam Crave. If you enjoy side by side mods, then you might be interested in their Hadron Lite SBS.
Steam Crave Hadron Mini DNA100C 100w Kit Features:
Steam Crave Hadron Mini DNA100C Mod

Requires a single high powered 18650, 20700 or 21700 battery (Not Included)
Maximum wattage output: 100w
Powered by the Evolv DNA100C Chip
User Modes: Wattage, TC, Bypass, Replay and more
Safety features
Four button design
Firmware upgradeable

Steam Crave Aromamizer Supreme V3 RDTA

Overall diameter: 25mm
Maximum e-juice capacity: 5ml or 7ml (Bubble Tank)
Top fill design
Three build decks: Postless, Single Coil or Mesh Coil
Adjustable bottom airflow
Stainless steel construction
What's Included:
Steam Crave Hadron Mini DNA100C Mod
Aromamizer Supreme V3 RDTA
Mesh and Postless Build Deck
Accessory Bag
7ml Tank
Tools
7ml Chimney
User Manual
Plus More