Provari v2.5 Review: Quality and Luxury Combined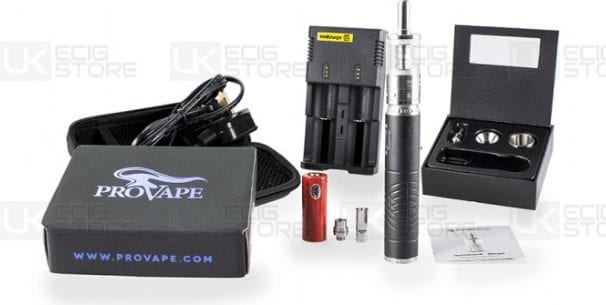 There are only a few e-cig brands on the planet that are as admired by vaping fans as the Provari. Like the smartphone industry has the Apple brand and the auto industry has the Mercedes brand, the Provari can be considered to be their equivalent brand for the vaping industry.
Produced by the American company ProVape Inc., products from this top of the line vaping brand are very popular among avid vapers. One of the most popular products bearing the Provari logo is the Provari v2.5.
In simple terms, the Provari v2.5 is a high-end vaping mod with variable voltage option and an indicator. But should you also subscribe to the hype and put your money on it? This review is there to answer just that.
ProVape Provari v2.5 Ratings
ProVape Provari v2.5 Review
The Provari v2.5 is a battery mod that certainly includes some rich features. With these amazing features and options the product can indeed appeal to lots of users: beginners and experienced included. While a lot of mods may be unusable after a definite period of use, the Provari v2.5 can outlast almost every other battery mod with simple battery replacements.
The Provari v2.5 is built to work with 2 different battery sizes, including an 18650 battery and a 18500 battery. For the 18650 battery, the v2.5 comes with an extra cap, while an 18500 battery can be used by simply opening the top cap. I personally liked the stainless steel finishing, although you can choose to choose from several color and design options as well.
The Provari v2.5 sports a stock 510 connection that is compatible with a lot of modern tank sets like the Kanger Protank. With a handy digital display users can get a lot of real-time information, including battery ohm, voltage and temperature.
All the functions in the Provari v2.5 are controlled by the single LED button on the bottom of the mod. The Provari v2.5 indicator comes in three color options: red, green and blue. I used the Provari v2.5 with my Kanger Protank 2 at 5.5V with a cappuccino flavor e-liquid and overall, it was good. The great thing about the Provari v2.5 is that you can fine tune your vaping experience very easily.
Yet, although the product has some wonderful features, I did find a few shortcomings in the product. While this may be the ideal mod for a lot of beginner or amateur users, experienced users do not like the exclusion of variable wattage function in the Provari v2.5.
Not everyone will welcome the need to frequently open and charge the system to remove and replace the battery. Most users prefer a simple mobile like charging system directly for their mods. But for the Provari v2.5, you need to buy new batteries and a standalone charger. While this isn't a major issue, yet many will not like this.
Pros
Solid Build
It's a really well built product that can easily handle falls or normal everyday-level impacts. Unlike most Chinese mods, which can easily break apart or stop being functional after a simple fall, this American product is probably among the toughest mods out there in the market.
1-Year Warranty
ProVape are famous not just for their premium products but also for their amazing service. With the ProVari V2.5 and its 1-year warranty, users don't need to worry even a bit about not getting the value for their bucks. Even after its 1-year warranty, users can easily get the replacement parts and repair services from ProVape, with little or no hassle.
Self-Calibration
The ProVape comes with an amazing self-calibration feature that will allow users to get a consistent vaping experience every day.
Cons
Price
This premium quality product doesn't come very cheap. Users will have the shelve out over $200 for the ProVari v2.5, which makes it out of the reach for many users. However, if vaping is more than a simple hobby for you, then you may not feel bad about getting this product, even at that price.
No Variable Wattage
While the Provari v2.5 is a wonderful product in its own respect, at such price, not including the variable wattage options, even when competing products like the Tugboat V2 has the same, may be a turn off for some users.
Weak Packaging
While there is no doubt that the product is wonderful, ProVape may need to think about better packaging and accessories set with the ProVari v2.5, especially when the first impression matters a lot to many people.
Perhaps using a bubble wrap or a paper box is a good idea in terms of shipping options. Yet, for a premium product at a premium price, I personally feel that the Provari v2.5 should have at least come in a plastic casing.
Top Features of Provape Provari V2.5
This Provape Provari v2.5 review includes some of the top features of the product. For full specifications and details visit the official ProVape website.
Packaging
Paper packaging with plastic seat or bubble wrap pack.
Kit Components
Provari v2.5 battery mod
18650 extended cap
Specifications And Top Features
4.1" Length, 0.90" Diameter
4.2 ounces (without battery)
2.9-6.0 variable voltage range with 0.1 volt increments
Built-in digital display
Built in atomizer Ohm's and battery voltage checker
Translucent light-up pushbutton with low battery indicator
Stock 510 connection
16 second safety cutoff
Short circuit protection
Battery monitor and over-discharge protection
Conclusion
If you are looking for a really reliable and long-lasting mod, then the Provari v2.5 is the product for you. In the very competitive world of eCig mods, the Provari brand has been on the forefront for over four years.
In fact, even competitors and accessories manufacturers still look at Provari's features before deciding to manufacture their products. So, if you buy a Provari v2.5, you really don't need to worry about the product quality.
But what you will need to worry about is the price. For the Provari v2.5, you will not just need to pay a big sum for the mod, but also shelve out extra bucks for accessories like batteries and chargers. Yet, if you really love vaping, consider your money spent on the Provari v2.5 as a long-term investment.
If you really like Provari products but don't want to spend a fortune on it, you can perhaps try the Provari v2.5 mini. We will also come up with a Provari Mini v2.5 review at VapingCheap very soon. So don't forget to subscribe to our alerts. Please feel free to put on your comments and suggestion below. Happy Vaping.