Lost Vape Orion Q-Ultra Pod System $25.39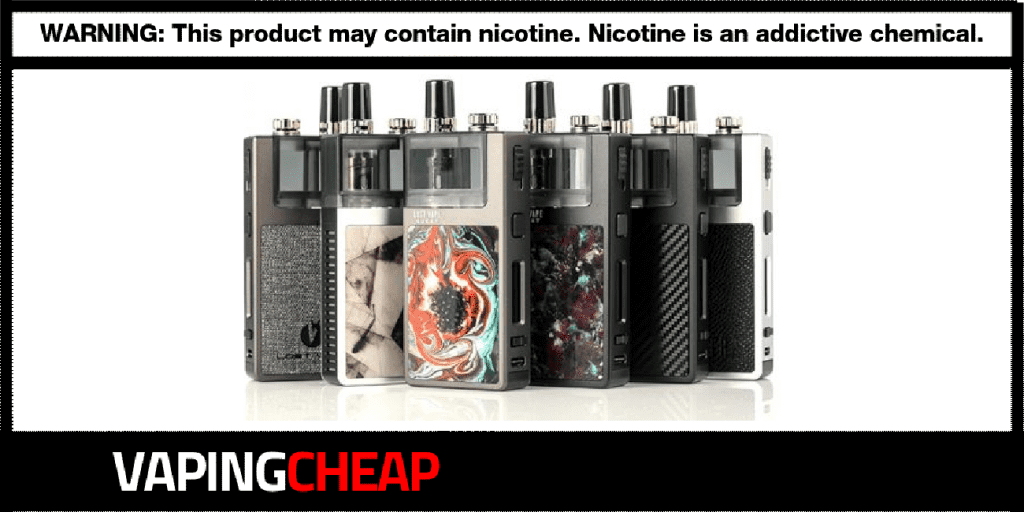 Here are cheap deals, discounts and sales for the new Lost Vape Orion Q-Ultra 40w Pod System. Buy one for just $25.39 using discount code "LVQU". It's also on sale at a USA based store for $28.80 with coupon "vapingcheap10". There's a bunch a unique color options to choose from including Carbon Fiber Black, Nebula Purple, Linen Grey and more.
The Lost Vape Orion Q-Ultra is a followup from their previous release the Q-Pro. This new version has new improvements and features, making it one of the best in the Orion series. For one, it has a large 1,600mAh built in battery, larger than before. Also, it has fully adjustable wattage control, the first ever in the series to offer this.
You can fully adjust the wattage between 5w to 40w, and there is a 0.69 inch OLED display screen that will show your current settings.
Lost Vape's Orion Q-Ultra 40w Pod Mod can fire down to 0.15 ohm. Additionally, with its zinc alloy construction, it can withstand moderate drops with little to no issue. Another great feature of the Orion Q-Ultra Pod Vape is the new compatible coil heads, and refillable pod cartridge.
The pod capacity is a whopping 4ml, and sports a top filling system, so it's quick and easy to fill. Airflow is adjusted via the drip tip as expected.
Moving onto the replaceable coils, this device is compatible with the new Lost Vape Ultra Boost Coils. There's three of them that's available. This includes a 0.3 ohm M1 coil, 0.6 ohm M2 coil, and a 1.0 ohm MTL coil. What's even better is that there will be an RBA available, so you can install and use your own coil.
If you're a fan of their previous releases, or looking for a pod vape that has a ton of great features, then you'll want to grab the Lost Vape Orion Q-Ultra. As mentioned earlier, with all of its improvements and new features, it's their best release yet.
Lost Vape Orion Q-Ultra 40w Pod System Features:
Internal 1,600mAh Battery
USB Type-C Charging Port
Variable Wattage Output: 5w - 40w
Minimum Firing Resistance: 0.15 ohm
Zinc Alloy Construction
0.69 Inch OLED Display Screen
Delrin Drip Tip
Compatible with Orion Q-Ultra Pod Cartridge

4ml Maximum E-Juice Capacity
Top Fill
Pod Release Switch

Utilizes New Orion Ultra Boost Coils

0.3 ohm Ultra Boost M1 Coil (30w - 40w)
0.6 ohm Ultra Boost M2 Coil (20w - 28w)
1.0 ohm Ultra Boost MTL Coil (8w - 15w)
Optional RBA Coil
Press Fit Installation

Multiple Safety Protections Built In
What's Included
Lost Vape Orion Q-Ultra Vape Pod
1.0 ohm MTL Coil
Additional 0.6 ohm Coil
Charging Cable
Warranty Card
User Manual
Check Out The Lost Vape Orion Q-Ultra Review