Freemax Mesh Pro Coils 3 Pack $7.50 (USA)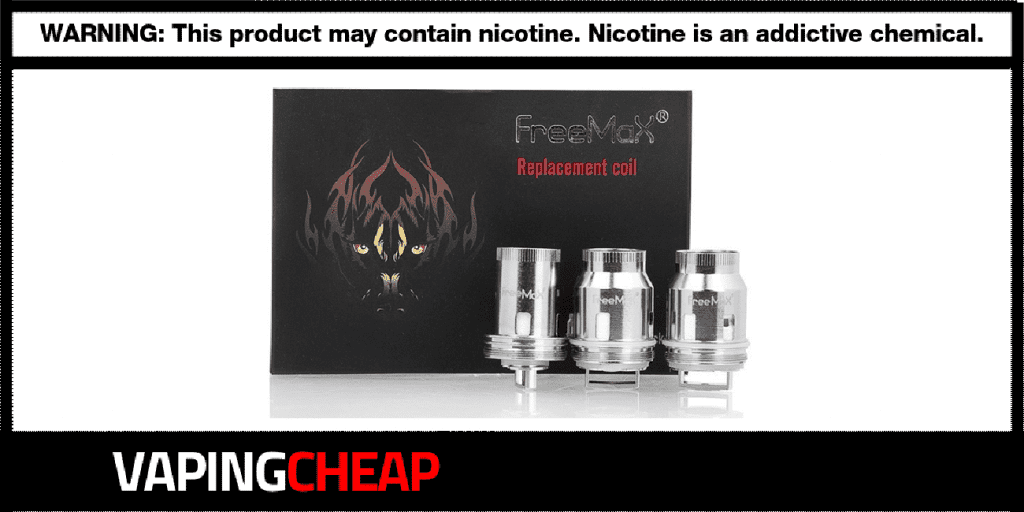 Here are cheap deals and discounts for the Freemax Mesh Pro Coils. Buy a 3 pack from a USA based shipper from only $7.50. No code is required for this discount. However, you can get free shipping when spending over $100 using coupon "SHIP4FREE".
The Freemax Mesh Pro replacement coils are available in quite a few different options. Firstly, they're designed for and compatible with the Freemax Mesh Pro Tank.
With that being said, the first and cheapest Freemax Mesh Pro Coil is 0.15 ohm Single Mesh Coil in either stainless steel or Kanthal. There are more expensive options which are better (in our opinion).
This includes the 0.2 ohm Kanthal Double Mesh, 0.15 ohm Triple Mesh, 0.15 ohm Quad Mesh and 0.15 ohm Quintuple Mesh. The best part of the Freemax Mesh Pro coils is that they all feature mesh wire. You'll not only get a longer lasting coil head, but amazing flavor and tons of clouds. Lastly, each option does come in a pack of 3 coil heads.
If you're looking for cheap Freemax Mesh Pro Coils for your tank, then you'll want to jump on this sale. Even at the cheapest option, these coils perform incredibly well, and are indeed some of the best from Freemax.
Freemax Mesh Pro Replacement Coils Features:
Pack of 3 Coil Heads
Compatible with Freemax Mesh Pro Tank
Mesh Heating Wire
Organic Cotton
Large Wicking Slots
Multiple Coil Options

Kanthal or SS 0.15 ohm Single Mesh Coil (40w - 70w)
Double Mesh Coil Kanthal 0.2 ohm (60w - 90w)
Kanthal Triple Mesh Coil 0.15 ohm (80w - 110w)
Quad Kanthal Mesh Coil 0.15 ohm (80w - 120w)
Quintuple Mesh Coil 0.15 ohm (80w - 100w)