Footoon Aqua Master RDA $14.66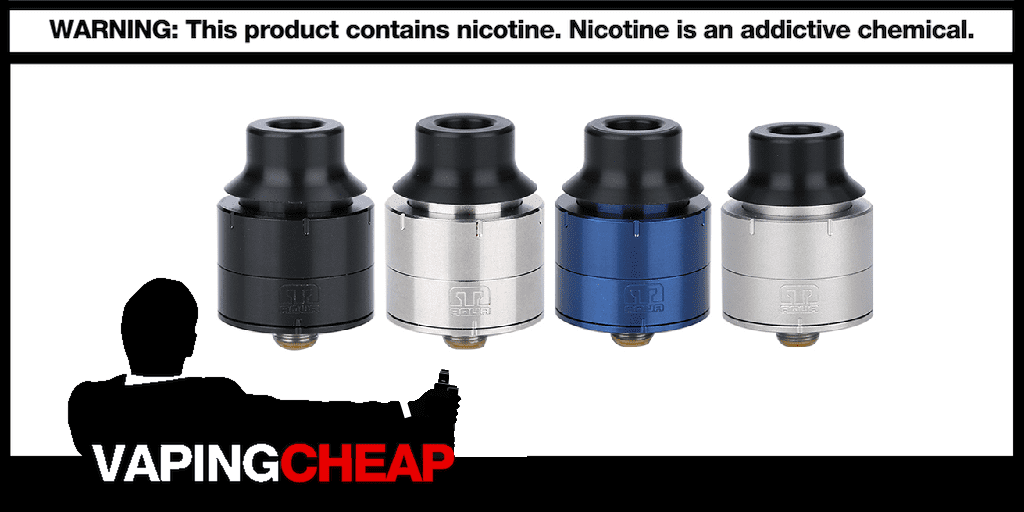 Here's a cheap deal on the Footoon Aqua Master RDA. Get yours on sale from just $14.66 using discount code "6th10". There's four color options you can choose from which are Stainless Steel, Sand Blasting, Blue and Black. It's also available from another China based store for only $21.83 plus free shipping!
Footoon is a brand known for unique and pretty innovative atomizers, and the Aqua Master RDA is no different. It sports a base diameter of 24mm, and an overall height of 34mm. At the top, there is a wide bore delrin drip tip, which is not only comfortable on the lips, but won't get hot when chain vaping or higher wattage vaping. As expected, it is fully constructed of stainless steel material. Now, onto what actually makes this RDA different from its competitors.
The first innovative feature of the Footoon Aqua Master RDA is its build deck. It's a clamping coil set up system, which means its compatible with both regular coils and mesh coils. It's similar to that of a postless deck, but has a clamp as well. This makes the Aqua Master RDA by Footoon incredibly versatile, and can be set up based on what type of vape you're looking for. Any coil for flavor can fit in with ease including those chunky Aliens and Fused Clapon coils.
Another unique feature to the Footoon Aqua Master RDA atomizer is the airflow adjustment. It comes in from the side of the RDA, but the way it adjusts is what makes it unique. As you turn the barrel or top section of the cap to adjust the airflow, it will open up the airflow slot. This allows you to really fine tune the airflow to wide open or restrictive, giving you full control of how you want the draw to be. How cool is that!
If you're looking for a versatile atomizer that's compatible with both mesh and regular coils, then you won't wanna miss out on this atomizer deal, that's for sure. At this price, it's definitely worth a shot, and just may end up becoming your favorite..
Aqua Master RDA by Footoon Features:
Base Diameter: 24mm
Overall Height: 34mm
Stainless Steel Construction
Unique Clamping Coil Set Up System

Postless/Clamp Style Build Deck
Compatible with Mesh & Regular Coil Builds

Innovative Airflow Control
Wide Bore Delrin Drip Tip
4 Color Options Available
What's Included
Footoon Aqua Master RDA

Bag of Spare Parts
Check Out The Footoon Aqua Master RDA Review