Ehpro Cold Steel 200 Box Mod $49.49 (USA)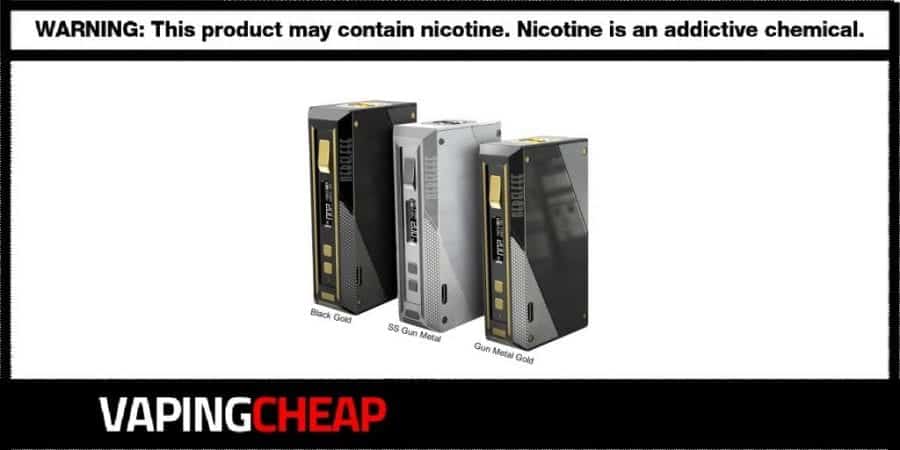 The Ehpro Cold Steel 200 TC Box Mod in collaboration with Nebelfee is now in stock and on sale for only $49.49 using the code "TENOFF"! Free shipping applies to US orders over $75. It's also available from a vendor in China for $62.99. There are currently three color options available which are Black/Gold, Gunmetal and Silver.
Unlike it's smaller brother, the Ehpro Cold Steel 120w, this one offers a maximum wattage output of 200w. In addition, it requires two high drain 18650 batteries instead of a single larger 21700 battery. Also, it has a maximum voltage output of 8v alongside a minimum firing resistance of 0.05 ohm. In addition, it is primarily constructed of stainless steel, so it's very durable. There's also a bunch of safety features such as short circuit protection, weak battery protection, low voltage protection, and much more.
Ehpro's Cold Steel 200w Mod does have quite a few features as well, some we've seen in some of the best vape mods. These features include temperature control for multiple wire materials, Bypass mode, curve mode, and even a voltage mode. There's also a USB Type-C charging port, and a centered 510 connection, so all of your atomizers will look great when attached! Honestly, we much prefer a centered 510 in comparison to one that's offset.
All in all, this is a great deal for the Nebelfee and Ehpro Cold Steel 200 Mod. If you're looking for a high quality, and well built dual battery box mod, then you'll definitely want to check out this device.
Ehpro Cold Steel 200w Mod Features:
Collaboration with Nebelfee
Stainless Steel Chassis
Requires 2 High Drain 18650 Batteries (Not Included)
Maximum Wattage Output: 200w
Maximum Voltage Output: 8v
Minimum Firing Resistance: 0.05 ohm
5 Different Output Modes

Power
TC
Curve
Bypass
Voltage

USB Type C Port
Centered 510 Connection
Multiple Safety Features

Short Circuit Protection
Low Voltage Protection
Weak Battery Protection
10 Second Cutoff
Reverse Battery Protection
Over Heat & Over Current Protections

Color Options
What's Included
Ehpro & Nebelfee Cold Steel 200 Mod
USB Type C Cable
User Manual
Warranty Card
Certification Card