OXVA Origin AIO Pod System $31.96 (USA)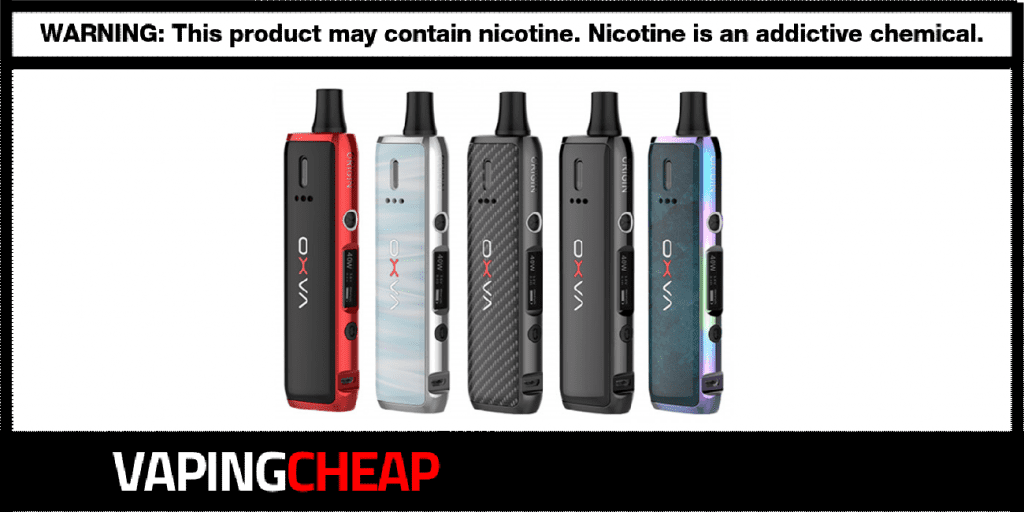 Here are cheap deals, discounts and sales for the OXVA Origin AIO Pod System. Buy yours from a USA based store for just $31.96 with code "20PODSMFS". Free shipping is included with orders $75 or more. There are 5 different color options available for purchase.
The OXVA Origin is a unique, and powerful device that shares similarities to both all in one (AIO) kits, and pod vapes. For one, it utilizes the advanced Photon chipset, which provides not only 40w, but an accurate and safe vape experience. Additionally, depending on how you're vaping, you can get this device to last you for days, so it's efficient as well.
This is true, especially if you're a MTL vaper. However, if you prefer direct lung vaping, it's still rated to provide over 300 puffs before needing to replace the battery. Speaking of, to power the OXVA Origin pod system, you'll need to use a high drain 18650 battery. Although this is true, it still sports an ultra compact size.
Some other great features include the compatible coils, and refillable pod cartridge. Filling it is super easy, and it fits securely into the device. When it comes to coils, there's three that's available alongside an RBA. The first two coils are much better suited for direct lung vaping, and feature mesh wire. One is a 0.3 ohm while the other is a 0.5 ohm. For the third option, it's designed for mouth to lung vaping, and can be used with nicotine salt e-juices. It has a 1.2 ohm resistance, and features a regular round wire coil.
If you're looking for an ultra compact AIO pod system that utilizes an external battery, then you'll definitely want to get the OXVA Origin AIO Pod System. With its powerful yet efficient chipset, it's bound to be one of the best releases of the year.
OXVA Origin Pod System Kit Features:
Powered By Photon Chipset
Designed by Justin Lai, CEO of OXVA
Requires Single High Drain 18650 Battery (Not Included)
Wattage Output Range: 5w - 40w
Ultra Slim & Lightweight
5 Safety Protections
OLED Display Screen
Adjustable Airflow Ring
Refillable Pod Cartridge
Replaceable Coils

0.3 ohm Mesh
0.5 ohm Mesh
1.2 ohm Regular
RBA
What's Included
OXVA Origin Kit with 0.3 ohm UNI Coil Pre-Installed
Spare 0.5 ohm UNI Mesh Coil
USB Cable
User Manual
Warranty Card
Check Out The OXVA Origin AIO Kit Review
More Great Vape Deals...
---
MyVPro Free Shipping Weekend Sale!
For a limited time only, the Vandy Vape Bonza Kit Entension Tube is available for pre-order right here for only $14.39 using coupon code "Preorder10"! Free[...]