Efest Lush Q8 Battery Charger $30.95 (USA)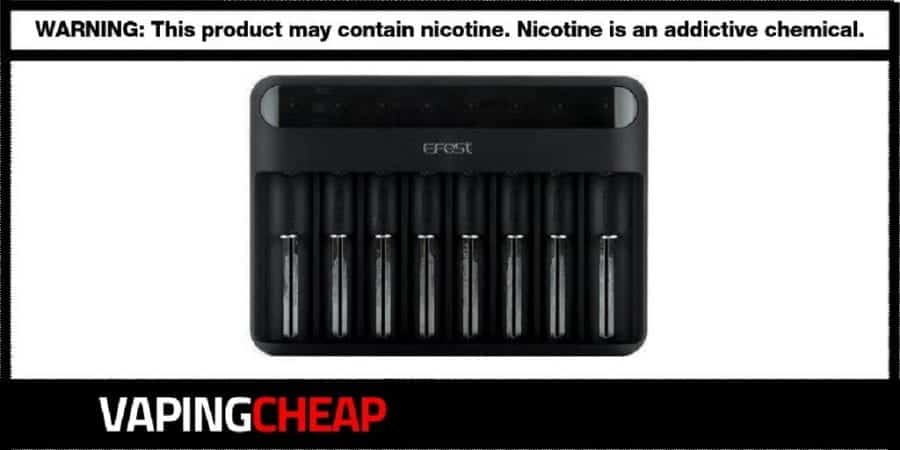 Here are cheap deals, and discounts for the Efest Lush Q8 Battery Charger. Get yours from a USA based store for just $30.95. No code required to get this sale price.
The Efest Lush Q8 Intelligent Battery Charger is able to charge up to 8 batteries simultaneously. Additionally, it can charge your batteries in speeds up to 2A. Depending on how many batteries you're charging at once will determine the speed since it features an automatic selective charging mode.
When you're using all 8 slots in the Efest Lush Q8, it'll charge your vape batteries at 0.5A.
If you're charging only 4 batteries, then you'll get 1A charging speeds. For the fastest speed (2A), you can charge up to 2 batteries in slots one and eight. What's great about the Efest Lush Q8 vape charger is that it is compatible with a variety of sizes. This does include the most popular we use for today's vaping devices such as 21700, 20700 and 18650.
Not all vape battery chargers are able to accommodate all three sizes, so it's definitely a standout feature. Lastly, the Efest Lush Q8 8 bay battery charger has a ton of different safety protections built in.
If you're looking for a charger that's able to charge a ton of batteries at once, then you'll definitely want to grab the Efest Lush Q8. For the sale price, it's definitely one of the most affordable 8 bay chargers out there.
Efest Lush Q8 Vape Charger Features:
8 Bay Battery Charger
Up to 2A Charging Speeds

8 Batteries - 0.5A
4 Batteries - 1.0A
2 Batteries - 2.0A

Compatible with Various Battery Sizes

Includes 18650, 20700 & 21700

High Quality Construction
Piano Wire Springs
Multiple Safety Protections Built In
What's Included
Efest Lush Q8 Intelligent 8 Bay Battery Charger
12V 2A DC Cord
Gift Box
Warranty Card
User Manual