Augvape Air 2 Pod System $14.39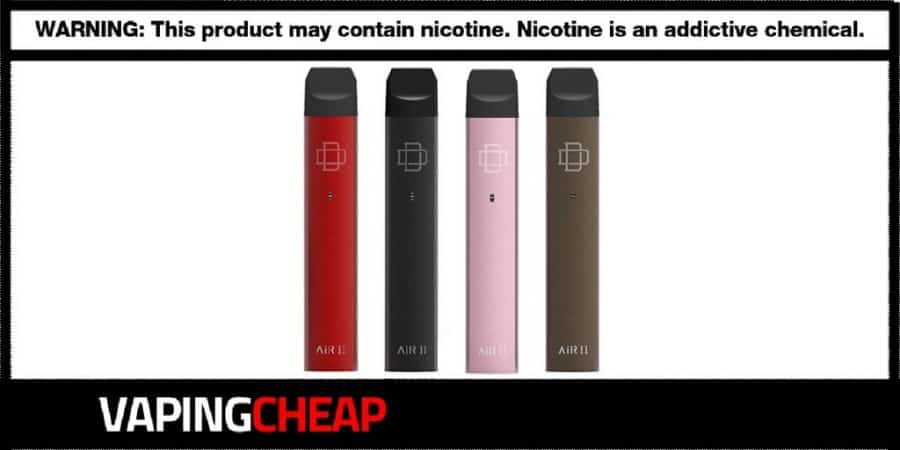 Here is a cheap deal and discount on the new Augvape Air 2 Pod System. Buy yours for only $14.39 using code "AIR2". There are four color options available which are Black, Champagne, Pink and Red.
The new Druga Air 2 Pod System by Augvape has a built in 470mAh battery that takes under 30 minutes to fully charge. Charging it can be done via its USB type-C port. This pod device does have a maximum voltage output of 4.2v and will taper off down to 3.2v when the battery is close to being depleted. With the size of the Air 2 II pod kit by Augvape, you can easily take it with you anywhere.
Augvape's Air 2 Pod Device Kit is primarily constructed out of aluminum material, providing you with a super sleek design. There is a LED indicator light on the front as well, making it easy to check the battery life.
Now the best part is that it does include two refillable pod cartridges inside of the packaging. Each holds a maximum e-juice capacity of 1.7ml, which is respectable given its size, and sleek form factor. These are easily filled using the side filling ports. Lastly, the resistance of the coil is 1.3 ohm which is perfect for nic salt e-juice and MTL vaping.
If you are searching for a new simple and easy to use pod system that charges quickly and is extremely portable, then the new Augvape Druga Air 2 Pod System is one worth checking out.
Augvape Druga Air 2 Pod Kit Features:
Internal 470mAh Battery
Maximum Voltage Output: 4.2v
LED Indicator Light
Aluminum Construction
Compact Design
Includes 2 Refillable Cartridges

Maximum E-Juice Capacity: 1.7ml
Side Fill Design
1.3 ohm Resistance
What's Included:
Augvape Air 2 Pod Device
Two Refillable Pod Cartridges
USB Type-C Cable
User Manual
Beauty Ring
Check out the Augvape Druga Air 2 Pod Review
More Great Vape Deals...
---
Hellvape Drop Dead RDA $18.56
Rebuildable Dripping Atomizer For a limited time only, the new Hellvape Drop Dead RDA is now back in stock and on sale right[...]