VooPoo Drag 2 Platinum Kit $43.50 (USA)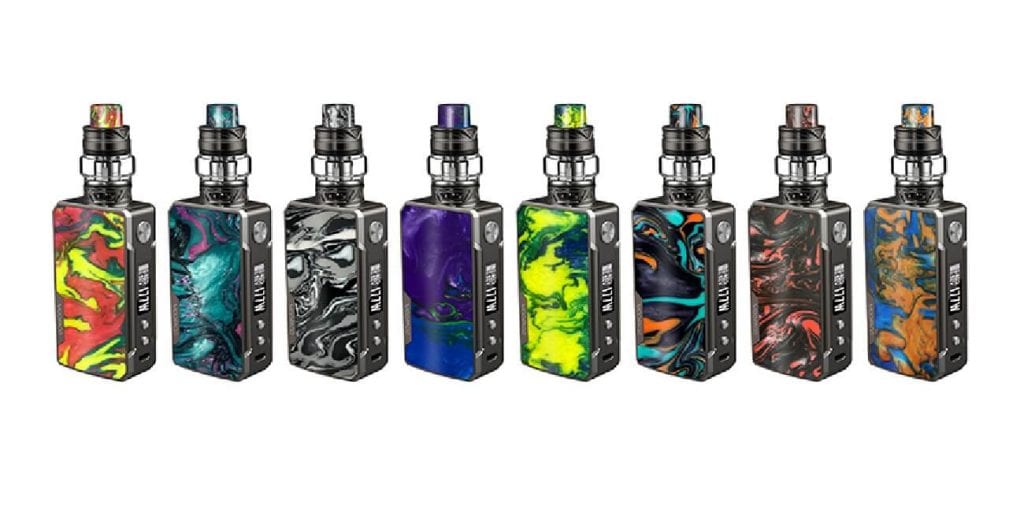 The VooPoo Drag 2 Platinum Kit is now in stock and on sale from a US based vendor for only $43.50! There are many different color options available that you can choose from. It's also in stock from a vendor in China for $59.61.
VooPoo's new Drag 2 Platinum Kit includes the updated VooPoo Drag 2 Platinum Mod and UForce T2 Sub Ohm Tank. The newly updated device features a new finish with various unique resin plates available, as expected.
This new finish not only makes the device lighter than the previous model, but it's slimmer as well. They've also updated the Gene.Fit chipset with their new FIT feature which has three unique settings, battery, flavor and cloud.
It does have temperature control as well for Ni200, Ti and SS wires alongside a maximum wattage output of 177w. Like many of the best vape mods, it has eight different safety features built in, keeping you safe while vaping. You can never have enough safety features built in, so we're glad Voopoo decided to implement a bunch into the Drag V2 Mod.
The included UForce T2 tank comes matched for the Drag 2 Platinum box mod and includes a wide bore resin drip tip. Airflow does come in through the bottom of the tank, and you can fully adjust it to your preference. What's great about this kit is the included coil heads. The first is the UForce U2 0.4 ohm and the other is the triple mesh 0.2 ohm UForce N3. Lastly, this tank has a maximum capacity of 5ml, and features a top fill design, making it quick to fill with your preferred e-liquid.
If you're a fan of original VooPoo Drag Box Mod or looking for a new high wattage starter kit, then you'll definitely want to check out this deal. It's lighter, slimmer and packed with more features than ever before. If you just wanted the device itself, then be sure to check out the standard Voopoo Drag 2 Box Mod.
VooPoo Drag 2 Platinum Vape Kit Features:
Voopoo Drag 2 Platinum Mod

Requires 2 High Drain 18650 Batteries (Not Included)
Powered By Gene.Fit Chipset
New Fit Mode

Battery Set
Flavor Set
Cloud Set

Unique Resin Panels (Various Options Available)
Maximum Wattage Output: 177w
New Platinum Finish
Temperature Control (Ni200, Ti, SS)
8 Safety Features Built In

VooPoo UForce T2 Sub Ohm Tank

Overall Diameter: 28mm
Wide Bore Resin Drip Tip (Matching)
5ml Maximum E-Liquid Capacity
Top Fill Design
Fully Adjustable Bottom Airflow
UForce Coil Family

0.4 Ohm UForce U2 Coil
0.2 ohm UForce N3 Triple Mesh Coil
What's Included
VooPoo Drag 2 177w Mod (Platinum Version)
Voopoo UForce T2 Vape Tank
UForce U2 Coil Head
UForce N3 Coil Head
Glass Tank Section (3.5ml)
7 Sealing O-Rings
USB Cable
GENE Chip Card
Warranty Card
User Manual
Check Out The VooPoo Drag 2 Platinum Review