Vaptio Giveaway! Total Value of $400!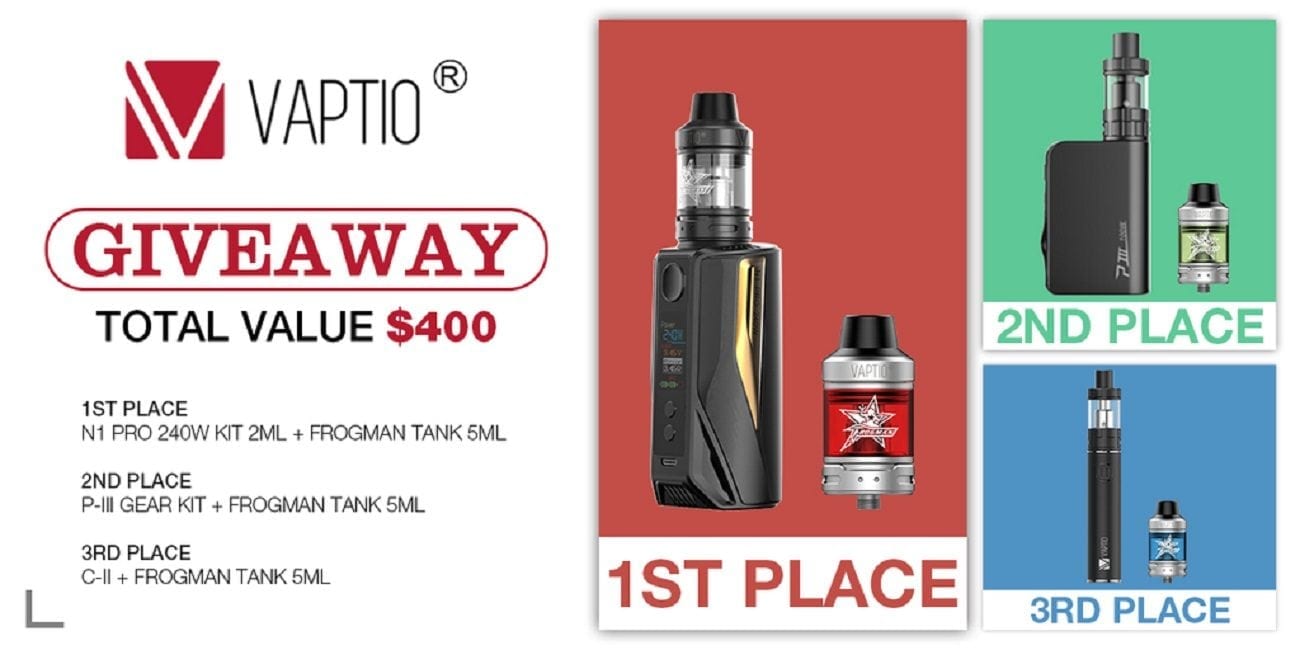 Sponsored By Vaptio!
For this giveaway, Vaping Cheap readers have a chance to score a brand new vape kit from Vaptio! There will be a total of 3 winners, with the total value being $400! Be sure to check out our latest review of the Vaptio N1 Pro 240w Kit to see more of what Vaptio has to offer and is giving away!
About Vaptio
Vaptio is US based company dedicated to changing the vaping world by continuously bringing innovations and better options to users since its establishment in Seattle in 2014. With a strong management team with Fortune 500 background, and cutting edge technologies, and a creative product design team in the US, Vaptio devotes its resources to offering users with ultra-high quality vape gears, and to sharing the success with all partner distributors, resellers from around the world.
Giveaway Prizes:
1st Place Prize Winner: Vaptio N1 Pro 240w Kit 2ml + Frogman Tank 5ml
2nd Place Prize Winner: Vaptio P-III Gear Kit + Frogman Tank 5ml
3rd Place Prize Winner: C-II Vape Pen + Frogman Tank 5ml
Enter Below…
Vaptio Giveaway! Total Value of $400!

Make sure you enter with a good e-mail address that you check often. We've have had a number of winners who never respond to the winning e-mail and lost their prize. Please use your primary e-mail address to enter. Thanks.
Winners are listed on our Facebook Page or in the Giveaway Box listed above within 1 week of the Giveaway end date.
Winners will be notified by e-mail and have 72 hours to claim the prize. Last day to enter is December 23rd, 2017 at 11:59 pm EST. Winners will be drawn and notified within 1 week of giveaway closure.
This giveaway is open to Vaping Cheap subscribers only. Be sure to confirm your email subscription in the followup email.
Vaping Cheap reserve's the right to disqualify contestants. Contestants shall not enter multiple times or use multiple accounts to enter. Fraudulent activities will be monitored and will lead to exclusion of all current and future sweepstakes/giveaways.
Due to FDA Regulations we do require a $1 payment via PayPal from each prize winner or the prize winner(s) will be disqualified.
This sweepstakes is open to everyone but If you live outside the USA you will be required to pay shipping and handling to win a prize.