Vaporl Christmas Sale!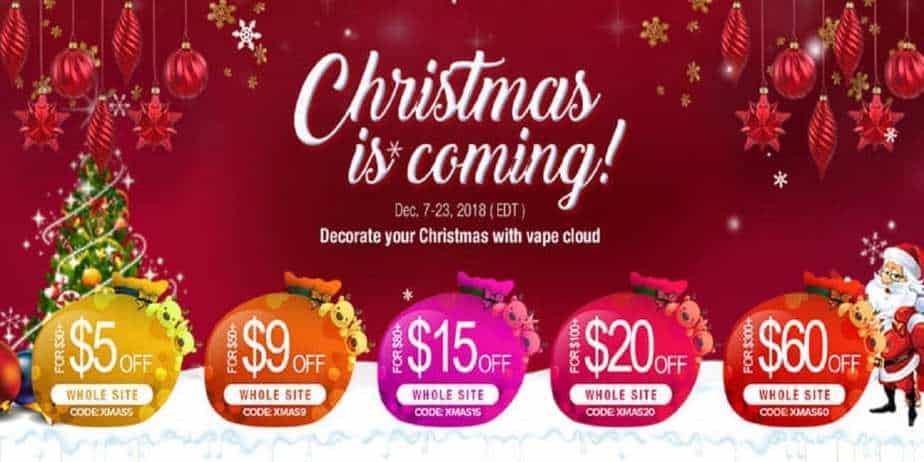 Store Sale
For a limited time only, Vaporl is having their Christmas Sale right here where you can save up to $60 off your order. This sale does end 12/23/18!
During the Vaporl Christmas Sale, you can save up to $60 off sitewide using the coupon code provided! In addition, you can also save $5, $9, $15 and $20 off using the other coupon codes provided below!
They have multiple sale columns as well such as Flash Sale products, Presale products, Customer's Choice and more! They are running a giveaway where you can win prizes worth up to $500, so be sure to enter for your chance to win some new vape gear!
This sale includes box mods, starter kits, tanks, pod systems and more from some of the most popular vape brands today! Lastly, some of the current deals that are available will be listed below.
All in all, this is an incredible store sale! If you're looking to save on a wide variety of vape products including pod systems, vape starter kits, atomizers and more, then this is a deal you definitely cannot miss! Be sure to check this deal out at Vaporl, where you can save up to $60 off your entire order!
Coupon Codes: XMAS5 ($5 Off Over $30), XMAS9 ($9 Off Over $50), XMAS15 ($15 Off Over $80), XMAS20 ($20 Off Over $100), XMAS60 ($60 Off Over $300)
Some Of The Current Deals:
Vandy Vape Pulse Dual Squonk Kit $59.50
Hellvape Rebirth RDA $19.25
Eleaf Ello Sub Ohm Tank $4.90
Fundamental Particle Mission Pod System $4.90
Joyetech Ornate Tank $2.90
VooPoo Drag 2 Starter Kit $60.00
OFRF Gear RTA $34.99
Vandy Vape Maze Sub Ohm BF RDA $9.90
Smok I-Priv Starter Kit $39.90
Hellvape Hellbeast Sub Ohm Tank $22.00
Plus More!