Vapetasia Nic Salt BOGO Sale! 2x30ml $14.95!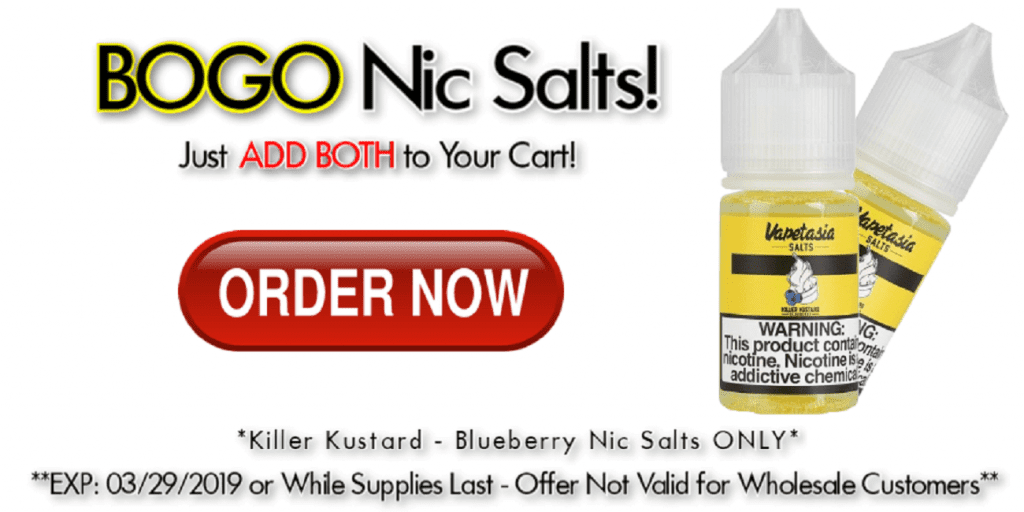 For a limited time only, MyVpro is having their Vapetasia Nic Salt Bogo sale right here where you can get 2x30ml bottles of Vapetasia Killer Kustard Blueberry for only $14.95! No coupon code required, just add two to the cart.
During the Vapetasia Nic Salt Bogo Sale, you can get two 30ml bottle of Vapetasia Killer Kustard Blueberry for only $14.95! Just add two to your cart! Vapetasia Killer Kustard Blueberry is currently available in 24mg and 48mg.
In addition, this e-juice comes in a small 30ml unicorn bottle, making them easy to carry and fill your pods or MTL tanks with! Lastly, the flavor description of this e-liquid will be down below.
All in all, this is a excellent E-Juice Sale! If you're looking to grab a new dessert flavor for your pod systems, then this is a deal for you! You can grab this deal over at MyVpro for only $14.95!
Product Features:
2x30ml Bottles for only $14.95
Chubby Gorilla Bottle
50/50 Blend
Salt Nicotine Stregnth: 24mg and 48mg
Flavor Description: ripe blueberries, unleashing a tangy but smooth creamy fruit flavored vape bursting with blueberry goodness.