VapeSourcing Chinese New Year Sale! Up To 80% Off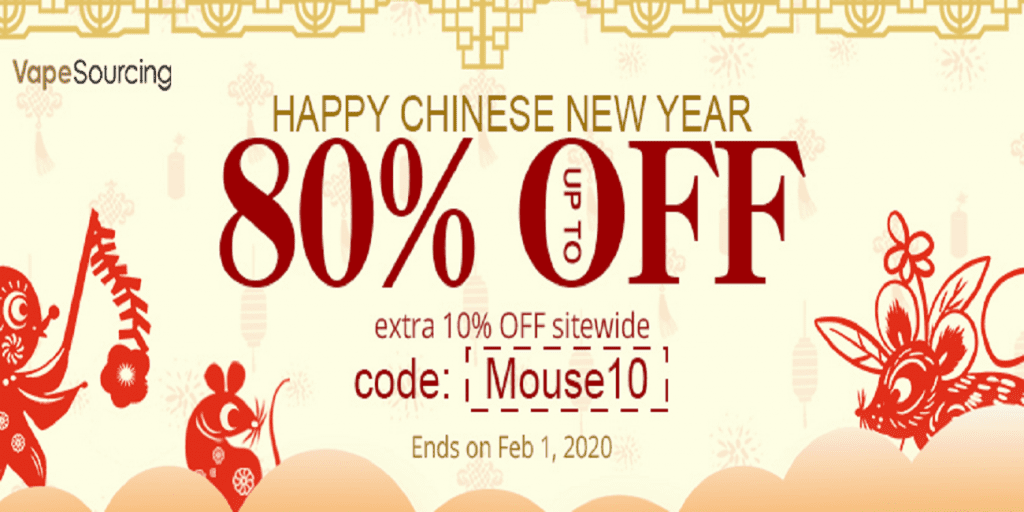 VapeSourcing has now kicked off their Chinese New Year Sale for 2020! Save up to 80% off various vape products. On top of that, take 10% off site-wide when using code "MOUSE10".
During this VapeSourcing Store Sale, you'll be able to get huge savings on many different vaping products including both hardware and e-liquid. For one, they're having massive clearance sales with insane discounts on starter kits, pod mods and more. Additionally, they have a section where buy 1 get 1 free. One specific sale for example is buy one pod device for $10.79 plus get a pack of coils free!
They've also got huge savings on premium e-liquids with prices starting as low as $1.79. Don't forget to check out their starter kit sale, and discounts on disposable pods with prices coming in at under $3.
If you're looking to save big on vape gear, then you won't wanna miss out on this VapeSourcing Sale. There's tons of different products coming in at under 10 bucks, so you'll be able to get new setups at super cheap prices. Check out our exclusive VapeSourcing coupon too if you want more discounts.
VapeSourcing Sale Details:
Save up to 80% off
Take 10% off site-wide
Buy 1 Get 1 Free Sales
Clearance Flash Sales
Huge E-Juice Discounts with prices as low as $1.79
Limited Time Store Sale