VapeOclean Ultrasonic Cleaner Review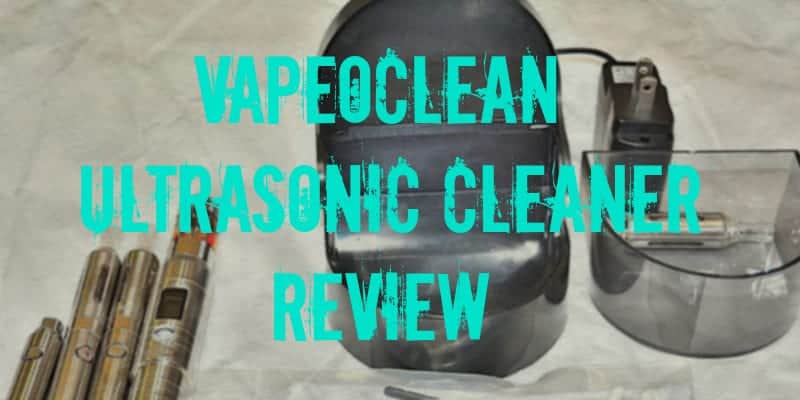 The VapeOclean ultrasonic cleaner is made by a company of the same name, and was started by a vape enthusiast who was looking to get the best performance, and longest life out of his vape gear. The use of ultrasonic cleaners is not new to the vaping community and I first became familiar with their use in the DIY e-liquid world. Ultrasonic cleaners have become a must-have for some vapers, both for keeping vape gear clean, and for steeping home brewed e-liquid mixes.
VapeOclean offers two ultrasonic cleaning kits, each in different sizes to accommodate different loads, and both include cleaning powder and utensils. VapeOclean.com also sells compatible cleaning powders in larger 4 and 8oz sizes. The VapeOclean little giant ultrasonic cleaner featured in this review retails for $49.95, and it includes a power cord, wall adapter, and a mini cleaning kit.
Visit VapeoClean.com to Get One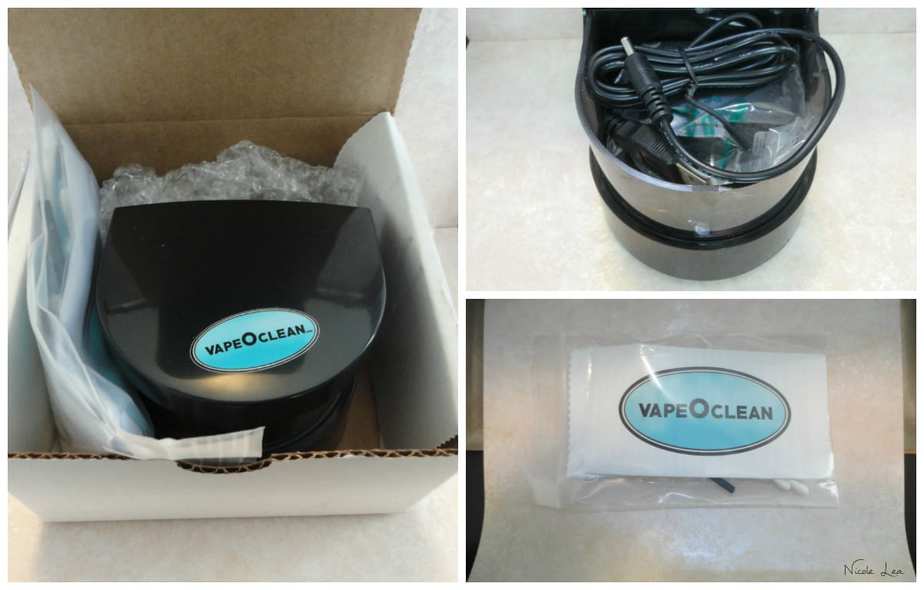 VAPEOCLEAN ULTRASONIC CLEANER SPECIFICATIONS:
Brand: VapeOclean
Type: mini ultrasonic cleaner
Color: black
Material: heavy-duty plastic? (same as found on a coffee maker)
Weight: unknown
Height: unknown
Width: unknown
Package contents:
Ultrsonice cleaner
Power cord
Wall adapter
Starter cleaning kit (ie: cleaning powder and utensils)
BUILD QUALITY
When I sat down to pen this review, I went to vapeoclean.com so that I could find out the device specifications for this ultrasonic cleaner, and it was disappointing to not find any. Not a single mention of the ultrasonic cleaners dimensions, or materials, which didn't make a good first impression on me. Detailed item specs are a must, and should always be included in a sale listing.
My first impression of the ultrasonic cleaner was that it reminded me of a mini coffee maker, both in shape, size and materials used. The ultrasonic cleaner has a top lid which flips open, and there is a clear removable tank seated within the cleaner. As far as the feel and quality of the materials, again I would liken it to a mini coffee maker. It is light enough to easily move to and from different locations, but it doesnt feel cheap or flimsy, the construction feels solid for what it is.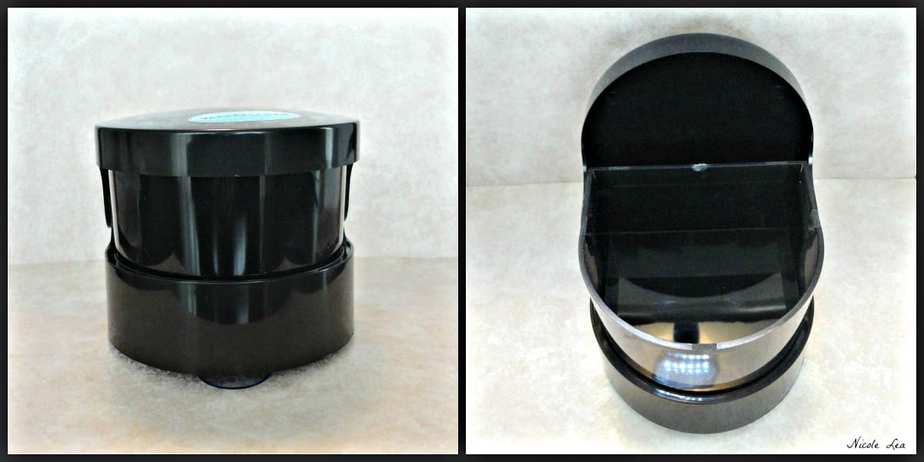 On the bottom of the ultrasonic cleaner there are four gripping pads, and one suction cup to help keep the cleaner in place on your countertop or table while in use. This device can be powered with either two AA batteries, or with the included power cord and usb style wall adapter. The power cord is plugged into the ultrasonic cleaner from the back of the device. Power is activated by the on/off switch also located at the back of device for both battery, and power cord.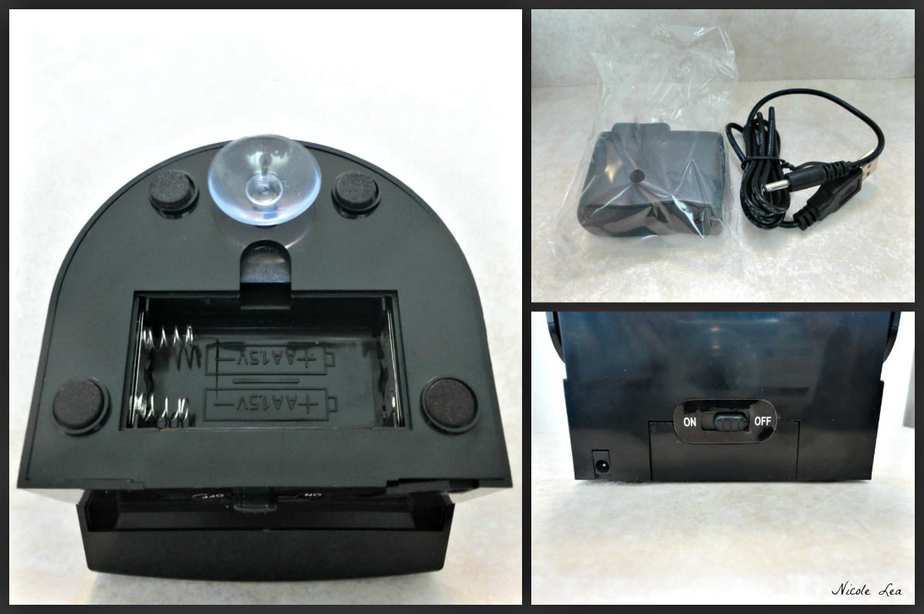 FUNCTION
The cleaning kit includes several cleaning utensils including q-tips, pipe cleaners, a brissel and sponge tip brush, and what appears to be a .25oz bottle of cleaning powder. There is also a user manual, and a vape0clean cleaning cloth.
Most of the reference material found on the vapeOclean website, as well as the user manual, all specify cleaning instructions for cigalike, and ego type batteries and atomizers. Since I no longer use these types of devices for vaping, I would be giving this ultrasonic cleaner its first go with a couple of brand new rebuildable atomizers. As most of you who use RBAs know, more often than not RBAs turn up wreaking of machine oil and do need to be cleaned prior to use.
How to use:
Set the ultrasonic cleaner on a hard and flat surface and install AA batteries, or connect the power cord to the device and wall adapter.
Remove the tank from its seat and add one capful of cleaning powder
Fill the tank with warm-hot water and gently mix the cleaning powder into the water.
Break down the rebuildable atomizer and place into the tank
Turn on the ultrasonic cleaner and let it run between 5-15 minutes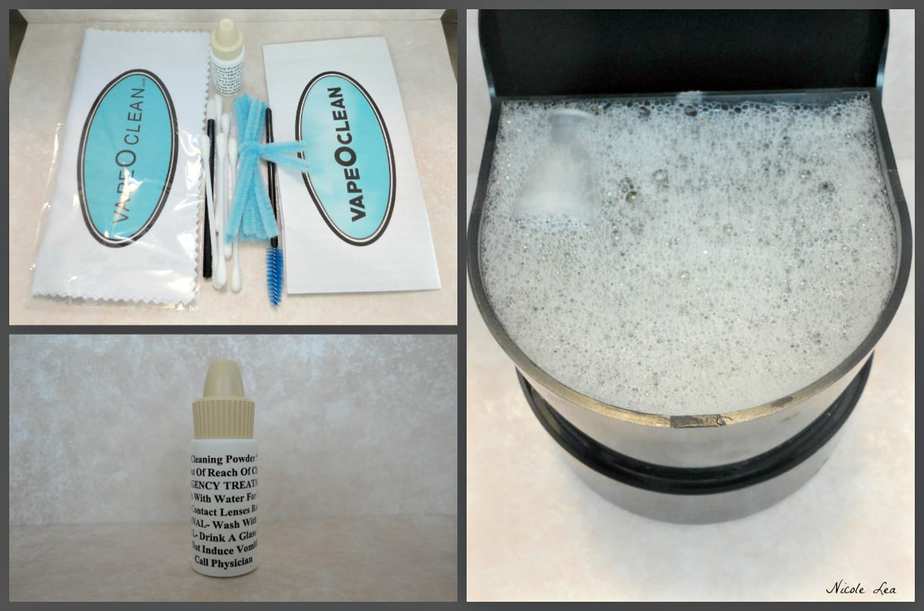 PERFORMANCE
After breaking down the Aqua V2 and Erlkonigin clone RBAs pictured below, I placed all of the parts of one atomizer at a time into the tank and turned on the VapeOclean. I have never used an ultrasonic cleaner before so I wasn't quite sure what it would do once powered on. Once turned on you can hear a buzzing sound, and feel a mild vibration from the cleaner.
When cleaning my devices by hand, I do not like to spend a whole lot of time doing it. I have never been one to allow my RBAs to soak overnight, and I have never tried denture cleaner either. I usually spend about 5 -10 minutes total cleaning by hand, so that is all the time I was going to give this ultrasonic cleaner to see if it were worth my while.
Due to the size of the tank, you can only fit one atomizer at a time in it, although I think that two or three RDAs may be able to fit into the tank at once.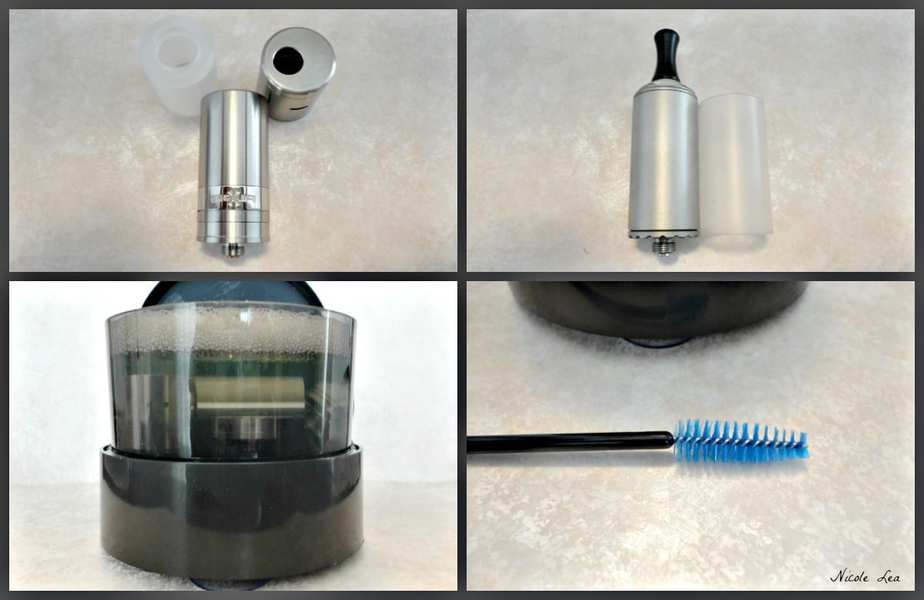 For each atomizer I allowed the cleaner to run for approximately 5 minutes, and then I powered the cleaner off. Once you turn the device off it does take a few seconds for the buzzing to cease. I used the brissel tip brush to give each part of the RBA a good scrub, then I rinsed off each part under running water, then towel dried each part. One of the things I was concerned about was whether this cleaning powder would discolor any of the RBA parts, and it did not.
I gave all of the parts a sniff test after I was done rinsing and drying, and based on smell the cleaning seemed to be effective. The true test however, will come after one of the RBAs is built, filled with e-liquid and vaped.
I did build, fill, and vape the Aqua V2 RBA following its cleaning, and I did not detect even the slightest hint of machine oil or an off taste, so the cleaning was effective.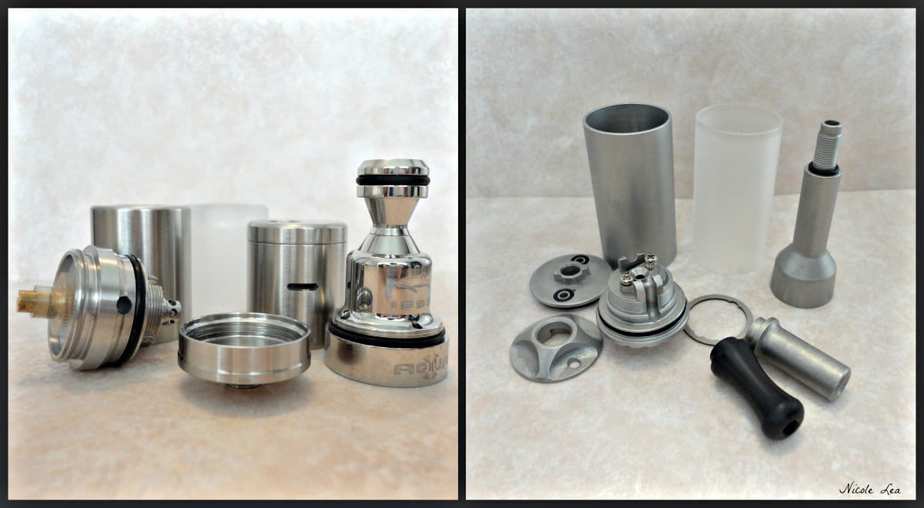 OVERALL
In the past when I have heard of other vapers using ultrasonic cleaners on their rebuildable atomizers and for DIY e-liquid steeping, I admit that there was a lot of eye rolling on my part. I am of the mindset that I dont need a lot of cool gadgets to help me do what I have always done by either hand or intellect. However, I was curious if this ultrasonic cleaner would be effective in cleaning my RBAs and it was. After a 5 minute ultrasonic bath, a scrub, and a rinse my atomizer was clean as a whistle.
I have yet to try this ultrasonic cleaner for the purpose of e-liquid steeping, but if I get a chance to then I will update this review with those results. I would encourage the owner of VapeOclean to please add device specifications which include size, weight, and materials to their website for both the little giant, and the larger premium ultrasonic cleaner because as consumers we need to know exactly what we are paying for.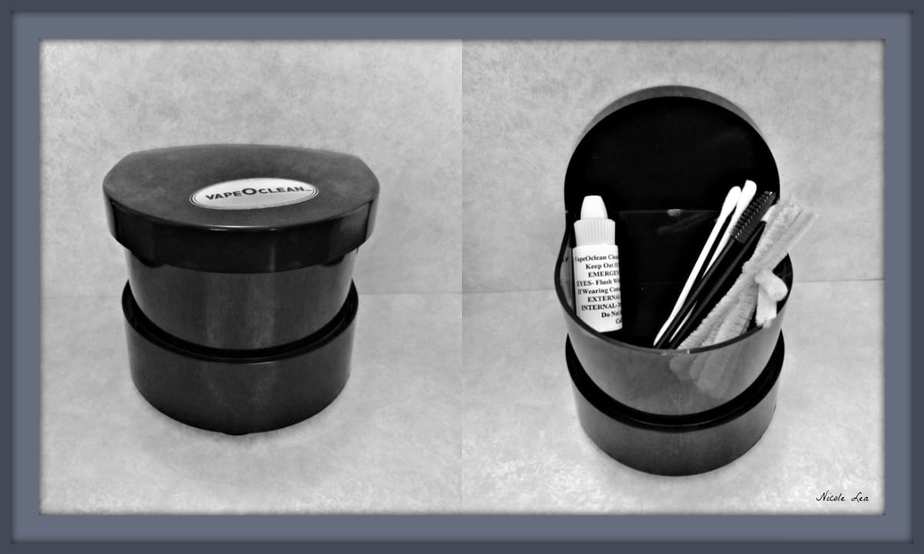 PROS
CONS
Where to Buy a Vape-O-Clean Cleaner