Vanval Vapor Giveaway + 10% Off Sale!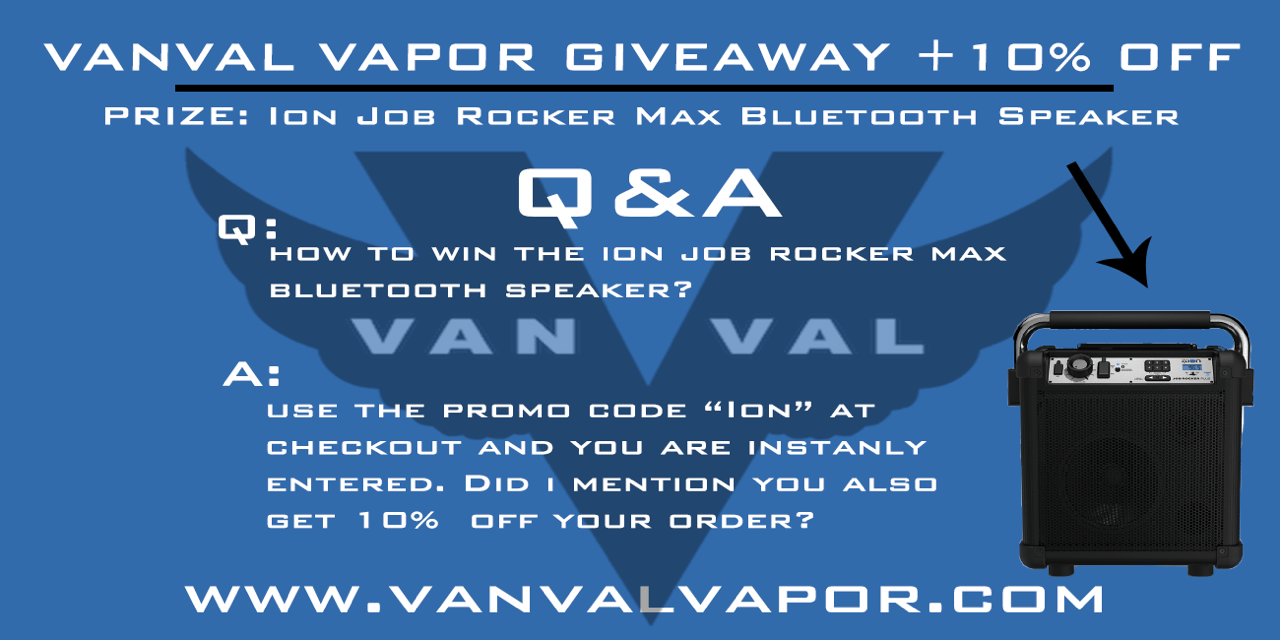 Giveaway & E-Juice Sale!
During the Vanval Vapor Giveaway and E-Juice Sale, you can save 10% off plus be entered to win the Ion Job Rocker Max Bluetooth Speaker by using coupon code "iON"! Free shipping applies to US orders over $60.
To enter this giveaway, simply place an order (regardless of size) using the provided coupon code which also saves you 10% off! Vanval Vapor already offers great prices already on the two e-liquid lines they offer, so with this code you'll be saving even more! In addition, sample packs are available! They do have nicotine strengths up to 12mg available and bottle sizes up to 210ml, so you can easily stock up on some of your favorites! Lastly, all of their vape juice is max VG, so you'll be getting excellent flavor and vapor production!
All in all, this is an excellent deal! If you're looking to save on some e-juice plus have a chance at winning an Ion Job Rocker Max Bluetooth Speaker, then this is a deal you cannot miss! Make sure to check this out at VanVal Vapor, but act quickly as it's for a limited time only!
Coupon Code: iON
Giveaway & E-Juice Sale Details:
Save 10% off plus enter to win the Ion Job Rocker Max Bluetooth Speaker using coupon code iON
Wide variety of flavors to choose from
Sample Packs Available
Nicotine Strengths up to 12mg available
Max VG
Bottles Sizes available: 17.5ml, 65ml, 125ml, 210ml
Ends 10/1/17 at 11:59pm PST