Vandy Vape Mutant RDA $15.99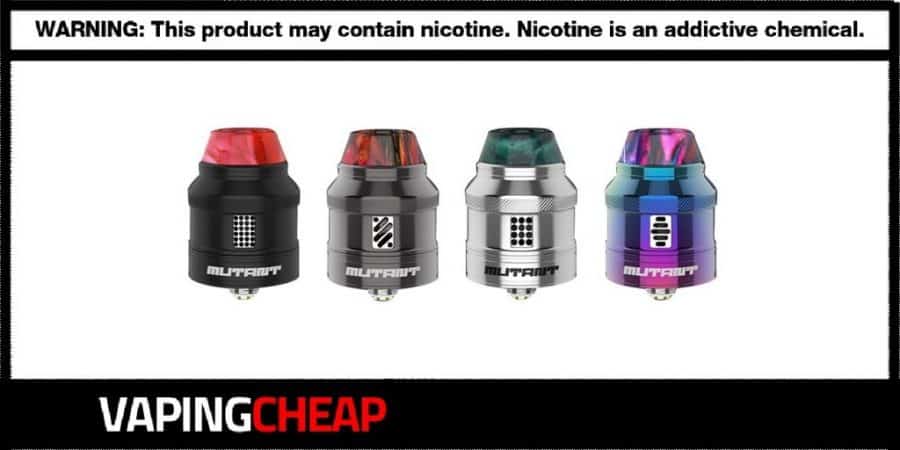 For a limited time only, the new Vandy Vape Mutant RDA in collaboration with Vaping With Twisted 420 is now in stock and on sale from only $15.99 using code "MRDA"! It's also available at a US shipper for $21.59 using our code "TENOFF" with free shipping on US orders over $75. There are four color options available which are Stainless Steel, Matte Black, Rainbow and Gun Metal.
This new atomizer sports an overall diameter of 25mm, so it'll pair great with your large box mods and mechanical tube mods. Its height (without the drip tip) is only 26mm, so it does have a rather compact profile as well. At the top, you'll find a wide bore resin drip tip with an ergonomic shape. A BF 510 pin is included too, so you can use it on your squonk mods if preferred. The Mutant does feature a unique squonk system as well, where it feeds juice from the top and returns the e-liquid at the bottom.
Now there are a couple of features that makes this atomizer quite unique. Firstly, it does have a unique yet easy to use build deck, which is designed for vertical coil builds. With its design, you'll be able to easily install any vertical coil. To make things even better, it features four different airflow settings! Each is unique, giving a different vape experience. Lastly, you do receive two triple core fused Clapton coils in the packaging.
If you're a fan of vertical coils or looking for a new and unique RDA, then you'll definitely want to check out this new atty by Vandy Vape and Vaping With Twisted 420. The Mutant RDA is definitely looking to be one best RDAs for vertical coil builds.
Vandy Vape Mutant 25mm RDA Features:
Collaboration Between Vaping with Twisted 420 & Vandy Vape
Base Diameter: 25mm
Overall Height: 26mm (Without Drip Tip)
Unique Build Deck

Design for Vertical Coil Builds

4 Airflow Options
Detachable Structure
Wide Bore Resin Drip Tip
Includes Squonk 510 Pin

Top Squonk Feed & Bottom Juice Return
1.2ml Capacity

Triple Core Fused Clapton Coils
Color Options Currently Available: Matte Black, Stainless Steel, Gun Metal, Rainbow
What's Included
Mutant RDA
Bag of Accessories
User Manual
Pair of Pre-Built Coils
Vandy Vape Mutant RDA Review Video