Top 5 Best Mechanical Mod Clones Reviewed (2018)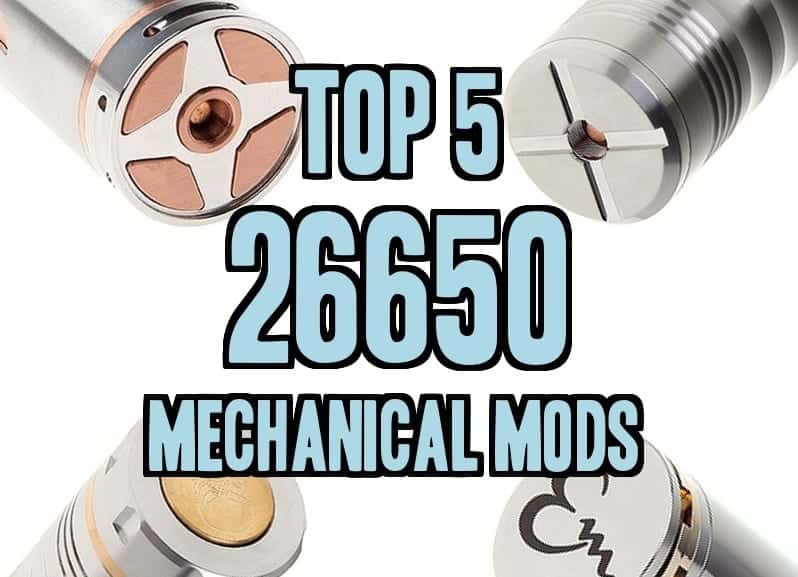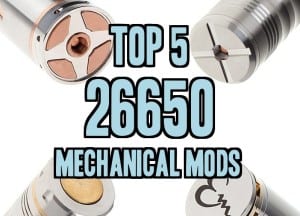 Looking for the best 26650 Mechanical mod clone? On this page I have a list of the top 5 best 26650 mechanical mod clones for sale at Fasttech, one of the cheapest places to buy electronic cigarette because they ship directly from China.
This list has a wide variety of 26650 mods that fall within the price range of $20 – $40 bucks. I have ordered the list by there average review rating on a 5 star scale.
See the Top 5 18650 Mod Clones here!
The Best 26650 Mechanical Mods
Top 5 List
1. Congestus Dual-26650 Telescopic Mod – $37.34

This mod is one of the largest mechanical mods available. It has a telescoping body that allows the use of up to two 26650 battery's to provide days' worth of power. The firing switch is mounted on the side of the Congestus, you can lock it by turning the ring counter clockwise.
It has copper battery contacts and the positive contact is fully adjustable. You can power this e-cigarette with either one or two 26650 batteries with the use of an extension tube. Clearly the Congestus must be a quality mod because every reviewer gave it 5 out of 5 stars.
Reviews: 17
Average Rating: 5/5 stars
2. Panzer 26650/18650 Mechanical Mod – $42.88

This Panzer mod is unique in that you can power it with 4 different batteries. You can use the included stainless steel battery conversion tubes to use 18650, 18500, or 18350 batteries. You can also use 26650 batteries when you remove the battery tubes. This multi-battery Panzer clone is the expensive mechanical mod on this list but it's worth every penny. It's a well machined body with smooth threading and excellent conductivity.
The Panzer clone has a bottom mounted firing switch with a gas mask engraved logo and a reverse threaded locking ring. The body has a unique design and is well vented with 4 different air holes. The battery contacts are made of brass and the positive contact is adjustable.
Reviews: 21
Average Rating: 4.9/5 stars
3. 26650 Nemesis Mechanical Mod Clone – $30.18

The Nemesis is one of the most popular mechanical mods in the vaping community, this is the 26650 version. Like the 18650 Nemesis this mod features an airflow control top cap with 2 holes, laser engravings, and a bottom spring loaded switch with reverse threaded locking ring. You can easily upgrade the 18650 Nemesis to a magnetic switch so I expect the 26650 version would be just as easy.
The battery contacts are chromed brass so I wouldn't choose this mod if you want the lowest voltage drop possible but the difference would be minimal. Overall the 26650 Nemesis has received some great reviews.
Reviews: 3
Average Rating: 4.8/5 stars
4. Tree of Like 26650 Mod – $21.42 ($22.39 Black)

Don't let the low price of this mod fool you, it may actually provide the best bang for your buck when it comes to 26650 mods. The Tree of Life clone has either a polished stainless steel or black coated body with shiny gold plated brass accents. On the base of the mod is a spring loaded switch with a laser engraved logo and a reverse threaded locking ring.
The battery contacts are silver plated brass and the positive contact is adjustable to prevent battery rattle. It has a solid build, nice and smooth threads, a firm button, and a smooth button lock. Even though the Tree of Life mechanical mod is very cheap it still has quality features and has some great reviews.
Reviews: 5
Average Rating: 4.7/5 stars
5. Big Nasty Mechanical Mod Clone $24.06

The Big Nasty was one of the original 26650 sized mechanical mods on the market. The tube has a wavy design that will contour perfectly with you grip. Copper battery contacts will provide excellent conductivity to lessen voltage loss. The top contact pin is adjustable to prevent battery rattle. The top cap has large air cuts in an "X" pattern and the bottom firing switch is spring loaded.
Reviews: 23
Average Rating: 4.3/5 stars
Bonus – Stingray X 26650 Mechanical Mod – $33.14

This mod isn't quite available yet (2 days) so I added it as a bonus to the list. It is possible that it's actually the best 26650 mod here because we recently reviewed the 18650 Stingray X mod at Vaping Cheap and it's one of the best mechanical mods of 2014. The body is made with a solid copper tube on the inside and on the outside there's a stainless steel tube with Stingray cut out's that show the copper tube inside. The top and bottom caps also look stunning with a nix of copper and stainless steel making the one of the most beautiful mechanical mods ever.
The copper tube and copper contacts will ensure excellent power transfer and minimal voltage loss. The bottom mounted firing switch is magnetic with engravings and a locking ring. The Stingray X isn't quite available (at time of writing) but it should be by the time your read this.
Reviews: 0
Average Rating: Available for pre-order