The Sauce LA July 4th Mega Sale! 120mls $5.39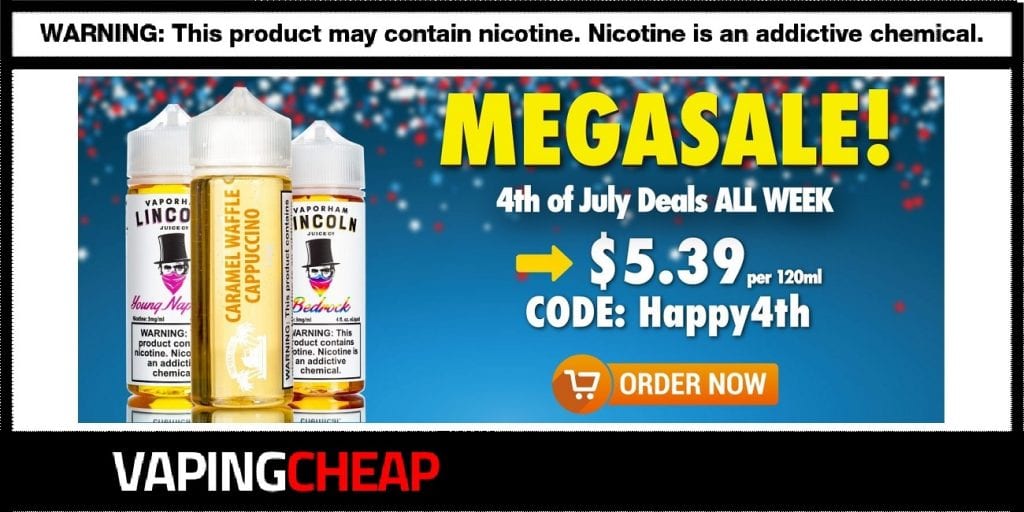 Here's an insane sale over at The Sauce LA for July 4th weekend! Get large 120ml bottles of vape juice, including their award-winning flavor for just $5.39 using code "Happy4th".
During the Sauce LA sale, you'll be to get huge discounts on all 120ml bottles! With the price of just over 5 bucks for big 120ml bottles, you can stock up for months or even the entire year for cheap! They've got plenty of awesome vape flavors and like mentioned before this sale even includes their award-winning caramel waffle cappuccino.
There's 0mg, 3mg and 6mg nicotine strength options, and all of their e-liquids are high VG blends, giving you best of both worlds, flavor and clouds.
If you're looking to stock up on large 120ml bottles at a cheap price, then you simply cannot miss out on this sale. Their stock will go quick, so don't wait too long to jump on this one. For more discounts, check out our Sauce LA Coupon.
The Sauce LA E-Juice Sale Details:
July 4th Sale
120ml Bottles $5.39
Free Shipping over $39.99 on USA orders
Includes Award Winning E-Juice Flavor & Best Sellers
High VG Blends
Nicotine Strength Options: 0mg, 3mg, 6mg
Limited Time Sale