Stay Salty E-Liquid Sale! 60ml $5.94!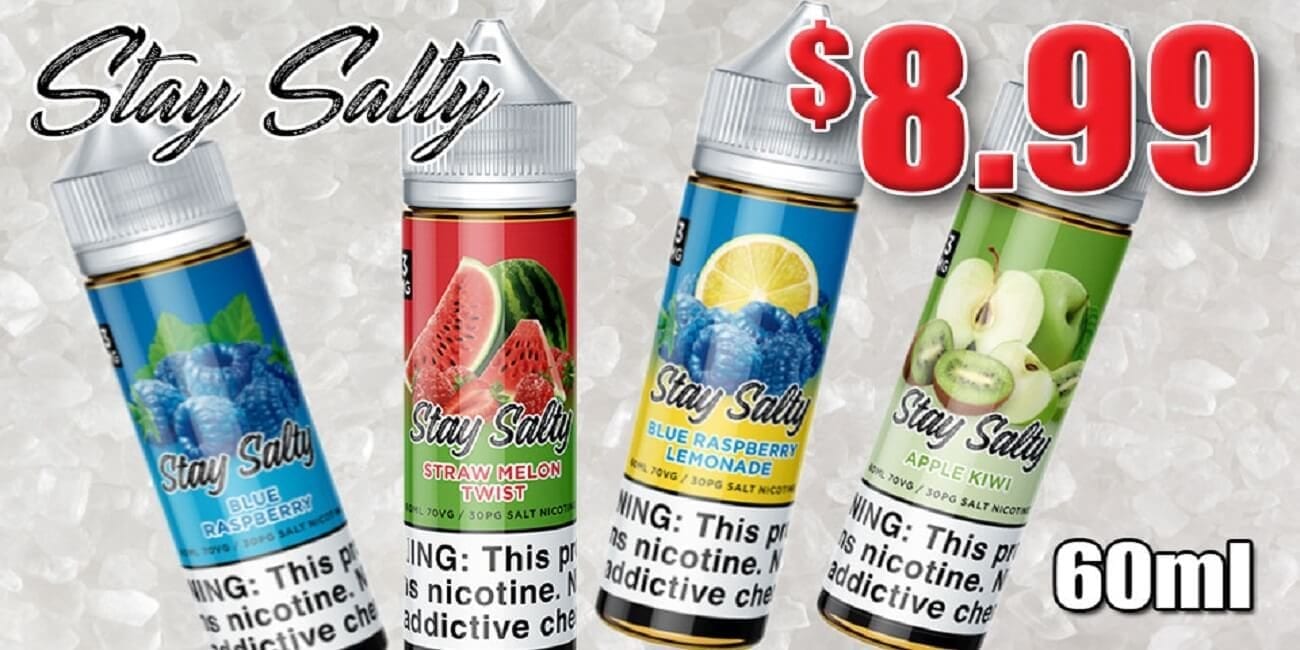 E-Juice Sale
For a limited time only, the Stay Salty E-Liquid is on sale right here where you can get a 60ml bottle for only $5.94 using coupon code "MERRY15"!
During the Stay Salty E-Liquid Sale, you can get a 60ml bottle of premium Salt Nic e-juice for only $5.94 using the provided coupon code! The Stay Salty E-liquid line consist of 4 different flavors which are Blue Raspberry, Straw Melon Twist, Blue Raspberry Lemonade and Apple Kiwi. In addition, each of these flavors come in a 60ml Chubby Gorilla Bottle, making it easy to travel with and store!  The only nicotine strength currently available is 3mg. Lastly, each flavor description will be posted below.
All in all, this is a excellent e-juice sale! If you're looking to try some new premium vape juice for cheap, then this is a deal you definitely cannot miss! Be sure to check this deal out at Ejuice Connect where you can get a 60ml bottle for only $5.94, but act quickly as this sale is for a limited time only!
Coupon Code: MERRY15
E-Juice Sale Details:
60ml Bottle Sizes (Chubby Gorilla Bottles)
Salt Nicotine Available: 3mg
High VG Blends
4 Different Flavors:

Blue Raspberry:  is a delectable sweet and tart candied Blue Raspberry flavor that will delight your palate with every vape. The tangy berry notes combine with a sweet candy finish for a perfectly balanced vaping experience that will make your taste buds sing!
Blue Raspberry Lemonade: is a delicious new nicotine salt E-liquid that blends candied Blue Raspberry with zesty Lemonade for a burst of tangy citrus berry flavor with every vape.
Straw Melon Twist: juicy Watermelon with luscious ripe Strawberries to create a delicious vape that is out of this world. The pairing of slightly tart Strawberry and sweet Watermelon are perfectly balanced for an exquisitely fruity vaping experience you'll love.
Apple Kiwi: pairs green Apple with Kiwi fruit to invigorate your taste buds with full on flavor. This tangy sweet fruit vape is deliciously crisp and delivers a perfectly balanced flavor profile that is sure to be included in your daily vaping rotation.