Sourcemore Chinese New Year Sale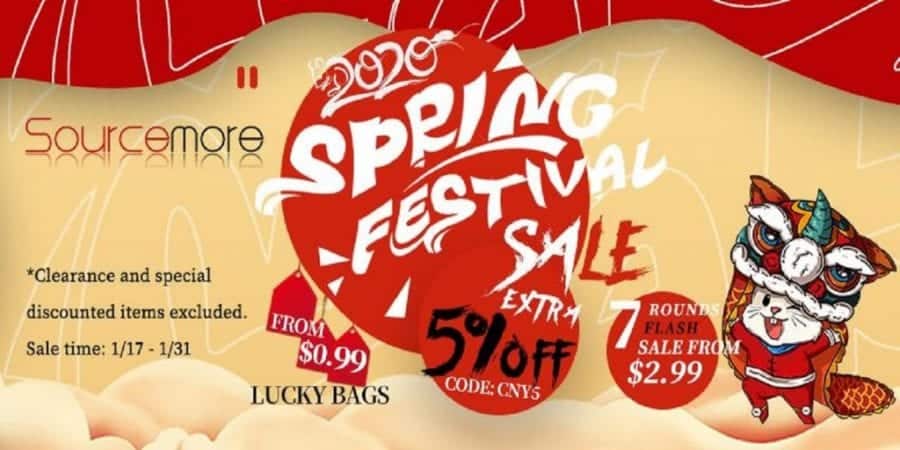 Here's another great Chinese New Year Sale, this time over at Sourcemore. Get huge discounts and savings on tons of different vape gear. Also, save 5% off extra site-wide when using code "CNY5".
During this Sourcemore Store Sale, you'll be able to get amazing sales on plenty of popular vape brands and tons of different hardware. There's 7 rounds of flash sales as well with rock bottom prices as low as $2.99. However, there's limited quantities available for those, so you gotta be fast. You'll also be able to get lucky mystery bags starting as low as only $0.99.
Now, the best part of this sale is the extra discounts you'll be able to get on newly released vape products. This includes vape starter kits, accessories, atomizers and mods. Like with the lucky bags, you'll find prices as low as under 1 buck!
This is yet another amazing sale for the Chinese New Year to save big on vape gear. If you're looking for awesome prices on a huge selection of vape products, then look no further. For more savings, check out our exclusive Sourcemore Coupon.
Sourcemore Sale Details:
Huge Discounts On Vape Gear
Save Extra 5% Off Already Low Prices (Excludes Clearance & Special Discounts)
Lucky Mystery Bags from $0.99
7 Rounds of Flash Sales from $2.99
Great Savings on New Kits, Mods, Accessories, & Atomizers
Limited Time Sale