Sigelei Fuchai Squonk 213 150w Kit Review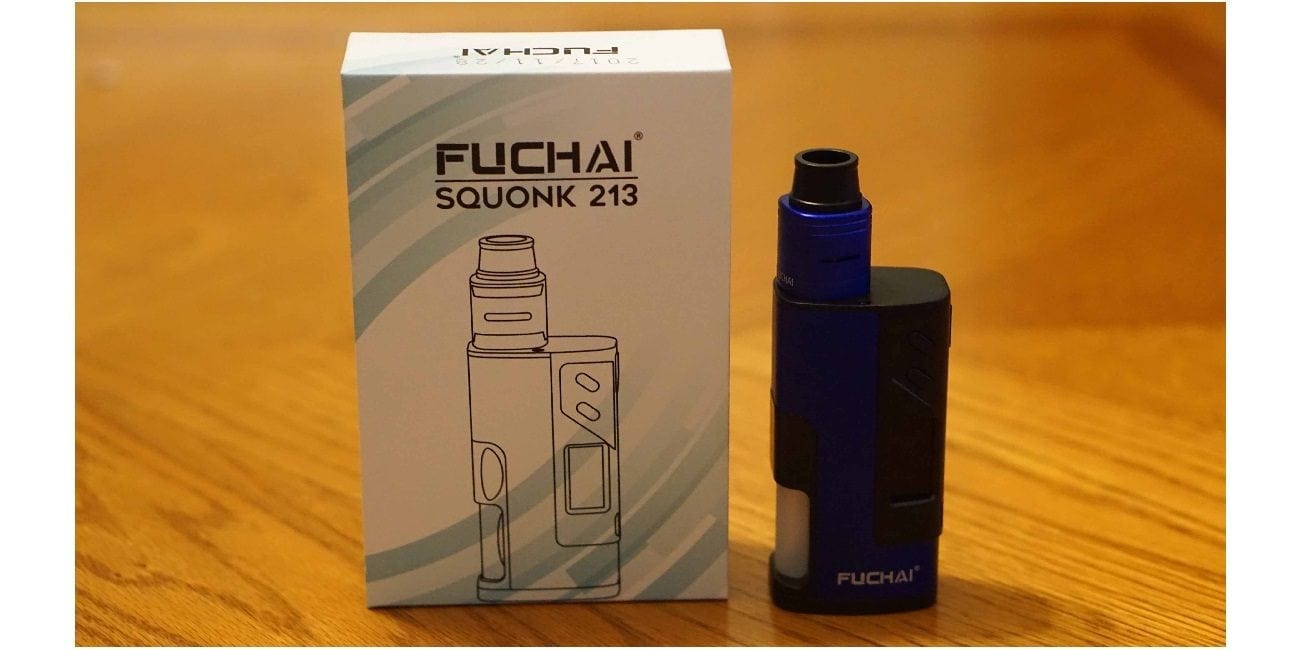 Sigelei Fuchai Squonk 213 150w Kit Review
Squonking became incredibly popular towards the end of 2017, and we saw a lot of squonk vape mods being released. However, many of them were fully mechanical or unregulated which some vapers may not prefer to use for various reasons. In this vape review, we'll be covering the new Sigelei Fuchai Squonk 213 150w Kit, which is not only regulated, but also compatible with the new battery sizes we've seen in many new mods which are 20700 and 21700.
Before getting any further, we'd like to thank UrVapin for sending this squonk kit our way for the purposes of this review. We'll cover our first impressions, building and wicking the included RDA, usage, performance, pros and cons, and conclude with whether or not we recommend the Sigelei Fuchai Squonk 213 150w Kit!
Purchase Here with Free Shipping!
First Impressions
The Sigelei Fuchai Squonk 213 Kit comes in a pretty nice box that shows the name and image of the kit on the front and on the back it shows some information about what's included. Everything inside of this box is packaged quite well, so you don't have to worry about it when it's in transit, which is always a good thing! Once you slide open the packaging, you're immediately met with everything that's included.
I do want to mention that I did receive the blue color option, but there are other colors available such as Red, Yellow and Black. Included with the Fuchai Squonk 213 Kit by Sigelei, you do receive the Fuchai Squonk 213 150w Box Mod, Fuchai or Cubic RDA (I've seen this RDA advertised as either one of these names so just stating both), a USB cable, Manual, warning card, bag of spare parts, another squonk door which covers the squonk bottle and an 18650 adapter which is already installed in the device.
You do receive quite a lot with this squonk kit, so I'll give it a pro there for sure. Upon looking at the Fuchai Squonk 213 Box Mod, I first noticed its similarities to the original Fuchai Mod, which was pretty popular. I personally like the design of the Fuchai, so I was happy they stuck with it. The only different with this new version is that it features squonking and it takes the place of one of the battery slots, making this a single battery vape mod.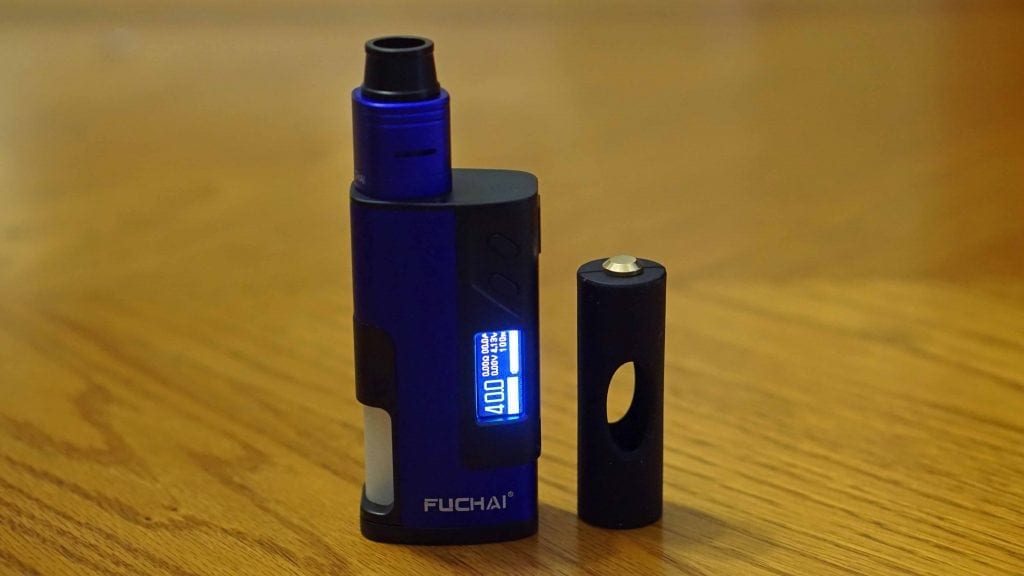 I also noticed the really soft silicone squonk bottle that's included in this vape starter kit. It's very soft and easy to press, but it's very small and can only accommodate 5ml of e-liquid. This was a bit of a let down for me, and I do wish it was a bigger bottle, say 7ml where you can easily find a replacement if you didn't like the included one or simply need a backup. Finding a 5ml squonk bottle isn't the easiest, as 7ml is pretty much the standard I'd say. This is a con for me as I already knew with a 5ml bottle, you'll be filling pretty often.
The included atomizer is pretty basic, and does come in a color to match the Fuchai Squonk Mod. It does feature side airflow, and it looks to be quite a lot of airflow. In addition, it's not adjustable which is another con in my book. I'm glad they included it though to make this a full kit so the vaper can test out to see if they like squonking without having to invest into a squonking RDA plus the mod, they can simply just get a full kit such as this. The included drip tip is constructed of delrin and it does feature a wide bore, which is something many vapers enjoy, including myself.
Overall, my first impressions of the Sigelei Fuchai Squonk 213 150w Kit was good. There were some cons I had initially, but none of them were deal breakers. I was definitely excited to build and wick this RDA and see how this entire setup performed!
Building & Wicking (Fuchai/Cubic RDA)
As mentioned earlier, the included Fuchai or Cubic RDA is pretty simple, which is a good thing, especially if you're a beginner. This RDA atomizer features a two post velocity styled build deck, which is still one of the easiest build decks to install coils in my opinion. It's not as great for exotic coil builds with thick leads since these posts have a tendency to twist your leads, but it's not a major issue.
There is a good amount of room in this RDA as well, so you can easily fit Fused Claptons or Aliens if you desired. My preferred coil build was actually a dual Fused Clapton with about 6 wraps each, which had a resistance of around 0.2 ohm. Installing these coils were quick and easy, and building on this atomizer will not be an issue for the beginner or advanced user.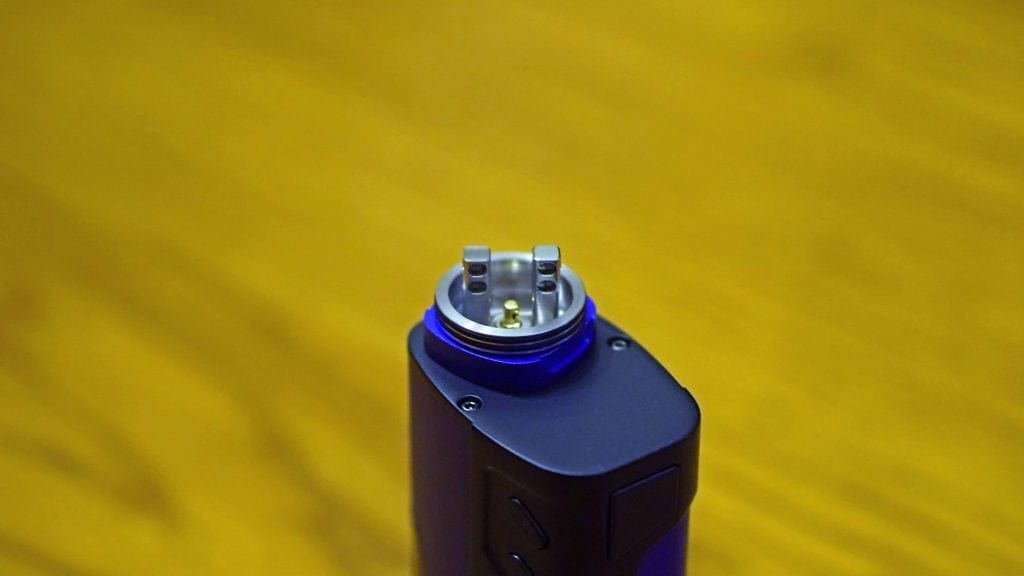 Wicking is pretty straightforward as well. This RDA does have a rather deep juice well and a squonk pin is pre-installed. When wicking this RDA, be sure that your cotton does touch the bottom of the juice well, but do not stuff your cotton in there. Make sure your cotton is nice and fluffy to ensure effective wicking during squonking. Lastly, be sure not to cover the squonk holes in the middle, you want the e-liquid to be able to freely flow to both sides of the build deck with no issues.
Overall, I must say when it comes to building and wicking the included RDA, it's incredibly easy. Its two post velocity styled build deck makes coil installs a breeze and the juice well is deep so you can get a good amount of cotton in there with no troubles.
Purchase Here with Free Shipping!
Usage
The Fuchai Squonk 213 150w Box Mod is shaped and sized similarly to the original, so it's very comfortable to hold. In addition, there's no sharp edges to be found whatsoever. What's even better is that when you hold it in your hands and using your thumb to press the fire button, your ring finger naturally lays by the squonk bottle, so the way it's designed it really great for squonking. This is a huge pro in my book! Also, with its size you can easily carry it in your pocket or book bag with no issues.
This device is compatible with three different battery sizes which are 21700, 20700 and 18650. You can only use an 18650 battery with the included adapter. However, when using a 21700 or 20700, there is no adapter needed. It's definitely another pro that this squonk vape mod is compatible with all of these battery sizes, as there aren't many on the market that is able to do so that's mass produced and priced affordably.
I do want to mention that when you are using a 20700 battery, there is a slight battery rattle. You can especially feel the battery rattle when you're moving the device back and forwards. I'm not sure why exactly, but it's a con to be mentioned. I haven't noticed this battery rattle when using the other battery sizes though, so that's a good thing. Something else to mention is that the squonk door, which you can take off to access your squonk bottle, does have some play to it. It is secure in place, but it moves just a bit too easily for my liking.
The Sigelei Fuchai Squonk Mod features a color display screen which is bright and clear, so it's easy to see in pretty much any situation. It's right on the front, and right above it is where you'll find the wattage up and down buttons. The fire button is located on the side by the fire buttons. Using this device is pretty simple, and is the same as the previous Sigelei Fuchai Mod. 5 clicks of the fire button will turn this device on or off.
Pressing the fire button 3 times will enter the menu where you can choose the different temperature control options alongside the standard power mode. The TC options are Ti, Ni200, SS304, SS316, and SS317. Pressing the fire button and wattage up button at the same time will allow you to adjust your preheat settings. You can also lock the buttons by pressing the fire button and wattage down button at the same time. Lastly, by pressing the wattage up and down buttons at the same time will allow you to lock in the resistance (for TC mode only).
The last thing I want to mention when using this device is that all of my atomizers say flush and made a connection with zero issues. It can house atomizers up to 25mm without a overhang, which is most certainly a pro!
Overall, using this squonk vape kit has been great! There were some minor annoyances like the squonk door and battery rattle, but nothing that really made me want to stop using it. This squonk mod is very easy to use, and best of all, it's compatible with three different battery sizes!
Performance
The Sigelei Fuchai Squonk TC Box Mod does have a maximum wattage output of 150w. Now, with a single battery, I highly doubt it can reach this amount of wattage and not sure why Sigelei would even advertise it as such. I would say this device is more along the lines of 100w rather than 150w, but only when using a 20700 battery since the available 21700 batteries aren't the greatest.
When using an IJoy 20700 battery, I will say that it does feel like it's giving 100w or very close to it, but you won't be continuously vaping at this wattage for long due to battery sag. If you're a vaper who is in need of 80w and above, then I would highly recommend checking out a dual battery squonk mod such as the Geekvape GBox which will not only give you the desired power, but good battery life as well.
With that being said, the battery life I would get from a 21700 or 20700 battery is great! This is certainly the case when vaping at lower wattages such as 50w and 60w. As expected, vaping at 75w and above will limit the amount of battery life you'll get. I could get through most of the day without needing to recharge or change the battery when vaping at slightly lower wattages, which is great when considering it's a single cell device.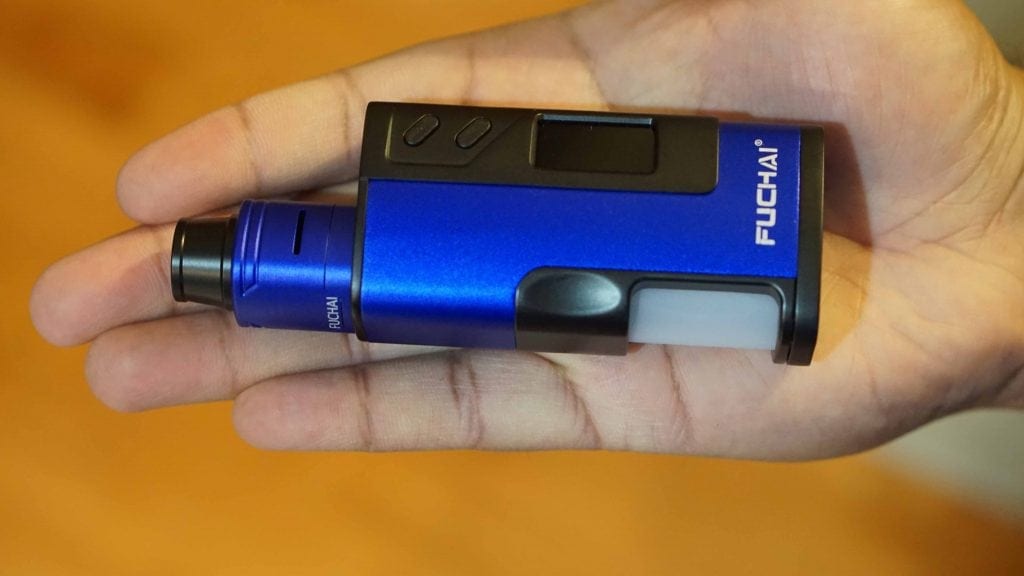 The temperature control mode does work fine as well and I did only test this device in temperature control for stainless steel wire. It does feel quite accurate in regards to the temperature setting, and the ramp up is fast thanks to its preheat function. Going by how it performs in TC mode for SS wire, I would say it'll work just as great in Ni200 or Ti mode. It's not on par with the likes of a DNA Box Mod, but it's satisfying.
Something worth mentioning that since the squonk bottle is only 5ml, you will be filling it pretty often. I found myself filling it every 2 hours or so, depending on how much I was vaping. Thankfully it's very easy to access and fill. You can always use a squonk refill bottle so you don't have to take out the silicone squonk bottle. I do wish they made that area just a bit bigger to accommodate bigger bottles as I would've loved to use the Lost Vape silicone squonk bottle or something else for more capacity.
Now onto the performance of the included RDA. As mentioned previously, it does have side airflow, which is not adjustable and it is quite airy for me personally. It performs fine, but it's not going mind blowing and I wasn't expecting it to be. The flavor is decent, and the vapor production is great. I've been personally using this device more with a single coil RDA such as the Pulse 22 BF RDA which not only gives me better battery life due to it being a single coil, but much better performance as well. Honestly, I think this kit should've included a single coil RDA rather than dual coil as it's more fitting for a single battery regulated squonk box mod.
The overall performance of the Sigelei Fuchai 213 Squonk Mod was solid. However, The same cannot be said for the included RDA. It's a decent performer at best, but it's not a bad atomizer to be included for those first getting into squonking.
Pros
Compatible with Various Battery Sizes (21700, 20700, 18650)
Incredibly Comfortable to Squonk with
Accommodates Atomizers up to 25mm without overhang
PreHeat Function
Soft Silicone Squonk Bottle
Easy to use
Good packaging
Cons
Slight Battery Rattle with 20700 Battery
Squonk Door has some play to it
Inaccurate Wattage (More along the lines of 150w)
Sub Par Performing RDA
5ml Squonk Bottle
Conclusion
In conclusion, the Sigelei Fuchai Squonk 213 150w Kit is a decent performing squonk vape kit that's priced well. I do think this is a pretty decent squonk kit for those looking to step into the world of squonking since it comes with basically everything you need aside from batteries and e-juice.
There were quite a few cons to this one, and most were annoyances rather than major cons. The first few are annoyances such as the slight battery rattle and the squonk door having some play to it. With the Fuchai or Cubic RDA, I honestly didn't expect much just by looking at it, and for what it is, it's a fairly decent performer.
Like said before, it's not going to have the best performance, but it's decent enough for the beginner wanting to get into squonking. The 5ml bottle is simply a let down, and there should've been a larger capacity for sure. The fact that Sigelei markets this as a 150w mod is just inaccurate as it's just not possible in my opinion to get 150w from a single cell.
Overall, it's a decent squonk kit for the price and I do think it's a solid entry for those looking to get into squonking. You have all the safety features of a regulated mod, which is great for the beginner. There honestly aren't many single 21700 or 20700 squonk mods on the market, and I think this is a big reason as to why vapers would want one. This is pretty much one of the key reasons as to why I'll keep using this one, just not with the RDA. So if that's something you're looking for and don't mind the cons listed, then I can definitely say check one out, as it does pretty much as expected and it's very comfortable to use.
We hope you find this review helpful in finding the right squonk starter kit to fit all of your vaping needs! Feel free to leave any questions or comments down below! Thanks for reading!
Purchase Here with Free Shipping!
Product Features:
Sigelei Fuchai Squonk 213 150w Box Mod

Requires a Single 21700, 20700 or 18650 Battery (Not Included)
18650 Adapter Included
Maximum Wattage Output: 150w
Minimum Firing Resistance: 0.1 ohm
Color Display Screen
Temperature Control (Ni200, Ti, SS304, SS316, SS317)
Read & Resistance Lock
Micro USB Port (Charging & Firmware Updates)
Zinc Alloy Aluminum Chassis
5ml Soft Silicone Squonk Bottle
Spring Loaded 510 Connection
Many Safety Features
Color Options Available: Black, Blue, Red, Yellow

Fuchai/Cubic RDA

22mm Diameter
2 Post Velocity Styled Build Deck
Side Airflow
Wide Bore Delrin Drip Tip
6mm Deep Juice Well
PEEK Insulator
Stainless Steel 510 Connection
Includes Spare Parts