Perkey Lov Pod Starter Kit $15.26 (USA)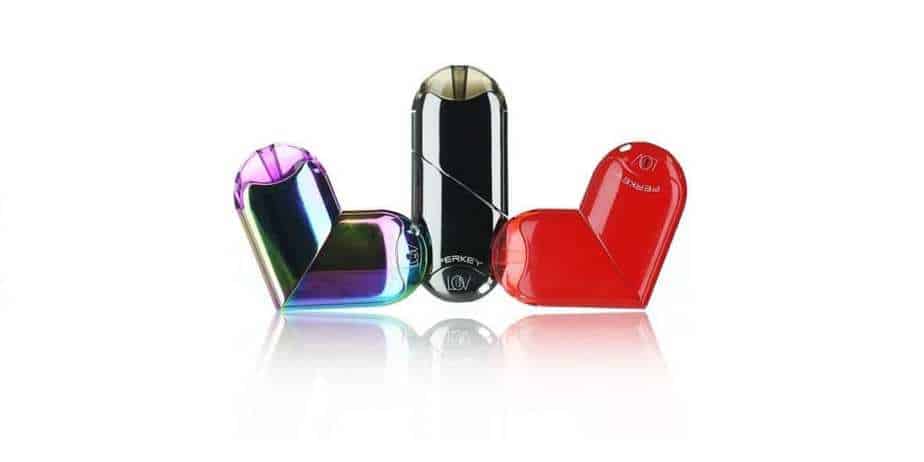 Vape Pod System
For a limited time only, the new Perkey Lov Pod Starter Kit is now in stock and on sale right here for only $15.26 using coupon code "10FORALL"! The colors available for purchase are Black, Red and Rainbow.
The new Perkey Lov Pod Starter Kit has a unique heart shaped design, making it comfortable to hold and easy to travel with during the day. This pod system does fold into a heart shape and a round flat shape, making it one of the most unique pods available today! In addition, this device has a built in 360mAh rechargeable battery, and it can be charged via micro USB. The Lov Pod System also includes a necklace, so you can wear this device around your neck.
The new Perkey Lov Pod Starter Kit does include 2 refillable pods and these pods have a maximum e-juice capacity of 1ml and the coil resistance is 1.6 ohm, which is perfect for mouth to lung vaping. These pods have an easy fill method and features a simple and easy plug and play connection. Lastly, this pod starter kit has multiple safety features and an LED battery indicator light.
All in all, this is a solid deal for the new Perkey Lov Pod Starter Kit! If you're looking for a new and unique pod system that's easy to carry with you, then this is a deal worth checking out for sure! Be sure to check this deal out at Eight Vape for only $15.26!
Code: 10FORALL
Product Features:
Internal 360mAh rechargeable
Includes 2 1ml refillable pods
Easy fill design
1.6 ohm resistances
Unique heart shape design
Folds into a round design
Can be worn as a necklace
LED battery light indicator
Multiple safety features