Om Vapors Sale! 65% Off! 30ml/120ml $3.50/$8.75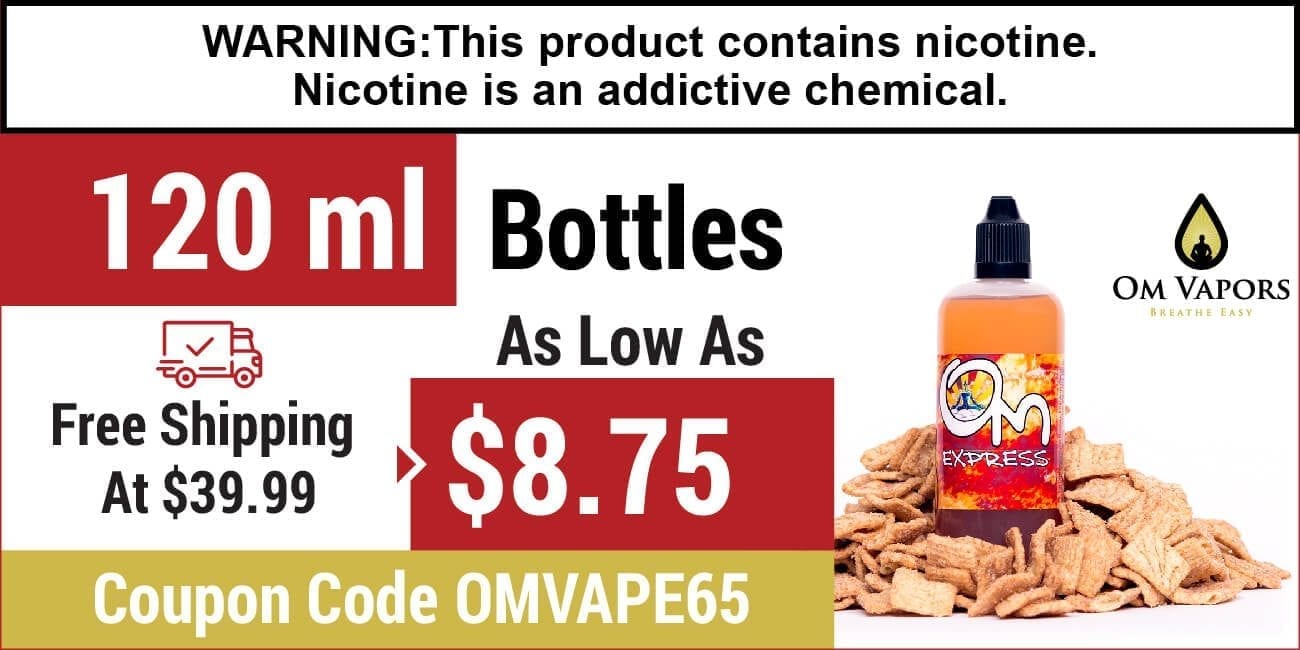 E-Juice Sale!
During the Om Vapors sale right here, you can save up to 65% off e-liquid using coupon code "OMVAPE65"! This makes 120ml bottles from only $8.75, and 30ml bottles from only $3.50! Free domestic shipping at $40, and free international shipping at $100! This sale also applies to Nicotine Bases!
During the Om Vapors Sale, you can save up to 65% off e-juice using the provided coupon code! With this e-juice sale, you can get a 30ml bottle for as low as $3.50 and a 120ml bottle as low as only $8.75! WTA Bases also start at only $12.25 and Nicotine Bases at only $35!
Om Vapors has a ton of gourmet flavors available, so no matter what you're favorite flavor profile is, they got you covered! In addition, all of their e-juice are max VG, so you'll be getting excellent flavor and vapor production! Lastly, they do offer nicotine strengths up to 9mg.
All in all, this is an amazing store sale! If you're looking to stock up on some cheap e-juice or want to try some new flavors from Om Vapors for an incredibly low price, then this is a deal you cannot miss! Make sure to check out this deal at Om Vapors, where you can save 65% off! As always, "Breath Easy"!
Coupon Code: OMVAPE65
Store Sale Details:
Save 65% off using coupon code OMVAPE65
No limit on the number of bottles that you can buy
120mls from only $8.75
30mls from only $3.50
Max VG
Wide variety of Gourmet flavors available
Nicotine Strengths up to 9mg available
Sale excludes DIY, Hardware & Accessories