Om Vapors: $4.99 120 ML Bottles for Black Friday! Extended!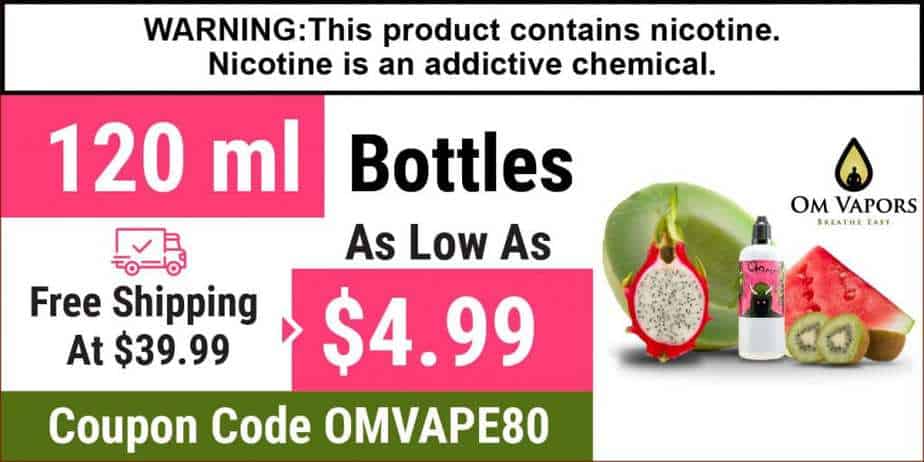 E-Juice Sale!
Om Vapors has extended their Black Friday Sale right here where you can get 120ml bottle as low as $4.99 using coupon code "OMVAPE80"! However, the discount applies automatically at Checkout! Free shipping applies to orders over $39.99! They also have Nic Salts for only $2.99!
During the Om Vapors Black Friday Sale, you can get 120ml bottle for as low as $4.99 using the provided coupon code! In addition, Om Vapors has a ton of gourmet flavors available, so no matter what you're favorite flavor profile is, they got you covered! In addition, all of their e-juice are max VG, so you'll be getting excellent flavor and vapor production! Lastly, they do offer nicotine strengths up to 9mg.
Even if an item is not in stock we will be replenishing our inventory over the next few weeks, so they will without a doubt be able to try us out for the sale price is they purchase before December 14th. Sign up for our Push Notifications or email list for instant updates on restocking and post Black Friday Sales! Thank you for you business and Breathe Easy!
All in all, this is a excellent E-Juice sale! If you're looking to stock up on some cheap e-juice or want to try some new flavors from Om Vapors for an incredibly low price, then this is a deal you cannot miss! Make sure to check out this deal at Om Vapors, where you can get 120ml bottle for only $4.99!
Coupon Code: OMVAPE80
Store Sale Details:
120ml Bottle for only $4.99 using coupon code OMVAPE80
No limit on the number of bottles that you can buy
120mls from only $4.99
Nic Salts only $2.99
Over 40 Unique Flavors Available
Max VG
Nicotine Strengths up to 9mg available
Made in the USA
Sale excludes WTA's, Tastemakers and Fayette Reserve. Sample Packs, Hardware and Accessories.