MyVPro Christmas Vape Sale!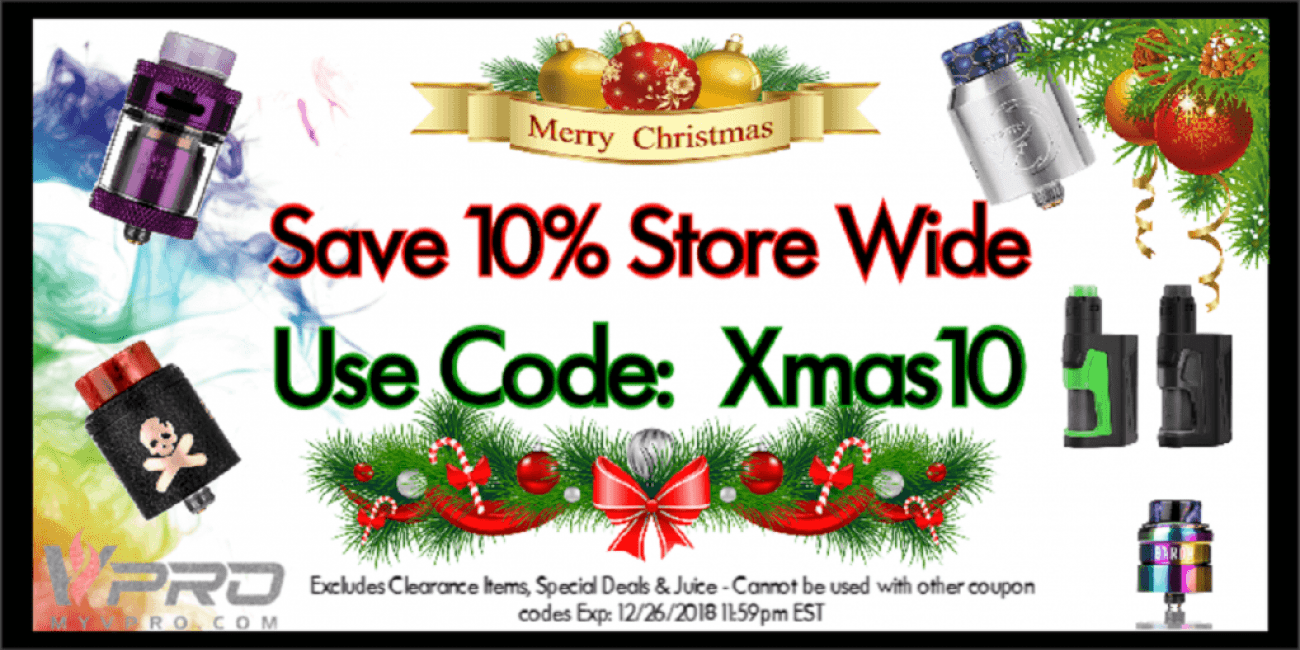 Store Sale!
For a limited time only, MyVPro is having their Christmas Vape Sale right here where you can save 10% off sitewide using coupon code "Xmas10"! Free shipping applies to US orders over $50. This sale does end 12/26/18! 
During the MyVPro Christmas Vape Sale, you can save 10% off sitewide using the coupon code provided! To make this deal even better, they offer FREE US shipping on orders over $50. This store sale includes products from Vandy Vape, Digiflavor, Geekvape, OBS, Wotofo, Smok and tons of others!
In addition, they have a huge selection of Box Mods, Starter Kits, Pod Systems, Battery Chargers, Accessories, Sub Ohm Tanks, RDAs and more! Lastly, some of the current deals will be posted down below for your convenience!
All in all, this is an incredible store sale! If you are looking to stock up on some new vape gear from some of your favorite vape brands for cheap, then this is a deal you definitely cannot miss! Be sure to check this deal out at MyVPro, where you can save 10% off sitewide! Remember, this sale does end just after Christmas! 
Coupon Code: Xmas10 (excludes special deals, e-juice & clearance) 
Some Of The Current Deals:
Smok Infinix Starter Kit $16.15
OBS Cube Starter Kit $40.49
Digiflavor Drop Solo RDA $26.09
Famovape Fat Baby Mesh Tank $22.49
Geekvape Creed RTA $23.39 
Horizon Falcon Replacement Coils $8.95
Asvape Michael VO200 Mod Walking Dead Edition $86.39
Kaees Aladdin RDA $17.99
Innokin EQ Pod System $20.69
Hellvape Dead Rabbit RTA $26.09
and many more!