Mojo Vape Black Friday Sale! Buy One Get One FREE!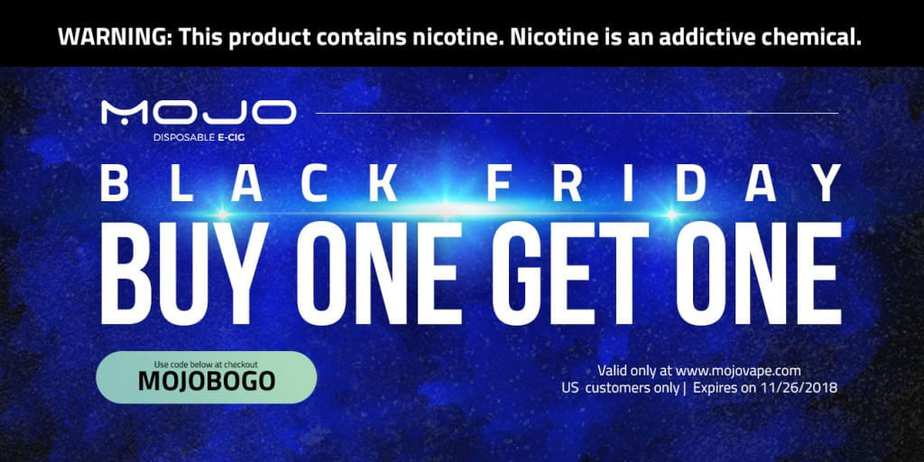 Store Sale
For a limited time only, Mojo Vape is having their Black Friday Sale right here where you can buy one get one FREE using coupon code "MOJOBOGO"! This sale ends 11/26/18!
During the Mojo Vape Black Friday Sale, you can buy one and get one FREE! Mojo Vape Pods are only $6.99, making each vape pod only $3.49 after the discount code! These pods do feature an ultra compact design, making them easy to carry with you during the day and perfect for stealth vaping!
In addition, Mojo Vape has 7 different flavors to choose from which are Cool Melon, Ice Pineapple, Classic Tobacco, Menthol, Lemon Dessert, Strawberry and Cubano. Lastly, each pod has 50mg of salt nicotine, giving you a satisfying yet smooth vape experience.
All in all, this is a excellent store sale! If you are a fan of Mojo vape or looking to try out some new disposable vape pods for cheap, then this is a deal you cannot miss! Make sure to check out this deal at Mojo Vape where you can get 2 Mojo Vape Pods for only $6.99, but act quickly as this sale ends 11/26/18!
Coupon Code: MOJOBOGO
Store Sale Details:
Get 2 Mojo Vape Pod for only $6.99

$3.49 each after discount

50mg Salt Nicotine
7 Different Flavors To Choose From

Cool Melon
Ice Pineapple
Classic Tobacco
Menthol
Lemon Dessert
Strawberry
Cubano

Sale Ends 11/26/18