Kanger Evod 2 Starter Kit Review: Top Features, Ratings, Pros & Cons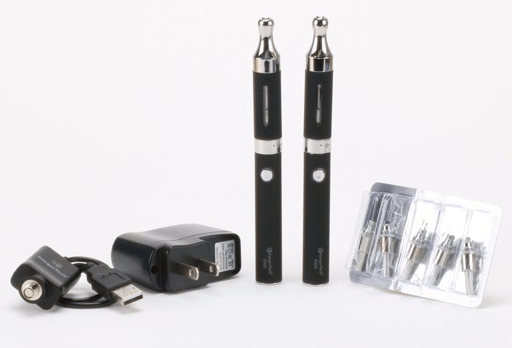 Designed and manufactured by Chinese e-cigarette giant Kangertech - is the Evod 2 the best value vaping newbies? Read this Evod 2 review and find out!
Kangertech is one of the best loved brands in the vaping community and has a steadfast reputation. Their Evod2 clearomizer is a single button, beautifully designed and easy to use product, aimed at smokers who are new to vaping and modding.
What they have done with the Evod 2 by Kangertech is review what made the original Evod so popular and improved on it. They've taken two best-selling accessories from their range and put them together as a beginner's kit. The best thing about the Evod 2 however, is its low price. At the time of writing this review, I found it selling for under $35 making it one of the cheapest starter kits available.
Rating
The original Kangertech Evod stood the test of time with the vaping community. But with an upgraded bottom dual coil system for improved vapor and a removable drip tip, this Kanger Evod 2 Starter Kit offers additional benefits, making upgrading your old Evod worthwhile.
It won't blow experienced vapers minds, but it's a nice little starter vape that produces more than enough vapor and gives a tasty hit of flavor too.
The Evod 2 is intended for vaping novices that want to try e-cigarettes and don't want to go for a traditional two piece cig-a-like, preferring to refill their clearomizers with e-liquid instead. The Evod 2 makes vaping very easy because there's temperature and wattage control settings to mess around with.
The biggest improvement with the Kanger Evod 2 is the bottom dual coil atomizer setup. This addresses the biggest complaint about the original Evod, that it was hard for vaping novices to get a decent hit of vapor.
Not only does this feature dual coils but they are the same coils you'll find in their more expensive Mini Protank 3 and the Aerotank series. It comes with 5 x replacement coils to keep your atomizer working like new.
Replacing the coil is as a breeze and is as simple as unscrewing the old one and screwing in the new one so even a total novice can attempt it. This video shows you how:
Kangertech has made some cool design changes to the Kanger Evod 2 and in looking it over the first thing I noticed is it has a very funky removable drip tip.
For some reason, Kangertech made the default drip tip metal but quickly realized its mistake and then made it removable. So now not only can you change it out, but it's compatible with most 510 drip tips on the market. This offers a couple of significant advantages.
Most vapers don't like the feel of metal tips so you're free to replace it with a softer plastic one. Also being able to change the drip tip allows for unlimited customization options. There are a ton of different drip tips that will fit this baby!
One of its best features is also a problem so let's call this section The Kangertech Evod 2 Battery Review. A review within a review if you will.
There are certain drawbacks to dual coil clearomizers being that they generally can't be used with constant voltage batteries such as the original Kangertech Evod and Joytech eGo series. This is because dual coils require a higher level of power than the 3.7v offered by most constant batteries. To get the best out of your Evod 2 clearomizer it's better to use a variable voltage battery like on the Kanger Evod VW Twist.
This will provide the clearomizer with enough power to perform optimally and provide thick, robust hits every time. With a compatible battery, the new Evod 2 works brilliantly and you'll experience a huge difference. This is just personal opinion however and vaping newbies won't need to perform this mod.
Evod 2's Top Product Features
The clearomizer is cheap enough not to stress if you loan it out and your friends lose it. The Kangertech Evod 2 keeps the same sleek looking design as the original Evod, but now it's been somewhat upgraded and features the replaceable stainless steel drip tip. It also comes in some very funky colors too, giving it awesome visual appeal.
The recessed power button is engineered to fit your hand perfectly and it's exactly in the right place making it easy to reach and operate. The great thing about this, coupled with the manual battery, is that you can easily switch it off easily, but not accidentally.
To switch it either on or off, just press the power button 5 times in quick succession. This is a super handy feature so the coils don't lose heat when it's in use.
The improved design of the Clearomizer means the EVOD 2 really stands out above its competitors. The dual coils give it a larger heating area which in turn means you get consistent thick clouds of vapor with a superb clean flavor and a more pronounced throat hit. Because it's filled from the bottom, if the atomizer head fails unexpectedly while the tank is full, the base can be replaced without the need to drain the tank.
Conclusion
Overall, I love this device and it was a lot of fun getting this Kanger Evod 2 review together and putting it through its paces. This starter kit is in a complete class of its own. That's not to say that it's the best unit out there, but for entry level and price savvy vapers, it really is the ideal choice.
For under $35 it's not a large investment so you can walk before you decide to run with vaping. The box mods and ability to swap out drip tips are great and the improved dual coil setup means it blows a massive amount of vapor every-time.