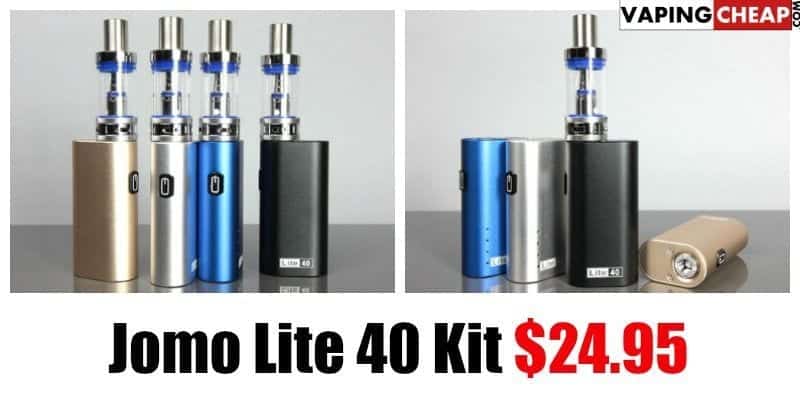 Vape Starter Kit
The Jomo Lite 40 vape starter kit is now up for sale right here for just $23.95. If you are a new vaper, and you are looking for your next device, then you should definitely check this out. This may not be a suitable device to most advanced users out there, but beginners will love it.
The Jomo Lite 40 pairs a stainless steel and pyrex glass atomizer and a 40 watt box mod. The device is powered by an internal 200mAh lithium battery. It also sports LED indicator lights to show the battery level and a micro-USB charging port.
What really takes the cake with the Jomo Lite 40 kit is the size of it compared to similar setups on the market. Specifically, the Jomo Lite 40 can be compared to the Eleaf iStick series. Up against the iStick 40W box mod, the Jomo Lite 40 is of similar size and shape, but with more protection features and a better-built frame, according to JomoTech.
Overall, the Jomo Lite 40 starter kit looks like a great choice for any new vaper out there. If you are in need of a new setup, then you should definitely check this out. Do not miss out on this great deal from VapoRider. Get your own Jomo Lite 40 right now for just $24.95, and as always, vape on.
Jomo Lite 40 Features
Maximum Wattage Output: 40W
2200mAh Lithium Battery
LED Indicator Lights
Material: Stainless Steel & Pyrex Glass
Battery Size: 38*22*73 mm
Tank Capacity: 3ml
Coil Resistance: 0.5 ohm
Micro-USB Charging Port