Innokin Z-Biip Aio Pod System $26.95 (USA)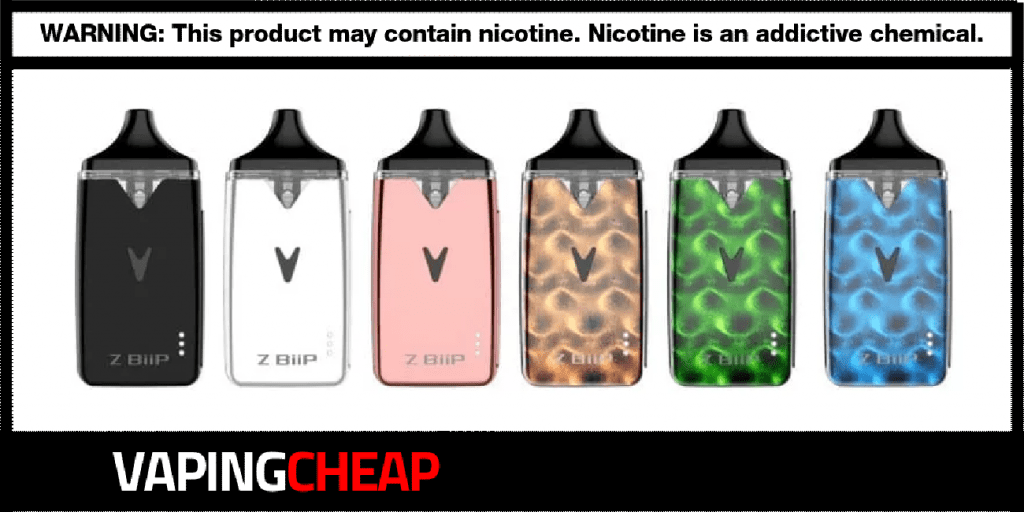 Here are cheap deals, discounts and sales for the Innokin B-Ziip AIO Pod System Kit. Buy one from a USA based store for only $26.95 plus free shipping over $75 using code "MFS10". It's also on sale at a China based shipper for $29.73 with our code "vapingcheap". There's multiple color options available for purchase including Black Shine, Pink Shine, Navy Dune, Emerald Dune and more.
The Innokin Z-Biip Aio Pod System sports a large internal 1,500mAh battery, so it can definitely last you all day on a single charge. It can be charged using the included micro USB cable. In addition, this pod has a LED battery light indicator alongside audible sound system, first of its kind.
This serves as its switch mechanism, so you know exactly when a setting has been changed. Also, the Z-Biip Pod Mod has a Three different power modes. You can change it by simply pressing and holding the firing button while the device is turned off. You'll know which mode you're on as well as there's three different colors that'll show on the LED light indicator. Red is highest power, green is medium and blue is low.
This device does utilize the Innokin Z-Biip pod cartridge, which has a maximum e-liquid capacity of 2ml. It connects magnetically, and can be taken off easily. It's even easier to fill thanks to its top fill design.
What's great about the Innokin Z-Biip is that it is compatible with the entire Z-Coil line. Included, you'll get the 0.48 ohm ZPlex 3D mesh coil and a spare 1.6 ohm Kanthal coil. Both are ideal for mouth to lung vaping, and can be used with nicotine salt e-juices if desired. Also, you can fully adjust the airflow, so you're able to fine tune draw.
All in all, this is a great sale on the Innokin Z-Biip AIO Pod System. If you're looking for a pod vape with a large battery that can easily last an entire work day, then you'll want to get this one. The compatible coils are stellar performers too, especially the ZPlex 3D mesh.
Innokin Platform Z-Biip Pod Kit Features:
Internal 1,500 mAh Battery
Micro USB Charging Port
Compatible with Innokin Z-Biip Cartridge

Maximum E-Juice: 2ml
Top Fill Design
Adjustable Airflow
Ergonomic Mouthpiece

Compatible with Entire Z-Coil Series
Three Power Modes (Low, Med, High)
Audible Sound System
Adjustable Airflow
LED Battery Light Indicator
Can Be Turned Off (3 Clicks)
Various Color Options
What's Included
Innokin Z-Biip AIO Kit
Z-Biip Pod Cartridge (2ml)
0.48 ohm Z-PLEX3D Mesh Coil (Pre-Installed)
Additional 1.6 ohm Coil
Charging Cable
User Manual
Check Out The Innokin Z-Biip AIO Review
More Great Vape Deals...
---
MyVPro Free Shipping Weekend Sale!
For a limited time only, the Vandy Vape Bonza Kit Entension Tube is available for pre-order right here for only $14.39 using coupon code "Preorder10"! Free[...]