What ia a E-Cigarette Mod? – Mechanical Mod's Explained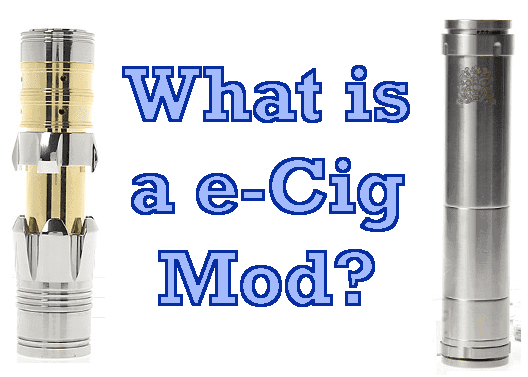 What is a e-cigarette mod…
An e-cigarette "Mod" in it's simplest form is a battery tube.
It's a tube that holds a rechargeable battery with a connection to attach an atomizer. This could be a cartomizer, clearomizer, glassomizer or a tank. The combination of a mod and atomizer would give you a functional e-cigarette mod.
If your looking to purchase a mechanical mod check out the Top 5 Best E-Cigarette Mods for sale at Fasttech article.
In the beginning…
When e-cigarettes first appeared on the market some people would modify them to get better performance or improve battery life. These devices were called "Mods".
The term "Mod" is short for modification.
People will use the term "mod" in the vaping world to describe other modified items such as a modified atomizer. In this article we will be talking about the term "mod" when applied to an e-cigarette.
Now because e-cigarette mod's have become so popular many large companies have started to mass produce them at very low costs.
And then there were clones…
A mod clone is simply a copy of another mod. Most of the time original mod's would be made in the US and cost $200+. The cloned mod would be made in china and sell for under $60 dollars.
Now even Chinese made mods are being cloned. For example the Chinese company SmokTech makes good quality lower priced mods for about $35 – $60 dollars. Most of their products end up being cloned and will sell for $20 – $30 dollars.
There are a ton of different mods on the market now.If an e-cigarette isn't a stick style (has a width similar to a regular tobacco cigarette), an eGo, or an eGo type e-cig then it will probably fall into the e-cig mod category.
Most intermediate and advanced e-cigarette users find their way into using a mod. If you want the best performance then a mod is the way to go.
Terms related to mods…
Mechanical Mod – This is a mod without any circuitry. Usually e-cigarettes like eGo's or stick style e-cigarettes have a circuit board to regulate the electricity. Sometimes they even provide different functions such as variable voltage, variable wattage, puff counters, resistance meters, ect. A true mechanical mod won't have circuity of any kind and most don't even have wires. They are simply a battery tube with a button, when you press the button you complete a circuit that power's the attached atomizer.
Regulated Mod – Same as an APV, it's a mod with circuitry and it's electrical current is regulated.
PV – Personal Vaporizer, Basically it's another term for an e-cigarette.
APV – Advances Personal Vaporizer, usually applies to a mod that has circuity. Most of the time an APV will have features like variable voltage (VV), Variable Wattage (VW), and other advanced features.
Hybrid Mod – This is an e-cigarette mod with a custom rebuildable atomizer.
Telescopic / Telescoping Mod – This is a mod that can extend to fit a range of battery sizes, usually 18350, 18500, and 18650.