Honest E-Liquids Sale! 25% OFF + FREE Shipping!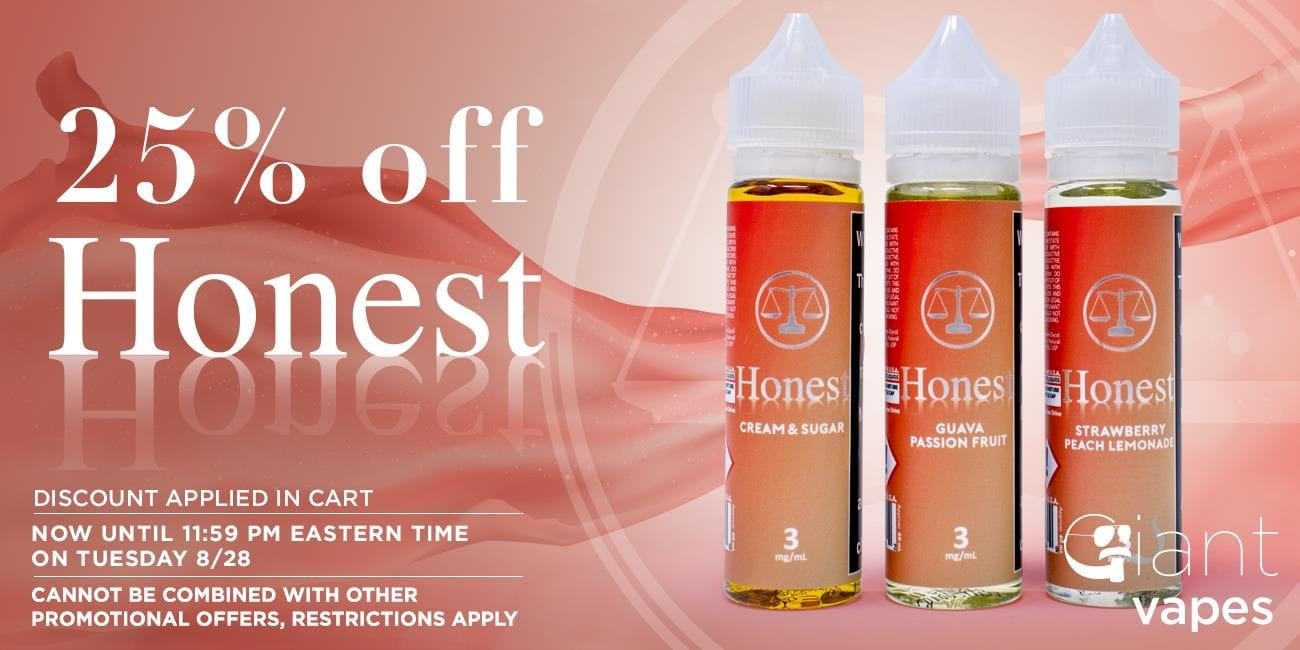 E-Juice Sale
For a limited time only, Giant Vapes is having a sale on their Honest E-Liquids right here where you can save 25% off! Free US shipping is included with this purchase!
During the Honest E-Liquid Sale, you can save 25% off, making a 60ml bottle only $16.49! The Honest E-Liquids Line consist of 3 different flavors which are Guava Passion Fruit, Cream & Sugar and Strawberry Peach Lemonade! In addition, Each bottle comes in a 60ml chubby gorilla bottle, making it easy to drip with and carry around with you! Lastly, the nicotine strengths available are 0mg, 3mg, 6mg and 12mg. Full flavor descriptions are available down below!
All in all, this is a incredible e-juice sale! If you are looking to try out some premium e-juice for cheap or simply want to grab some of your favorites from Honest E-Liquids, then this is a deal you cannot miss! Make sure to check out this deal at Giant Vapes where you can get a 60ml bottle of premium e-juice for only $16.49 plus FREE Shipping!
E-Juice Sale Details:
60ml Chubby Gorilla Bottles
Nicotine Strength Available: 0mg, 3mg, 6mg and 12mg
Flavor Description:

Guava Passion Fruit: Guava, Passion Fruit
Cream & Sugar: Cream, Sugar
Strawberry Peach Lemonade: Strawberry, Peach, Lemonade

Limited Time Sale