Hellvape Rebirth RTA $22.99 (USA)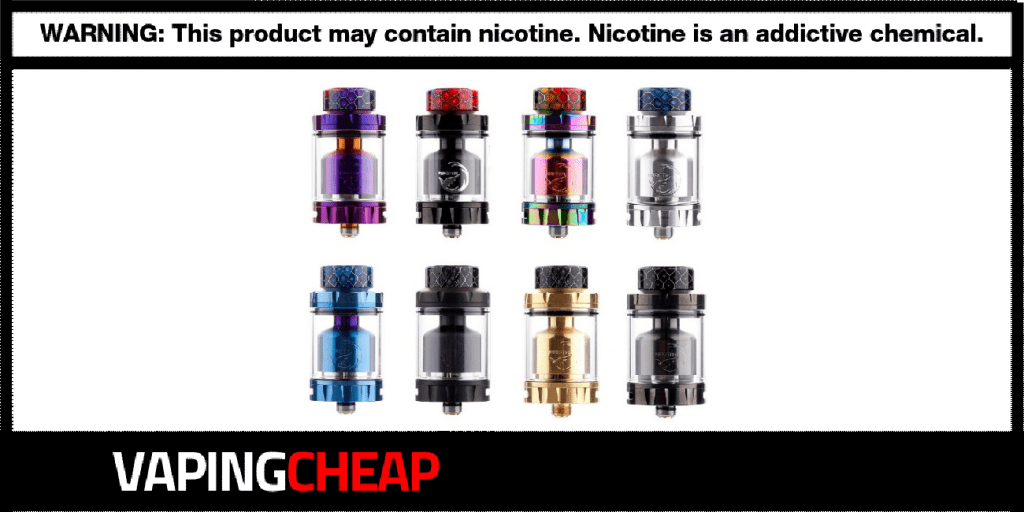 For a limited time only the Hellvape Rebirth RTA is now back on sale at a USA based store for just $22.99 plus free shipping over $50. There's currently two color options available which include rainbow and gun metal.
The Rebirth RTA is a collaboration project between Mike Vapes and Hellvape. This RTA has an overall diameter of 25mm, so it will look great on most box mods, especially larger devices.
Included in the packaging, you'll get both a 810 Cobra and 810 Frosted drip tip. Since it is 810 in size, you'll be able to use any other custom 810 drip tips you prefer, or use a 510 adapter, to use other 510 drip tips.
Building on the Hellvape and Mike Vapes Rebirth RTA is super easy, thanks to its two post building deck. It's somewhat similar to other atomizers such as the Hellvape Drop Dead RDA, where it's raised, so you'll want to pre-cut your leads then install your coils. Now, what makes this atomizer one of the best RTAs currently available, is its honeycomb style airflow. This ensures a smooth draw, and provides stellar flavor production. On top of that, it'll fully adjustable, so you can get a full direct lung or restrictive direct lung vape.
All in all, this is a excellent deal for the Hellvape Rebirth RTA! If you're looking for a solid performing dual coil tank, then you won't wanna miss out on this atomizer deal, especially at this price point. They'll go quick that's for sure, so get yours while they're in stock!
Mike Vapes Rebirth RTA Features:
Collaboration between Hellvape and Mike Vapes
Overall diameter: 25mm
Two Post Raised Build Deck
E-Juice Capacity: 2ml/5ml
Top Fill System
Adjustable Bottom Honey Comb Style Airflow
Frosted & Cobra 810 Drip Tip
Various Color Options Available
What's Included
Rebirth RTA by Hellvape & Mike Vapes
Frosted & Cobra 810 Drip Tip
Replacement Glass Tank Section
510 Drip Tip Adapter
Coil Cutting Tool
Bag of Accessories
Rebirth Sticker
User Manual
Check Out The Hellvape Rebirth RTA Review