Giant Vapes Holiday Sales Event!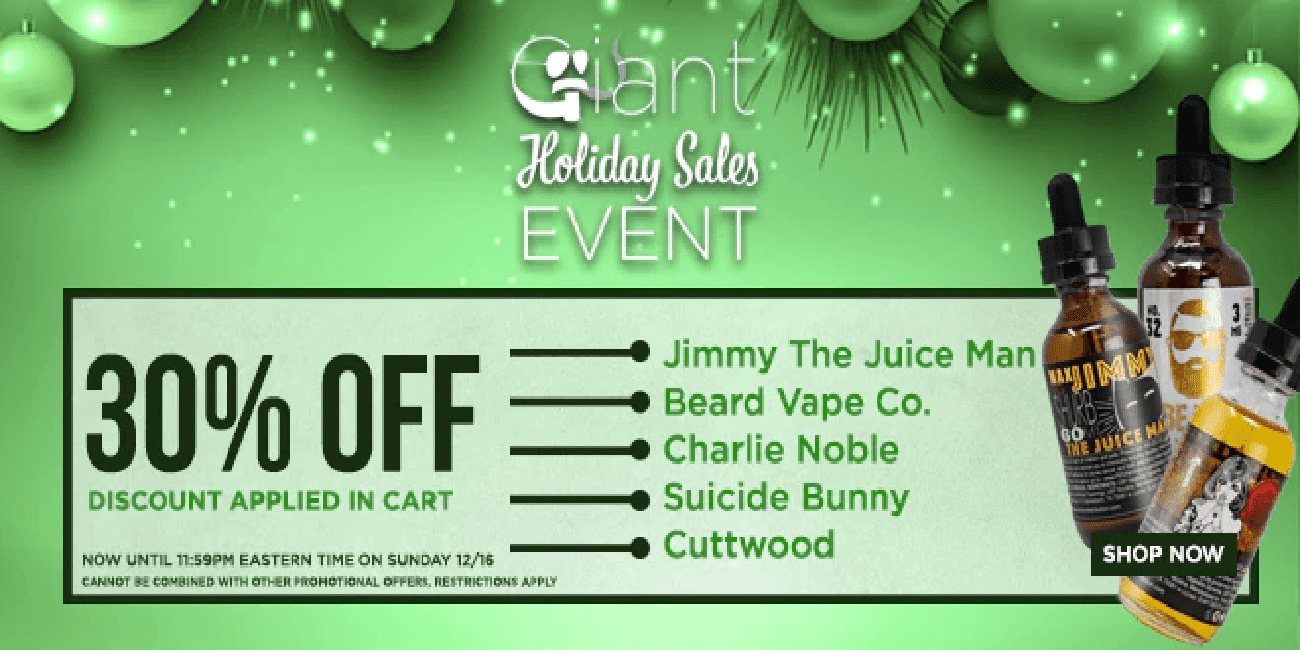 Store Sale!
For a limited time only, the Giant Vapes is having their Holiday Sales Event right here where you can get $12 off select vape products! They're also offering 30% off select premium e-juice brands and 10% off all ultra portable systems! No coupon code required! The discount applies automatically when you checkout! To make this deal even better, FREE shipping is included, no minimum required! This deal ends 12/16/18!
During the Giant Vapes Holiday Sales Event, you can get $10 off select vape products! No coupon code required, the discount applies automatically to your cart! This specific sale includes companies such as Cassadaga Liquids, Shillelagh, Prohibition Juice Co., Merkury, Sicboy & Sicdrip and more!
You can also save 30% off popular e-juice brands such as Jimmy The Juice Man, Cuttwood, Beard Vape Co. and others! In addition, you save 10% off on all ultra portable systems, such as the Suorin Air Pod System or the Aspire Nautilus AIO Kit! Lastly, some of the current deals will be posted down below!
All in all, this is an excellent store sale! If you are searching for some premium e-juice or new vape tanks for cheap plus get FREE shipping, then this is a deal you definitely cannot miss! Be sure to check this deal out at Giant Vapes, where you can save $12 off select vape products and more! Remember to act fast, this deal does end 12/16/18 at 11:59pm EST.
Some Of The Current Deals:
Suorin Air Pod System $17.99
Prohibition Sin Tax 60ml $10.99
Jimmy The Juice Man Shurb 60ml  $18.19
Fall Flavor E-Juice Bundle $57.99
Aspire Nautilus AIO Starter Kit $26.09
Boosted E-Juice Best Seller Bundle $61.99
Suorin Drop Starter Kit $22.49
Betty 60ml $12.99
Suicide Bunny Mothers Milk 60ml $18.19
Envii Fitt Pod Kit $34.15
And much more!