Fuggin Vapor Fuggin EJuice BOGO Sale + FS!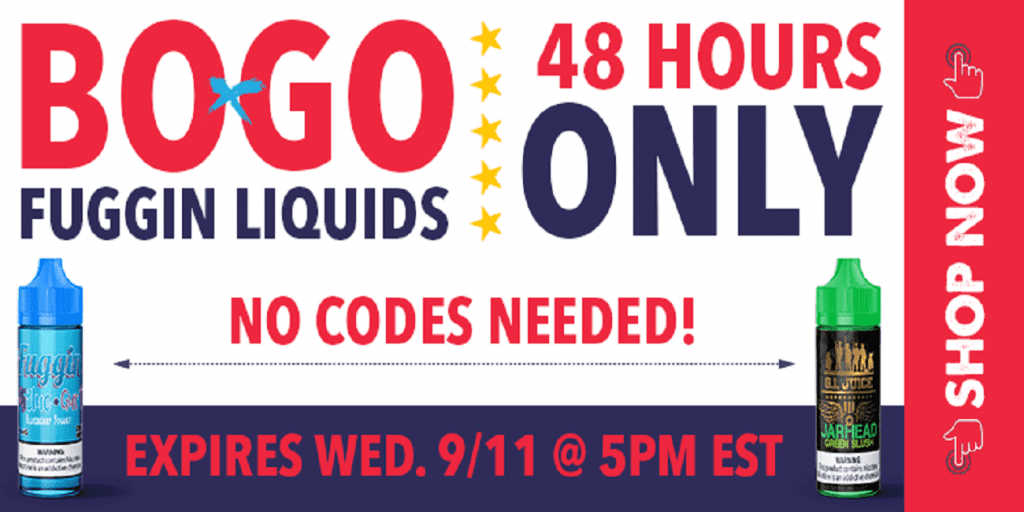 Here's an awesome deal over at Fuggin Vapor! Buy 1 Get 1 Free on Fuggin E-Juice! No code needed, this discount will automatically apply in your cart. Best of all, free shipping is included!
During the Fuggin Vapor BOGO Sale, you can buy 1 get 1 on all Fuggin e-juices! This brings the price down to all of their flavors to only $12.50! There's literally over 70 different flavors in their e-juice line, so no matter which flavor type you enjoy the most, they've definitely got you covered. Also, they have many different nicotine strengths, and all of their vape juices have a high VG blend.
If you're looking to grab some e-juice at cheap prices, plus save on shipping, then this is a deal for you! Remember, this sale is valid until tomorrow afternoon!
Fuggin Vapor Sale Details:
BOGO Sale On Fuggin E-Juices
Free USA Shipping
Over 70 Flavors Available
Great Selection of Nicotine Strengths (Includes Nic Salts)
Limited Time Sale