Fuggin Vapor MLK Day Sale! 50% Off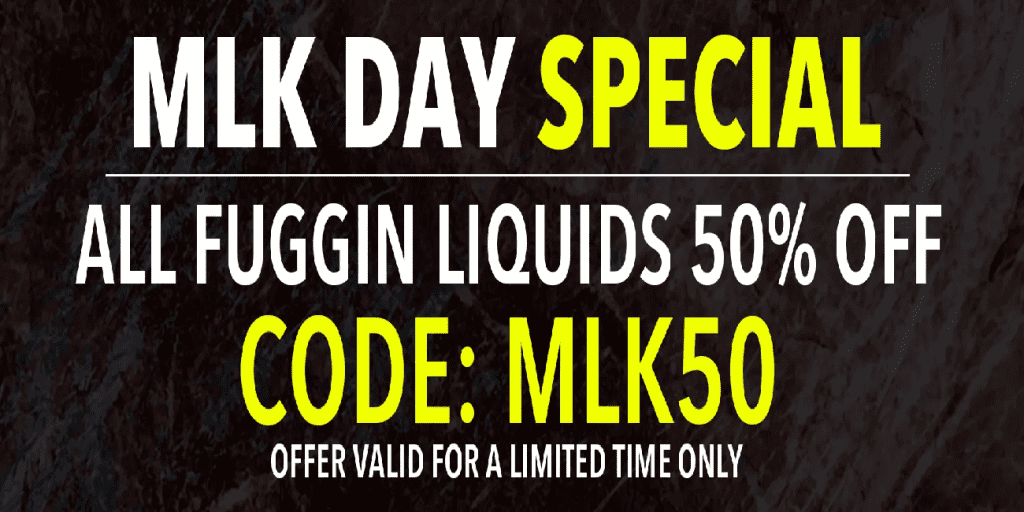 Here's an awesome sale at Fuggin Vapor! Save 50% off all Fuggin Liquids when using code "MLK50". With this discount, large 120ml bottle sizes are just $12.50.
During this Fuggin Vapor Store Sale, you can save big on their Fuggin E-Liquid line. The best part of this sale is that it does include both freebase and nic salts. If you haven't shopped here before for vape juice, then you're missing out. They've got tons of different tasty flavors, and there's even some seasonal flavors still in stock. No matter what kind of e-juice flavor you enjoy, you'll definitely find something you'll want to try out.
All in all, this is a great sale, especially if you're looking for affordable premium quality vape juice. Whether you want to stock up on your favorites or want to try out some new e-liquids for cheap, you'll want to check out this Fuggin Vapor sale. For more discounts, check out our Fuggin Vapor Coupon.
Fuggin Vapor Sale Details:
Save 50% off all Fuggin Liquids
120mls only $12.50
Includes Both Freebase & Nic Salts
Huge Selection of Flavors
Select Seasonal E-Juices In Stock
Various Nicotine Strength Options
Limited Time Sale
More Great Vape Deals...
---
Vapefly Nicolas MTL Tank $10.79
For a limited time only, the Vapefly Nicolas MTL Tank is now on sale right here for only $11.99! No coupon code required! The colors available[...]