Fuggin Vapor – New Oh My Gush Salt Line!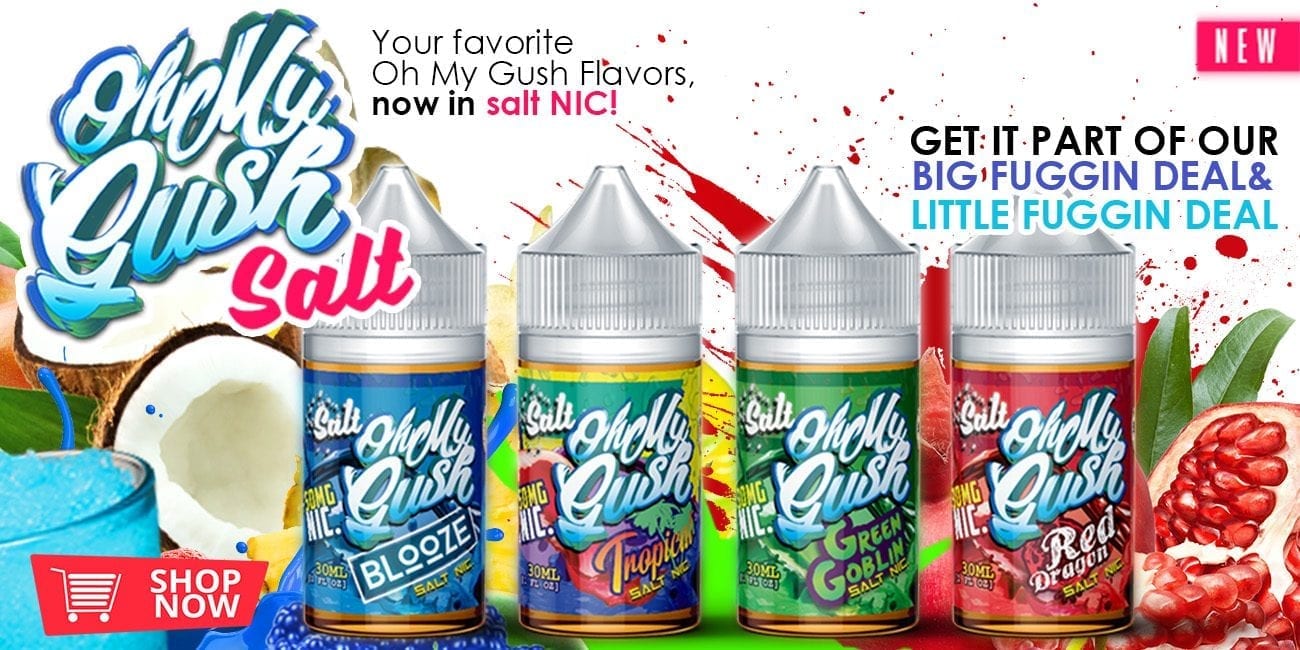 E-Juice Sale
For a limited time only, Fuggin Vapor is having a sale on their new Oh My Gush Salt E-Juice right here where you can get a 30ml bottle for only $24.99! These new e-liquids are also part of their Big or Little Fuggin Deals, where you can get 5 bottles for only $60 when using coupon code "BIGFUGGINDEAL" or get 3 bottles for only $40 using coupon code "LITTLEFUGGINDEAL"!
During the Oh My Gush Salt E-Juice Sale, you can get 30ml bottle for only $24.99! No coupon code required! You can get them even cheaper when bundling and using their Big or Little Fuggin deal! The Oh My Gush line consist of 4 different flavors which are Tropical, Blooze, Red Dragon and Green Goblin. In addition, each bottle comes in a 30ml chubby gorilla bottle, making them easy to carry and fill your pods or MTL tanks with! Lastly, the Salt Nicotine strengths available is 30mg and 50mg. These flavors are only recommended for use with Pod Systems and MTL vape tanks, and not recommend for sub ohm coils or builds.
All in all, this is a excellent e-juice sale! If you are a fan of Fuggin Vapor Oh My Gush and looking for some new salt e-juice for cheap, then this is a deal you cannot miss! Make sure to check out this deal at Fuggin Vapor where you can get a 30ml bottle for only $24.99 or less!
Coupon Codes: BIGFUGGINDEAL (5 bottles only $60), LITTLEFUGGINDEAL (3 bottles only $40)
E-Juice Sale Details:
30ml bottle (Chubby Gorilla Bottle)
Included in Fuggin's Big Fuggin Deal or Little Fuggin Deal
Nicotine Strengths Available: 30mg and 50mg
Not For Sub Ohm Use
Recommended for Pod Systems & MTL Vape Tanks Only
Flavors To Choose From:

Tropical: Who is ready for a tropical vaping vacation filled with the flavors of pineapple, mango, and other vibrant fruits?
Blooze: How many of you enjoy a good blue raspberry slushie from time to time during those hot summer months?
Red Dragon: Just when you thought the vaping dragon inside of you couldn't get any more intense, you're in for an awesome fruity candy treat.
Green Goblin: How many of you remember back in the day being able to eat an entire packet of green-filled gusher candies that brought out an incredbile sweet and tart green apple taste?