Fuggin Samsung 25R Battery Sale! As Low As Only $3.49!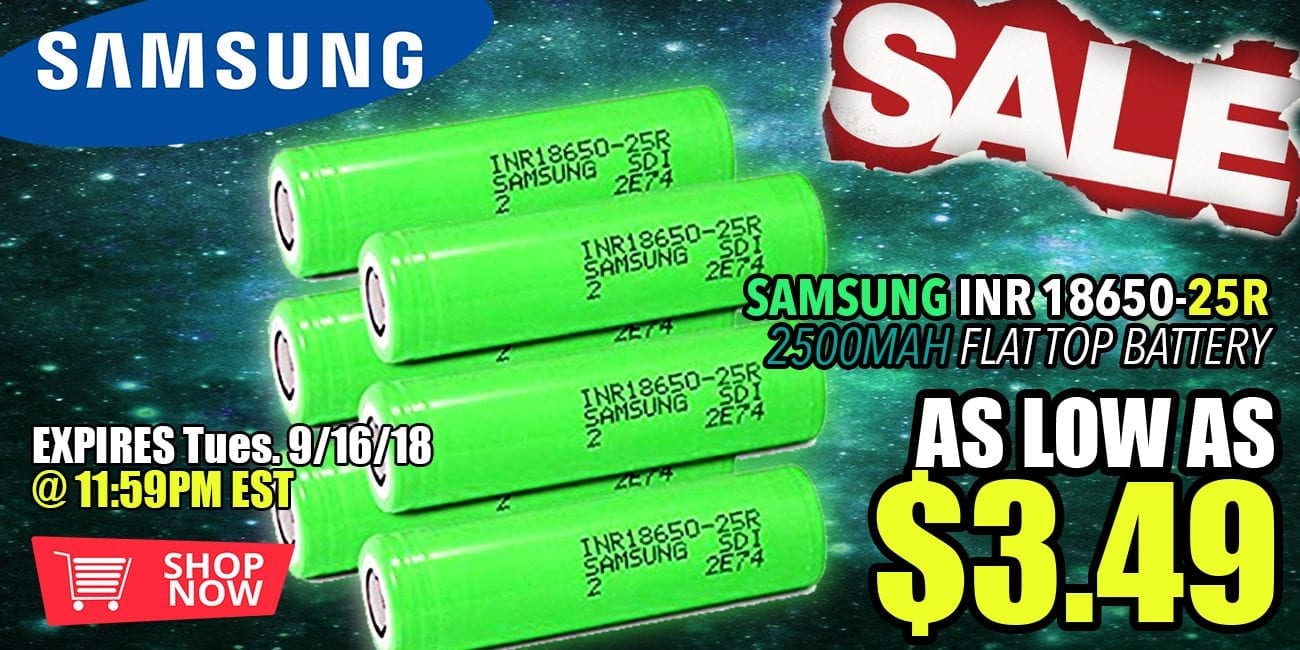 Vape Battery Sale
For a limited time only, Fuggin is having their Samsung 25R Battery Sale right here you can get Samsung 25R batteries for as low as only $3.49 each! No coupon code required to get any of the discounts!
During the Fuggin Samsung 25R Battery Sale, you can get a single 18650 battery for only $4.99, 2 pieces for only $8.98, 5 pieces for only $19.95 and 10 pieces for only $34.90! With this sale, the more batteries you buy, the more you save! In addition, these batteries has a maximum capacity of 2500mah and a maximum continuous discharge rating of 20A! These batteries are perfect for your regulated vape mods. Lastly, these batteries have a flat top, so they can fit in all devices and box mods that requires an 18650 battery.
All in all, this is a great Vape Battery Sale! If you are looking to stock up on some of the most popular 18650 batteries for cheap, then this is a deal you simply cannot miss! Be sure to check this deal out at Fuggin Vapor for as low as only $3.49! Remember, this sale is for a limited time only and will end soon!
Product Details:
Single Samsung 25R Battery $4.99
2 Samsung 25R Batteries $8.89
5 Samsung 25R Batteries $19.95
10 Samsung 25R Batteries $34.90
Maximum Capacity: 2500mAh
Maximum Continuous Discharge Rate: 20A
Flat Top
Sale Ends 9/16/18