Fruit By The Drop EJuice Sale! 100ml $5.99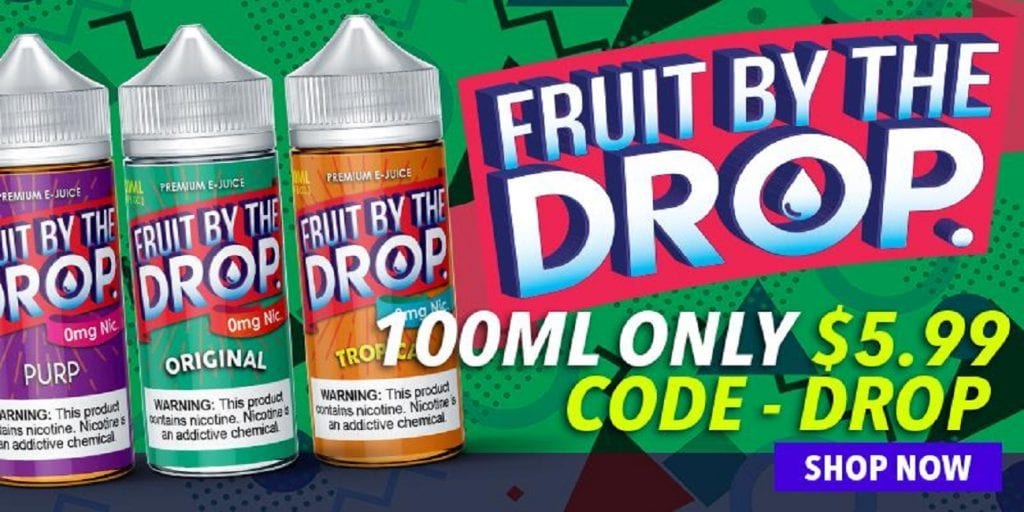 Here's an excellent sale on the Fruit By The Drop EJuice Line. Get large 100ml bottles for just ​$5.99 ​when using code "DROP".
During the Fruit By The Drop Vape Juice Sale, you can get 100ml bottles for just under 6 bucks. There are currently three different flavor options that's available which include Original, Tropical and Purp. In addition, each flavor is available in three freebase or regular nicotine strengths which are 0mg, 3mg and 6mg. Not to mention, the Fruit By The Drop e-liquid has a high VG blend, so you'll get plenty of clouds and flavor.
If you're looking for yet another e-juice deal to grab some premium e-liquids for cheap, then this is a sale you're not gonna want to miss out on. Keep in mind this sale is valid until tomorrow afternoon, so don't miss out!
Promo Code: DROP
Fruit By The Drop Vape Juice:
100ml Bottle Size
Nicotine Strength Available: 0mg, 3mg, 6mg
High VG Blends
3 Flavors to Choose From

Original: The perfect rendition of a blue and red tie dye fruit roll up. Mouth watering strawberry on the inhale, and a candy berry on the exhale
Tropical: Tropical Gummy Blend Of Mango, Citrus, and Other Tropical Fruits. The Taste of Exotic Tropical Fruit on An Island You Will Never Want To Leave
Purp: A delicious blend of strawberry, watermelon, honey dew, white grape with a light gummy SOUR twist!