Fire Vapor Palooza Blowout Sale! Save up to $76 OFF Your Order!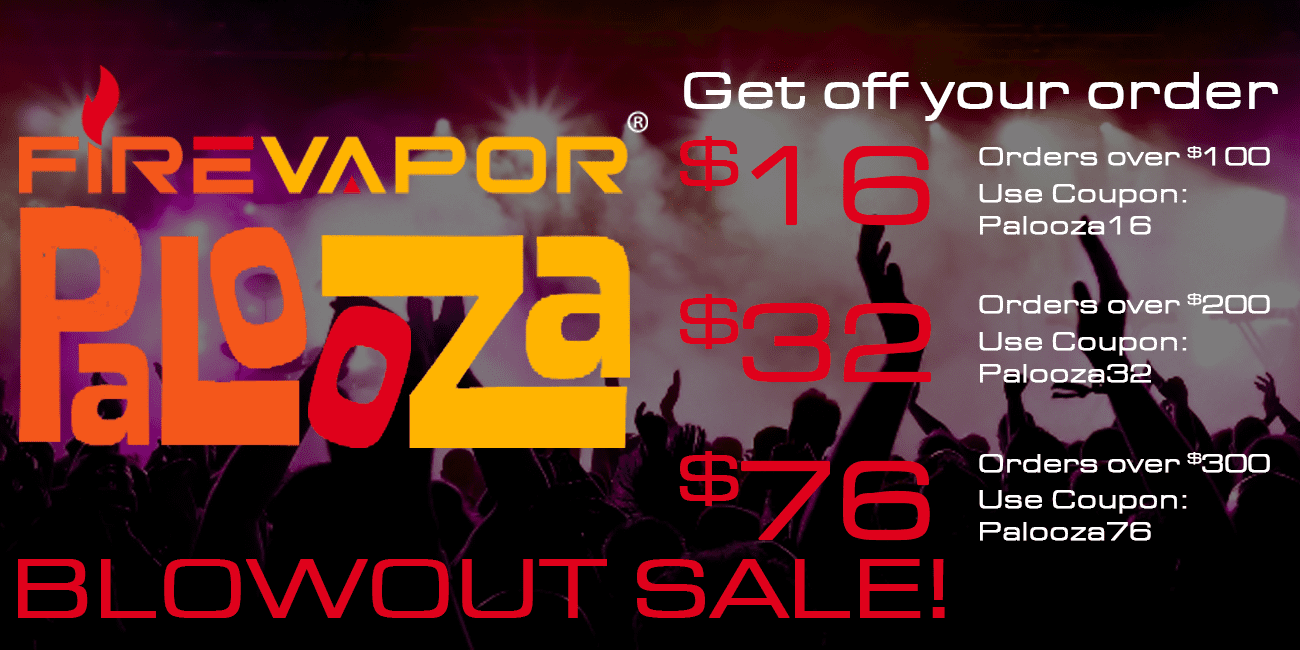 Store Sale!
For a limited time only, Fire Vapor is having their Palooza Blowout Sale right here where you can save $76 off orders over $300 using coupon code "Palooza76"! Free shipping applies to orders over $100. You can also save $16 off of $100 using coupon code "Palooza16" or save $32 off of orders over $200 using coupon code "Palooza32"!
During the Fire Vapor Palooza Sale, you can save $16, $32 or even $76 off your orders using the coupon codes provided! They've already cut their prices by up to 70% off sitewide, so with this deal, you'll be saving even more cash! This store sale includes all types of vape gear including Box Mods, Tanks, E-Juice, Batteries, Squonk Kits and more! Fire Vapor carries a ton of premium e-juice brands, making it easy to find some of your favorite flavors! Lastly, this sale also includes a wide range of popular vape brands, and be sure to check out their newest arrivals to save on the latest products to hit the market!
All in all, this is an excellent store sale! If you are looking to try some new premium e-juice or wanting to get some of the newest vape gear to hit the markets for cheap, then this is a deal you definitely cannot miss! Be sure to check this deal out at Fire Vapor, where you can save up to $76 off your order!
Coupon Codes: Palooza76 (Save $76 Off Orders Over $300), Palooza32 (Save $32 Off Orders Over $200), Palooza16 (Save $16 Off Orders Over $100)
Store Sale Details:
Save $76 Off Orders Over $300 using Coupon Code "Palooza76"
Save $32 Off Orders Over $200 using Coupon Code "Palooza32"
Save $16 Off Orders Over $100 using Coupon Code "Palooza16"
Free US Shipping On Orders Over $100
Tons Of Premium E-Juice Brands
Wide Selection Of Vape Gear Available
Wide Variety Of Popular Vape Brands
Sale Is For A Limited Time Only