Fire Vapor Blowout Sale! Premium E-Liquid Only $9.97!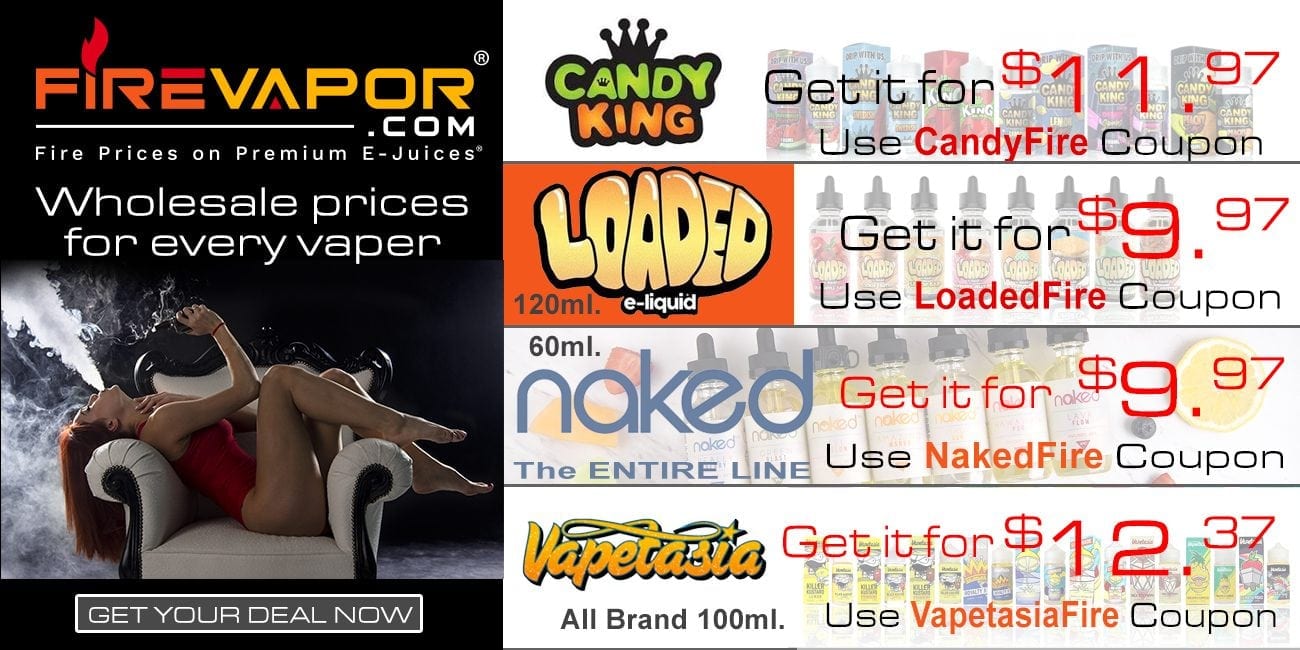 E-Juice Sale
For a limited time only, Fire Vapor is having a Blowout Sale right here where you can get premium e-liquid for as low as $9.97! The coupon code for Candy King is "CandyFire", for Loaded E-Liquid "LoadedFire", for Naked 100 "NakedFire" and the coupon code for Vapetasia is "VapetasiaFire"!
During the Fire Vapor Blowout Sale, you can get large bottles of premium e-juice for as low as only $9.97 using the provided coupon codes! In addition, this sale includes the brands Loaded E-Liquid, Vapetasia E-liquid, Naked 100, and Candy King. Each brand has a wide selection of flavors to choose from, so finding an e-juice with your favorite flavor profile should be easy! The bottle sizes available are 60ml, 100ml and 120ml. Not to mention, they have 0mg, 3mg and 6mg nicotine strengths available. Lastly, each flavor has a high VG ratio, ensuring great flavor and vapor production!
All in all, this is an excellent blowout sale! If you are looking to stock up on some of your favorite premium e-juice at a great price, then this is a deal definitely worth checking out! Be sure to check this deal out at Fire Vapor, where you can get a bottle of premium e-juice for as low as only $9.97!
Coupon Codes: CandyFire (Candy King), LoadedFire (Loaded E-Liquid), NakedFire (Naked 100), VapetasiaFire (Vapetasia E-Liquid)
Store Sale Details:
Premium E-Liquid for only $9.97 using the provided coupon codes
Included Brands: Candy King, Loaded E-Liquid, Naked 100 and Vapetasia
Nicotine Strengths Available: 0mg, 3mg and 6mg
Bottle Sizes: 60ml, 100ml and 120ml
High VG ratios
Free US shipping applies to orders over $100
Sale is for a limited time only