EightVape Stock Up Sale! Massive Discounts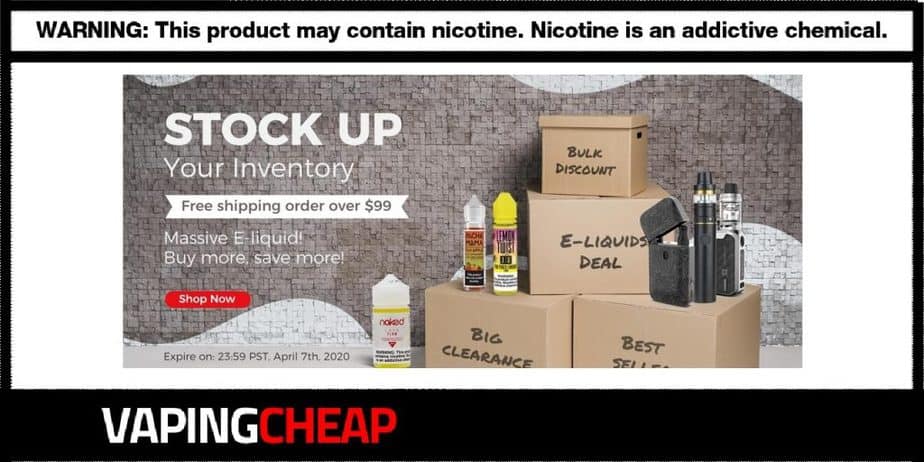 If you've been looking for the perfect sale to stock up, then we've got one you won't wanna miss out on. EightVape is offering huge discounts during their stock up sale, and the best part is, the more you buy, the more cash you'll save! On top of that, you'll also get free shipping when spending over $99.
During this EightVape Sale, you'll be saving huge on both premium e-liquids and hardware. First, they've got daily sales where they're offering massive savings on select premium vape juices, pod mod kits, and even replacement coils. Next, there's a section where you can save even more on flavors, with prices as low as only $5.99.
Now, the next section is where you'll want to check out if you're looking to stock up on big bottles of e-liquid. EightVape has already discounted these vape juices, but offering up to an additional 20% off those low prices depending on how much you're stocking up on. Last, but not least, there's huge clearance deals on vape hardware with prices as low as under $10 for vape kits.
Like mentioned earlier, if you're looking to stock up for months to come, you've got to check out this EightVape sale. It's only valid for the next few days, so grab these extra savings while you can.
EightVape Sale Details:
Stock Up Sale
Massive Discounts on E-Juice & Hardware

​

Prices as low as $5.99 for premium vape juice

​​

Starter Kits for under $10

Accessories as low as $8.96
Limited Time Sale
More Great Vape Deals...
---
Hellvape Drop Dead RDA $18.56
Rebuildable Dripping Atomizer For a limited time only, the new Hellvape Drop Dead RDA is now back in stock and on sale right[...]