Ecig-City Christmas Sale!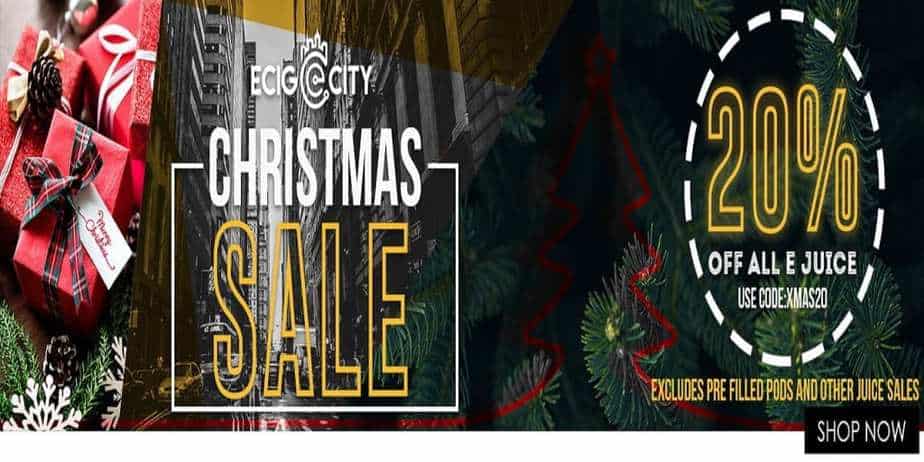 Store Sale!
For a limited time only, Ecig-City is having their Christmas Sale right here where you can save 20% off all e-juice using coupon code "XMAS20"! Free shipping applies to US orders over $50.
During the Ecig-City Christmas Sale, you can save 20% off all e-juice using the coupon code provided! To make this deal even better, they offer free shipping on US orders over $50. This sale includes a variety of popular e-juice brands such as BLVK Unicorn, Charlie's Chalk Dust, Cuttwood, Dinner Lady, Humble, Lost Art and tons more!
In addition, they stock up on all bottle sizes (30ml, 60ml, 100ml, 120ml) and have nicotine strengths from 0mg to 6mg. If you are a fan of pod systems you can also stock up on tons of different nic salt e-juice as well with nicotine strengths up to 50mg available. Lastly, some of the current deals will be listed down below for your convenience!
All in all, this is an excellent store sale! If you're looking to grab some new premium vape juice at great prices before the holidays, then this is a deal you should definitely check out! Be sure to check this deal out at Ecig-City, where you can save 20% off all e-juice! Remember, this deal for a limited time only!
Coupon Code: XMAS20 (Excludes Pre-filled Pods & Other Juice Sales)
Some Of The Current Deals:
BLVK Unicorn 30ml Nic Salt E-Juice Line $8.00
One Hit Wonder Strawberry Pokkin 90ml $8.00
Kilo Kiwi 30ml $6.49
Yami Vapor Yuki 100ml $9.60
Candy King Berry Dweebs Salt 30ml $12.00
I Love The Milkman Mango Milk 100ml $10.40
Chop Shop Bakery Blueberry Pie 75ml $10.40
Cookie Twist Frosted Sugar Cookie 120ml $16.00
Cloud Nurdz Peach Blue Razz 100ml $16.00
Air Factory Strawberry Kiwi Salts 30ml $12.00
Plus So Much More!