DV Pod Pak – Innokin EQ Edition $26.99 (USA)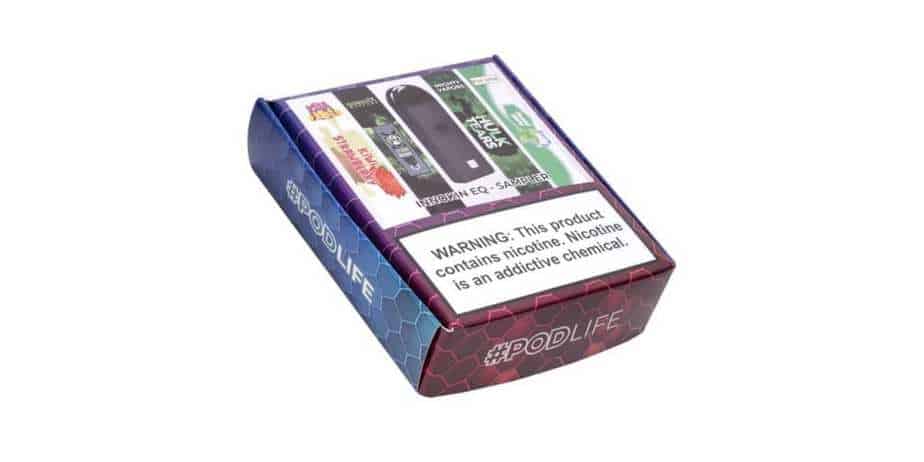 Vape Sample Box
For a limited time only, the DV Pod Pak – Innokin EQ Edition is on sale right here for only $26.99 using coupon code "Xmas10"! Free shipping applies to US orders over $50.
The DV Pod Pak – Innokin EQ Edition includes the Innokin EQ Pod System Device, an Innokin EQ Pod and 4 10ml bottles of nic salt e-juice. In addition, the bottles of nic salt e-juice come in 50mg nicotine strength. The four e-juice lines included in this box are Might Vapors Hulk Tears, Killa Fruit Salts Kiwi Strawberry, Gorilla Warfare Salts 5.56 and Jewel Mint. Each of flavors included come in a small 10ml unicorn bottle, making it easy to fill the EQ Pod.
The Innokin EQ Pod System has an internal 800mAh battery, which can be charged via USB cable. In addition, this device includes a 2ml refillable pod, which features a bottom fill design. The EQ Pod System has a maximum wattage output of 13.5w, so it's perfect for mouth to lung vaping. This device has a single fire button design with a LED battery indicator light on the front of the pod. Lastly, the Pods do feature a mesh coil design, so you'll experience excellent flavor!
All in all, this is an excellent deal for the DV Pod Pak – Innokin EQ Edition! If you are a new to vaping and searching for a new bundle that includes everything you need to start vaping, then this is a deal you cannot miss! Be sure to check this deal out at MyVPro for only $26.99! 
Coupon Code: Xmas10
Product Features:
Innokin EQ Pod System

Internal 800mAh battery
Maximum wattage output: 13.5w
Single Fire Button
2ml refillable pod
0.5 ohm mesh coil
LED battery indicator light

4 x 10ml Salt Nic E-Juice

Might Vapor Hulk Tears
Killa Fruit Salts Kiwi Strawberry
Gorilla Warfare Salts 5.56
Pod Juice Jewel Mint

Comes in a nice Gift Box