Chain Vapez E-Juice Sale! 100ml $10.95!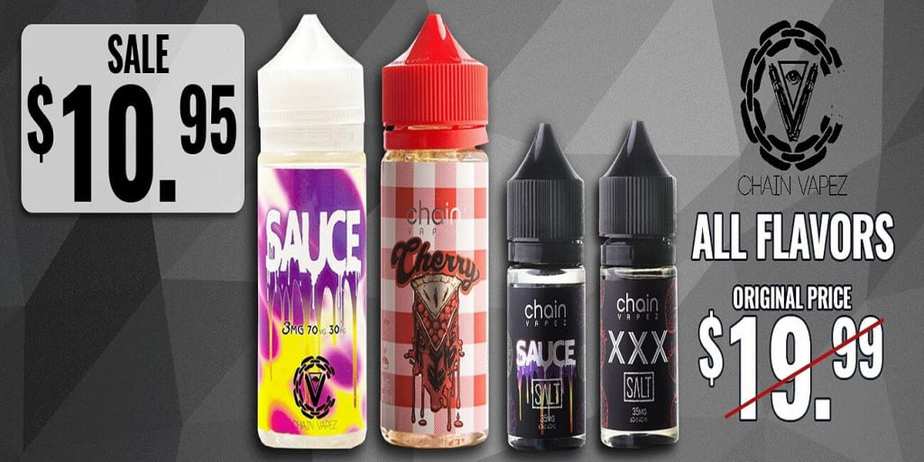 For a limited time only, the Chain Vapes E-Juice line is now on sale right here where you can get 100ml bottle for only $10.95! No coupon code required!
During the Chain Vapez E-Juice Sale, you can get 100ml bottle for only $10.95! No coupon code required. This sale also includes their 30ml salt bottles!
The Chain Vapez E-Juice line consist of four different flavors which are XXX, Sunset Sherbert, Sauce and Cherry Pie. The XXX and Sauce flavors are available in 30ml nic salts. Each 100ml bottle comes in a chubby gorilla bottle and the nicotine strength available is 0mg, 3mg 6mg. Lastly, the flavor descriptions will be down below.
All in all, this is a incredible e-juice sale! If you're a fan of Chain Vapez or looking for some new premium e-liquids to try without breaking the bank, then this is a deal worth checking out for sure. You can get this sale over at Vape Deal for only $10.95!
Product Features:
100ml Bottles
Chubby Gorilla Bottles
Nicotine Strengths Available: 0mg, 3mg and 6mg
The XXX and Sauce is available in 30ml Salt Nic
4 Different Flavors:

XXX: The strawberries in this blend might give you a vibe that a couple of them came from different parts of the world
Sunset Sherbert: is a combination of the most exotic fruits mixed and mastered to perfection. This rainbow array of fruit medley gives a savory tartness on the inhale with a delicate sweetness on the exhale that leaves you wanting more.
Sauce: As it smoothly exits, you can taste the rich raspberries and citrusy lemons show your taste buds a bit more of a good time.
Cherry Pie: Cherry Pie a delicious traditional American Pie with a tart, sweet, cherry filling, baked with a sugary cinnamon glaze.