Dinner Lady Sample Pack $9.00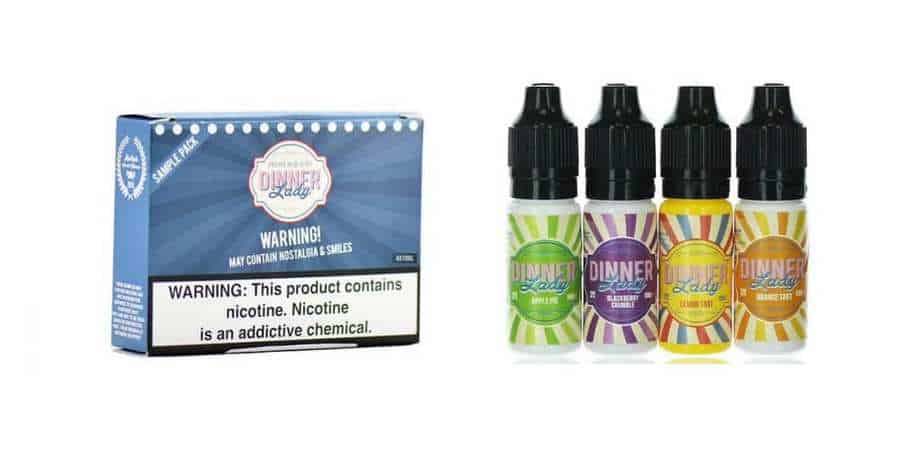 For a limited time only, the Dinner Lady Sample Pack is on sale right here for only $9.00 using coupon code "FireJuice".
The Dinner Lady Sample Pack is currently available in 3mg nicotine strength only. In addition, this pack includes 4 x 10ml bottles, making it a total of 40ml.
Each flavor has a 70VG/30PG blend, so it vapes great in both tanks and drippers. Lastly, the Dinner Lady Sample Pack includes 4 different flavors which are Blackberry Crumble, Apple Pie, Lemon Tart and Orange Tart.
All in all, this is an incredible deal for the Dinner Lady Sample Pack! If you are someone that loves bakery flavors and looking to try multiple flavors of a line at one low cost, then this is a deal worth checking out for sure! You can check out this sample pack at Fire Vapor for only $9.00.
E-Juice Bundle Details:
4 x 10ml (40ml Total)
Nicotine Stregnth Available: 3mg
High VG Blends
4 Different Flavors Included:

Blackberry Crumble: Fresh-baked blackberry danish. Glazed frosting and tart blackberry jam to achieve unforgettable flavor.
Apple Pie: A classic dessert treat. Caramelized apples, pie crust, and a pinch of cinnamon spice
Lemon Tart: A delicious and creamy lemon custard flavor with hints of buttery pastry dough
Orange Tart: Sweet orange glaze with tasty pie crust flavor. You'll be back for more.