Sadboy Salt Tear Drop Sale! 30ml $12.60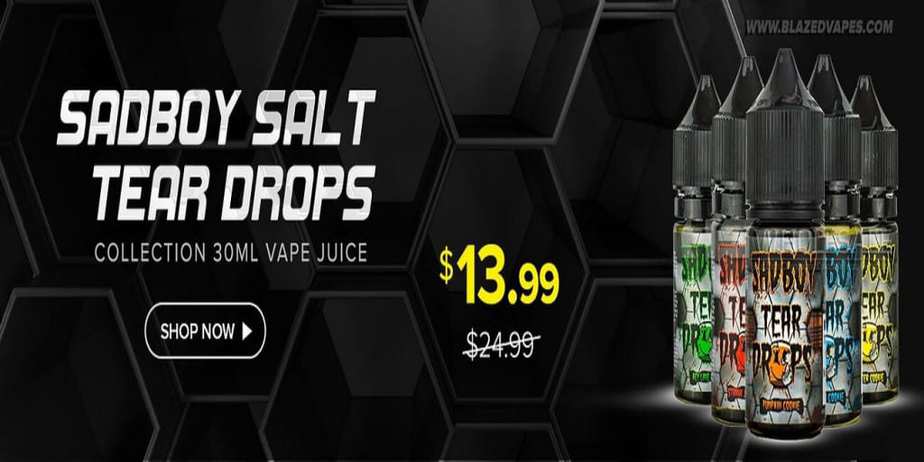 For a limited time only, the Sadboy Salt Tear Drop E-Liquid is now on sale right here where you can get a 30ml bottle for only $12.60 using coupon code "Blazed10"!
During the Sadboy Salt Tear Drop Sale, you can get 30ml bottle of premium salt vape juice for only $12.60 using the provided coupon code! The Sadboy Salt Tear Drop has 7 different flavors which are Unicorn Tears, Butter Cookie, Custard Cookie, Pumpkin Cookie, Blue Jam Cookie, Key Lime Cookie and Straw Jam Cookie.
Each flavor comes in a small 30ml unicorn bottle, making them easy to carry and fill your pods or MTL tanks with! Lastly, the Salt Nicotine strengths available are 28mg and 48mg. These flavors are only recommended for use with Pod Systems and MTL vape tanks, and not recommend for sub ohm coils or builds.
All in all, this is an incredible E-Juice Sale! If you're looking for a new salt nic e-juice for your favorite pod or stock up on your favorites from this line for cheap, then this is a e-juice sale you got to check out! You can get this deal at Blazed Vapes for only $12.60!
Product Features:
30ml bottle (Unicorn Bottle)
Nicotine Strengths Available: 28mg and 48mg
Not For Sub Ohm Use
Recommended for Pod Systems & MTL Vape Tanks Only
Flavors To Choose From:

Unicorn Tears: A mysterious blend of flavors to keep you coming back for more. Savory, sweet, fruity, and delicious, try it today and see if you can figure out all the delicious flavors inside
Butter Cookie: A tray of delicious butter cookies infused with a tart hint of lemon. Warm butter cookies with tastes of lemon
Custard Cookie: A savory taste of rich vanilla custard blended with sweet butter cookie. Custard Cookie builds off of the success of Sadboy's butter cookie flavor and adds a hint of custard into the mix.
Pumpkin Cookie: The taste of fresh baked pumpkin cookies sprinkled with cinnamon. Warm cookies blended with delicious pumpkin and cinnamon
Blue Jam Cookie: Shortbread whipped to perfection with creamy butter and topped with blueberry jam. A delicious combination of dessert, fruit, and breakfast flavors
Key Lime Cookie: Delicious key lime cookies filled with tart flavor. Vapers who love tart dessert vape juices
Straw Jam Cookie: Sweet juicy strawberry jam smothers a fresh baked cookie. Warm cookie is covered in strawberry jam.