Sigelei Chronus 200w Kit $34.99 (USA)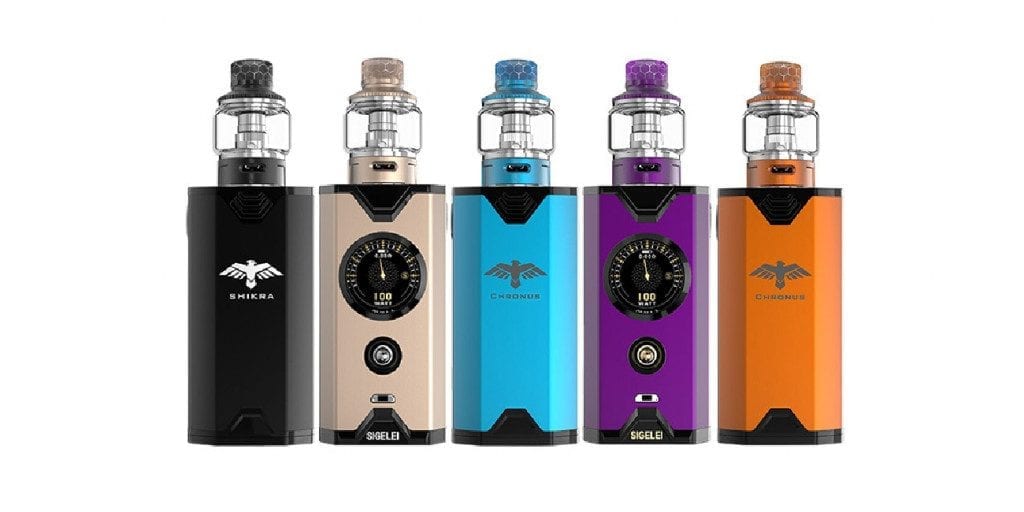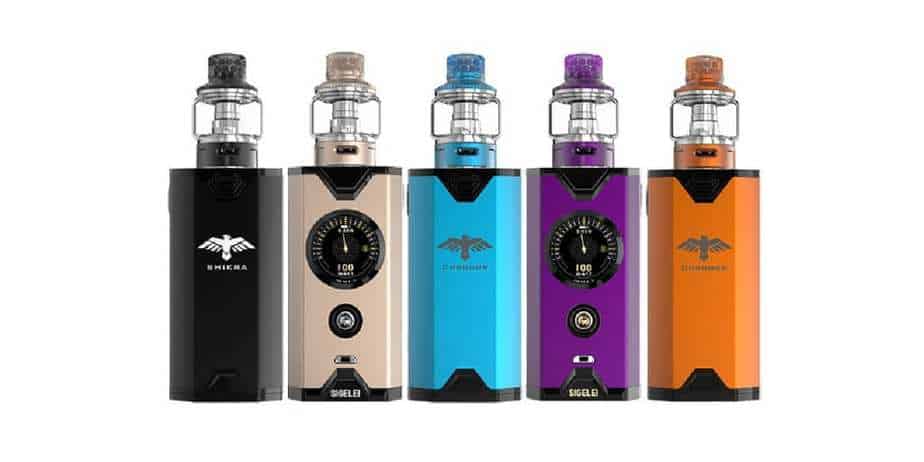 The new Sigelei Chronus Starter Kit is now in stock and on sale right here for only $34.99! Various color options are available.
The Sigelei Chronus Starter Kit includes the new Sigelei Chronus Box Mod and the new Sigelei Shikra Sub Ohm Tank! The Smok Chronus Box Mod requires two high drain 18650 batteries for operation. In addition, this box mod has a maximum wattage output of 200w and has temperature control for Ni200, Ti, SS alongside a TCR mode. The Sigelei Chronus Shikra Box Mod also features a unique navigational joystick which allows you to control the menu system.
The Sigelei Shikra Sub Ohm Tank has an overall diameter of 24mm and sports a matching color (depending on the color chosen). In addition, this tank has a maximum e-juice capacity of 2ml or 5.5ml with the bubble glass. This tank sports an easy to use top fill design as well, allowing you to fill it quickly. Lastly, the Sigelei Shikra Sub Ohm Tank has adjustable bottom airflow and includes a wide bore resin drip tip.
All in all, this is a excellent deal for the Sigeleli Chronus Starter Kit! If you're a fan of Sigelei and want a unique dual battery starter kit to cloud chase with, then we do recommend checking out this deal, especially at just under 50% off retail price. You can get it over at Ecig-City for $34.99, but you might wanna act quickly as it might be a limited time sale.
Product Features:
Sigelei Chronus Box Mod

Requires Two High Drain 18650 Battery (Not Included)
Maximum Wattage Output: 200w
Temperature Control
TCR Mode
Minimum Resistance: 0.05 ohm
innovative navigational joystick

Sigelei Shikra Sub Ohm Tank

Overall Diameter: 24mm
Maximum E-Juice Capacity: 2ml

5.5ml With the bubble glass

Easy Top Fill Design
Adjustable Bottom Airflow
Sigelei MS Coil Family

0.2ohm MS-H Coil
0.25ohm MS Coil
0.2ohm MS-M Mesh Coil

810 wide bore resin drip tip