Smok Alien 220w TC Box Mod $26.99 + FS!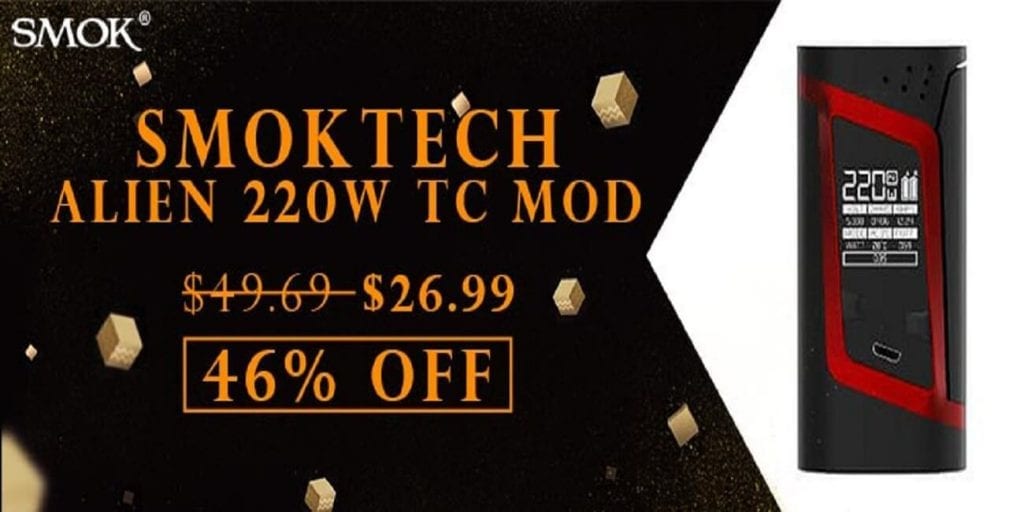 Here's another killer deal, this time on the popular Smok Alien 220w TC Box Mod! Get it for only $26.99 in the Black and Red color option. On top of that, you'll get free shipping!
The Smok Alien is easily one of the most popular dual battery box mods on the market today, and although it's an older one, it still remains as the favorite of many vapers. It's powered by two high drain 18650 batteries, and offers a maximum wattage output of 220w. In addition, it has a maximum voltage output of 8.0v.
Some other features include temperature control mode for Ni200, Ti and SS wires alongside the ability to be firmware upgraded. Its bright and crisp OLED display screen makes it incredibly easy to see all of the desired vaping information such as wattage output, battery life, coil resistance, and more. Lastly, the Alien has various safety features built in.
If you're looking for a solid workhorse mod, or simply in need of a new dual 18650 vape mod, this deal on the Smok Alien is one you're not gonna want to miss. At $26.99 plus free shipping, it's an amazing deal. We're not sure how long this is going to last, so get yours before they're all gone!
Smok Alien Features: