MyVPro Weekend Sale! Up To 80% Off!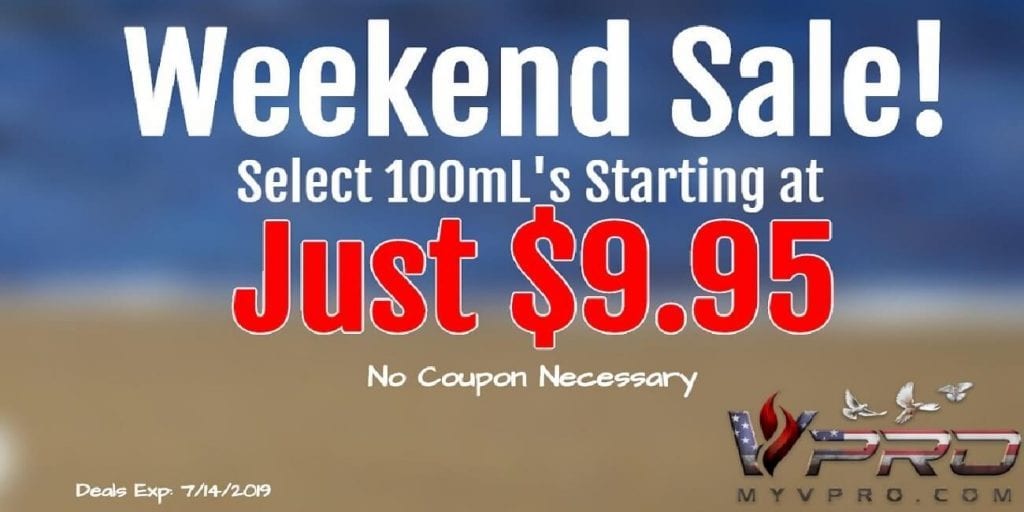 Here's another amazing sale over at MyVpro! Save up to 80% off various products! No code needed, and free shipping applies to USA orders over $50.
During the MyVpro Weekend Sale, you'll be able to save up to 80% off! There's tons of heavily discounted vape gear and e-liquid available including 100ml and 120ml bottles for under 10 bucks! Not to mention, there's atomizers as low as $4.99! We'll list some of the deals to check out down below.
All in all, this is an excellent summer sale! If you're looking for some killer deals on hardware and vape juice, then don't miss this deal! Remember, it's for a limited time only!
Store Sale Details:
Save up to 80% off
Free Shipping on USA orders over $50
Available Deals:

Rockt Punch 120mls $9.95
Tropical Juice Roll Upz 100ml $9.95
Vandy Vape Lit RDA $4.99
Tigertek Momentum RDA $17.95
Ystar Wolverine RDA $9.95
OBS Bat 218w Box Mod $28.95
Vandy Vape Capstone RDA $14.95
Vandy Vape Phobia RDA $9.95
Vladdin Vapor RE Pod System $21.95
Eleaf iWu Pod System $13.95
One Hit Wonder 100ml $11.95
and more!

Limited Time Sale