CreamySZNS 3x60ml Bundle (180ml) $24.99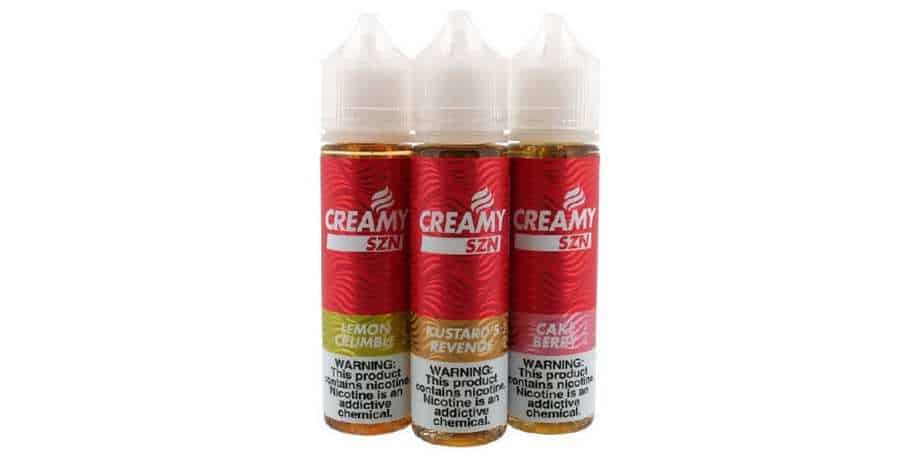 For a limited time only, the CreamySZNS 3x60ml Bundle is now on sale right here for only $24.99! No coupon code required! Free shipping applies to US orders over $50.
The CreamySZNS 3x60ml Bundle (180ml) is currently available is 3mg and 6mg nicotine strength. In addition, this e-juice comes with three different flavors which are Lemon Crumble, Kustard's Revenge and Cake Berry.
Each of these e-juices do come in a 60ml Chubby Gorilla Bottle. Lastly, each of the flavor descriptions will be posted down below.
All in all, this is a excellent deal for the CreamySZNS 3x60ml Bundle 180ml! If you're a fan of dessert flavored vape juice and looking to grab some for cheap, then this is a deal you simply cannot miss! You can check out this sale at Ecig City for only $24.99!
E-Juice Sale Details:
180ml Total
Chubby Gorilla Bottles
Nicotine Strengths Available: 3mg, 6mg
3 Different Flavors:

Lemon Crumble: Sweet and flaky crust coupled with sweet and zesty lemon meringue to make for an all around fantastic treat. This rich lemon crumble will keep you wanting more until the very last drop.
Kustard's Revenge: Nothing is sweeter than revenge served with a side of justice. Enjoy a rich and creamy vanilla custard that will drive you mad as you search for more.
Cake Berry: Tis the season for something sweet, creamy, and amazing. Enjoy a freshly baked strawberry shortcake topped with decadent creams and beautiful strawberry goodness.